AstroQueer

---
Website for LGBTI Astrology
---
astrology chart, profile, links
---
---
Aries Sun, Pisces Moon, Aries Mercury, T-Square
---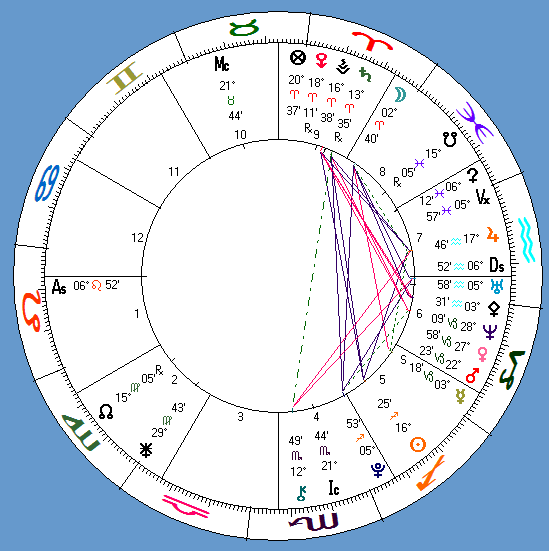 ---
Originally: AstroQueer's Stars, 8 December 1997, 21:56 (9:56PM) Brisbane, Qld, Australia (27s28, 153e02). Source: Sy Scholfield quotes an email received in Brisbane from Tripod (based in Boston) notifying acceptance of membership [7 December 1997, 6:56 AM, EST (5hW), Boston, MA, USA (42n22, 71w04). RR: A.
---
FEATURES: PERSONALIZED PLANETS: Scorpio CHIRON (conjunct IC), Aquarius URANUS (conjunct Descendant; sextile Moon), Aquarius JUPITER (semi-square Moon; sextile and ruling Sun), Aries SATURN-ERIS (conjunct Part of Fortune). PATTERNS: CARDINAL TRIPLE CONJUNCTION (Capricorn MARS, VENUS, NEPTUNE). SHAPE: BOWL. CHINESE SIGN: EARTH RABBIT. NUMEROLOGY: "10" LIFEPATH.
---
Wow! Astroqueer's Stars didn't really have a planned "birth." I just sent in my membership application to Tripod and received email notification that my account had been activated on this date. And yet, the chart is amazingly fitting. . .

Jupiter aspects both luminaries and disposits the Sagittarian Sun. Jupiter is found in Aquarius -- the Sign associated with astrology -- thus showing that this would be the sort of information provided at AstroQueer. My Aquarian Moon exactly conjuncts this Jupiter, indicating my position as "AstroQueer" -- the editor and host of this website.

Neptune conjuncts Venus/Mars, so the Astroqueer portal will hopefully provide a spiritual bent to astrological studies of gender and sexuality. Notice also, that Pallas is conjunct the midpoint of the Neptune/Uranus conjunction (02° Aquarius 01'). The Neptune/Uranus conjunction occurs once every 172 years or so, and the last time it occurred (in the 1990s) the socio-political "Queer" movement arose.