equality rocks (2000)
THE CONCERT FOR THE NEW CENTURY

---
(Presented by the HRC Foundation)
---
---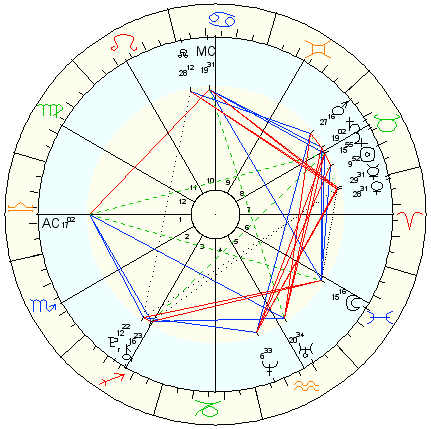 ---
29 April 2000, 18:00 (6PM) EDT (4he), Washington, DC, USA (77w02, 38n54). RR: B. (Data from Official Program)
---
FEATURES: PERSONALIZED PLANETS: PLUTO (square Moon, quincunx Sun), JUPITER & SATURN (conjunct Sun, sextile Moon). MUTUAL RECEPTION: VENUS in ARIES semi-sextile MARS in TAURUS. PATTERNS: STELLIUM (Sun, Jupiter, Saturn in Taurus). SHAPE: BOWL. CHINESE SIGN: Metal Dragon.

---
Taurus just loves to sing and here there are four planets in that sign, along with lovely Libra rising, and Venus in the 7th!
---
home
more free charts

Human Rights Campaign
(HRC) Foundation


Links to Celebrity Chart Pages...

text © 2000
Simon Astley Scholfield