---
The Gay Games

---
international quadriennial athletic & cultural event
---
Visit Gay Games VI in Sydney, 25 October - 9 November 2002!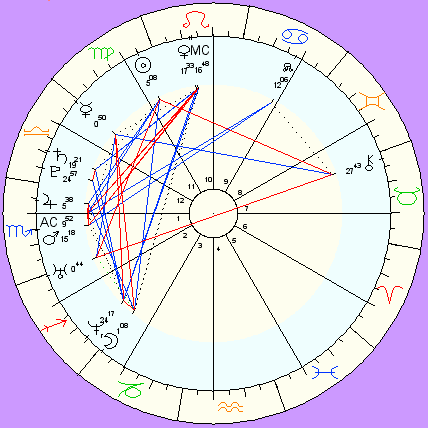 ---
DATA: DATE = 28th August 1982. TIME = unknown. PLACE = Kezar Stadium, San Francisco, CA, USA (122w25, 37n47). RR = B. Notes: Date and place given in various historical sources including the official Federation of Gay Games website.
---
FEATURES: PERSONALIZED PLANETS: JUPITER (Sextile Moon, sextile Sun, on Ascendant?). PATTERNS: T-SQUARE (Uranus opposite Chiron, both square Sun). SHAPE: Loco~Motive. CHINESE SIGN = WATER DOG.

---
The first Gay Games at San Francisco were founded by Tom Waddell (chart coming soon).
The 2002 Games will beheld Down Under in Sydney (see the city's chart) and will feature appearances by Jimmy Somerville and k.d. lang. Local talent includes counter-tenor Peretta Anggerek, actor and singer Paul Capsis, soprano Deborah Cheetham, queen of Cabaret Judi Connelli, Murwillumbah's own Bob Downe (see his chart), one of Australia's hottest up-and-coming talents Leah Howard, lesbian soul goddess Shauna Jensen, television legend Molly Meldrum, Beauty and the Beast panellist and Sydney lesbian icon Gillian Minervini, Sydney drag superstar Portia Turbo, and Australia's favourite HIV positive drag performer, Celebrity Big Brother contestant Vanessa Wagner (her chart coming soon).
---
References
"Gay Games History" Knitting Circle: Sports.
---
get your free chart from AstroDienst
---
Home
More Rainbow Charts
GLBT Astrologers
Basic Astrology
References


Astro-text © 2002+
Simon-Astley Scholfield