---
World Pride Roma 2000 March

---
"In memory of all those homosexuals persecuted and killed by the Catholic Church"
-- a huge banner in the march.

"The World Pride Roma 2000 march will pass by in procession through the major streets of the historical centre, so that the world of G.L.B.T. Pride can be demonstrated along with the demand of civil rights and the celebration of freedom and diversity. The march will end with speeches of the major international G.L.B.T. exponents and will then reach the stage for the closing concert that will signify our celebration."
-- from the official programme.
---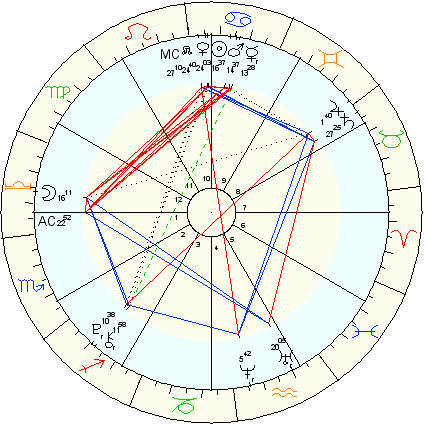 ---
DATA: DATE = 08th July 2000. TIME = 14:00 (2pm) CEDT (2he). PLACE = Rome, Italy (41n54, 12e29). RR = B. Ref.: Official programme. CHINESE SIGN = Metal Dragon.

---
FEATURES: PERSONALIZED PLANETS: Moon (on Asc, dispositing Cancer Stellium); URANUS (trine Moon, quincunx Sun); VENUS, MARS & MERCURY (on MC, conjunct Sun, square Moon). PATTERNS: STELLIUM (Mercury, Mars, Sun, Venus). MUTUAL RECEPTION: Moon in Libra (on Asc., and squaring) Venus in Cancer (on MC). SHAPE: SEE~SAW.
---
Italy will never be the same again after this hot afternoon! At least 200 000 people marched through the heart of Rome past the Colosseum in a mass demonstration to demand equal civil rights and freedom of diversity for gay, lesbian, bisexual and transgender people.
With the rising Moon in Libra both disposited and squared by Venus in Cancer on the Midheaven, this sea of peace paraders formed a colourful display of Queer Pride which brought pro-gay Italians into conflict with the Vatican during Holy Year.
"Drag Queens stripped down to their leather thongs and stilettos as the march snaked around the side of the Colosseum and the mid-afternoon temperature hit 36° Celsius (96.8F). A man dressed as a Roman emperor in drag cruised past the gaping arches of the monument in the back of a horse-drawn carriage as marchers filed by carrying placards denouncing the Roman Catholic Church's treatment of gay men and lesbians."
The chart for Pope John Paul II also has Libra rising, with his Mars (at 22° Libra) exactly conjunct the Ascendant of the chart for the World Pride 2000 March. With this configuration there was no way the Pope was not going to be involved. Yet, while he had a real opportunity to make a pioneering stand against bigotry and hatred by supporting gay, lesbian, bisexual and transgender Catholics, he instead condemned the event as an "offense to Christian values." What a hopeless "spiritual leader"!!
The Pontiff added, "The church cannot silence the truth because it would not live up to its faith in God the creator and would not help discern what is good from evil...The catechism makes it clear that homosexual acts are contrary to the laws of nature. The number of men and women with deeply rooted homosexual tendencies is not negligible. This objectively disordered inclination is for the greater part of them a trial."
The Libra-rising Pope obviously has considerable trouble working out and weighing up exactly what is "good" and "evil," and "natural" and "unnatural." As Franco Grillini, chairperson of Arcigay, Italy's leading gay advocacy group, replied, "The Pope is wrong to condemn World Pride -- a great demonstration of the people. What is genuinely offensive is homophobia and the anti-gay prejudice...Who decides what is natural and what is not?...Homosexuality is an objective fact."
It's a bit more than a contradiction for the Pope to declare that homosexuality is both an "inclination" and "unnatural." It's a bit more than hypocritical for him to claim to represent the highest values while condemning peaceful and loving citizens just because they are celebrating their differences. Through misuse of his Mars-on-Libra Ascendant, the Pope is the unbalanced and misguided one who is "objectively disordered."! He could learn something from this wonderful sea of humanity that assembled (under a Libran Ascendant) to march for peace and freedom. The Pope's vocal condemnation of the March was clearly calculated to work against the many people who are trying to build bridges between traditionalist Catholics and GLBTs, particularly GLBT Catholics themselves. There's nothing holy about the Pope's homophobia.
---
References "World Pride passes peacefully." PlanetOut News & Politics, 8 July 2000, by Gideon Long.
"Pope John Paul II Condemns Gay People & Event." Data Lounge News, 10 July 2000.
---
Get your free astro-chart from AstroDienst!
---
---
Home
More Rainbow Charts
Queer Astrologers
Basic Astrology
References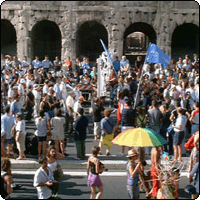 © 2000
Simon-Astley Scholfield