The range of queer folk profiled in these Astrology Charts and Biographies reflects the diversity of lesbian, gay, bisexual, transgender and intersex (LGBTI) lives. The charts themselves also contain a wide variety of astrological features (ascendants, aspects, patterns, shapes, etc).
The collection is not just for established astrologers, but for all people (especially LGBT folk) who are curious about astrology. Where possible, each astro-chart is accompanied by pictures, astro-commentary, and hyperlinks to more information by (or about) the subject.
LGBTQ "Celebrities"?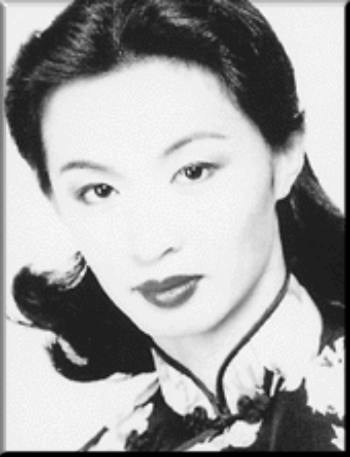 The celebrities profiled include dancers (Jin Xing, see left), singers (Divine), musicians (Melissa Etheridge), actors (Dirk Bogarde, Ian Mckellan), sportspeople (Tom Waddell), comedians (Julian Clary, Kenneth Williams), visual artists (Keith Haring) film-makers (Derek Jarman, Andy Warhol), writers (Natalie Barney, Anais Nin, Selma Lagerl�f, Patrick White) and poets (Allen Ginsberg).

However, not all charts here will be for international stars or global media events. Less well-known people and events are very worthy of inclusion because of the significance of their own particular contributions to the broad spectrum of queer experience.

"Mundane" LGBTQ Charts?

LGBTQ people aren't usually associated with the "mundane" things in life. However, astrology charts cast for non-birth events are known as "mundane" charts. Such charts here include those for icons (Barbie), places (New York) and special events (Stonewall Riots, World Pride Roma).

Why a Specific LGBT Data Collection?

On one hand, some astrologers claim (without any evidence) that there is some way of telling charts of homosexuals from those of heterosexuals. Even though such studies continue, the idea is patently absurd. An astrology chart cannot reveal a person's sex, race, or sexual orientation (or socio-economic status). The more charts one cares to examine, the more abundantly clear this becomes. An astrologer is not a God/dess who can accurately declare that any chart belongs specifically to a male or female (or intersexual), black or white (or Asian), or homo' or hetero' (or bi'), person!! Such claims are ridiculous (and what would be the point of such craft??). As seen in the vast array of astro-biographies and astro-charts in my collection, the contents of people's horoscopes (along with their lives) are far more interesting than such simple claims would allow.

On the other hand, some astro-data collections do not adequately acknowledge the sexuality of their subjects (or ignore this area of their lives completely), meaning that data-collecting becomes another area of astrological discourse in which queer lives and achievements are marginalised or rendered altogether invisible.

For example, the collection of 1000 people's birth data in Marc Edmund Jones' The Sabian Symbols in Astrology (1953, reprinted 1993) includes that for lesbians (Marie Dressler, Selma Lagerl�f), gays (No�l Coward, David Lewis, Richard Loeb), cross-dressers (J. Edgar Hoover, Jack Benny), and bisexuals (Sarah Bernhardt, Tallulah Bankhead, Errol Flynn, Cary Grant, Lauritz Melchior, Vaslav Nijinsky, Tyrone Power, Eleanor Roosevelt, Ted Shawn, Rudolph Valentino, Oscar Wilde), etc.

Further, the Sabian Symbols list also includes birth data for people who were (at least ostensibly) heterosexual and involved in influential queer (or anti-queer) productions. For instance, lawyer Clarence Darrow (who defended infamous inverts Richard Loeb & Nathan Leopold Jnr in their trial for murder in Chicago in the mid 1920s); cartoonist Walt Disney (who created the classic 1940 camp animated film Fantasia with its dancing pink elephants); psychologist Havelock Ellis & psychoanalyst Sigmund Freud (who were key figures in the construction of modern homosexual identities); writers Compton Mckenzie & Algernon Swinburne [whose respective novels, Extraordinary Women (1928) & Lesbia Brandon (written c. 1870, pub. 1952) feature modern lesbian figures]; and England's Queen Victoria (who refused to sign laws against lesbianism because she would not imagine such a relationship!).

Therefore -- at the very least -- one tenth of the Sabian Symbols charts can be seen as being of queer interest. Yet this collection reveals nothing about the sexuality of its subjects! My Rainbow Charts collection counters the marginalisation of LGBTQs in astrological data collections (and the larger scope of astrological discourse) by identifying and championing the lives of queer people and those who have shaped queer identities and cultures. Moreover, these insights into the sexuality of their subjects, make collections such as the Sabian Symbols one, far more fascinating.

Perhaps it needs to be said that no one will be "outed" here in the Rainbow Charts collection. All information about a person's sexuality will be drawn from biographical materials and listed in the references.

Rainbow Categories?

The subjects in the Rainbow Charts collection are organised into a spectrum of categories that reflects the six colo(u)rs of the lesbian, gay, bisexual and transgender (or 'Queer') rainbow flag and other rainbow icons. The sex/uality of subjects is classified by hue: purple for lesbians, blue for bisexual women, green for female-to-male (F2M) transgenders, yellow for male-to-female (M2F) transfolk, orange for bisexual men, and red for gay men. Yes, this code is VERY simplified. Throughout their lives some people belong to more than one of these categories, and each category is complicated in itself.

These colour-coded categories also each encompass various historical configurations of gender and sexuality. "F2M transgenders" include cross-dressing 'passing women' of the last century (Rachilde), gynandrous-looking women (Marlene Dietrich) and female-born transsexuals who have physically become males (or "transmen" like Del LaGrace Volcano, Louis G. Sullivan & Maxwell). "Lesbians" include 'Sapphists' (Natalie Barney), 'radicalesbians' (Rita Mae Brown), etc. "Gay men" include 'sodomites' (Oscar Wilde), 'inverts,' 'swishes' (Andy Warhol), etc, etc. Some people (lumped here in the blue or orange bisexual categories) prefer to simply describe (or preface) their gender and sexuality as 'queer' or 'omnisexual' or 'PoMoSexual' (Kitty Raymond).

Although simplistic, the categories of gender and sexuality sorted by rainbow colours in this collection remain useful. Most people can relate to these classifications which have historically been used to categorise various 'queer' identities -- not only through medico-legal terminology but also through appropriation by gays, lesbians, bisexuals and transgenderists (and today's self-proclaimed 'queers') themselves!

The charts of heterosexuals who have significantly influenced the shaping of queer culture/s (for good or bad) may be included because such data is also of interest to our communities.

The Rodden Rating System

Astrological "Data" refers to information about the time, date, and place of an event for which an astrology chart is calculated. In referencing the Rainbow Charts I have followed the "Rodden Rating System" to classify the status of data. Respected astro-data collector Lois Rodden (compiler of the excellent AstroDatabank computer software and Astro-Data volumes of astrology charts) developed the "RR" system that has become a benchmark for collectors.

In the "Rodden Rating" system, "AA" means the data is from a birth certificate (b.c.) or other birth record (b.r.) -- for example, a hospital baby card or parish registry entry. "A" means from the person themself or from one of their relatives or someone close to them. "B" refers to a biographical reference, e.g. in a biography or a Births listing from a newspaper. "C" means caution, maybe the original source is not known ("OSNK", according to data collector Ed Steinbrecher). "DD" (or dirty data) indicates that there is conflicting information.

In many cases, birth records reveal a few home truths about celebrity backgrounds, so expect some trivia about where or when some celebrities were born, or about their original names!

Please enjoy these free charts, astro-biographies and astro-commentaries as our Rainbow Millennium, our Queerennium, or "The Age of a Queer Us," dawns!

Thankyou!

May I extend my warmest thanks to all those celebrities who have contributed their data to this collection. Also, I would like to thank several data collectors for their generosity and collegiality when trading astrodata (& other astro-info) and for allowing some of their data to be published here. In particular, Caroline Gerard, Dennis Sutton, Frank C. Clifford of Flare Publications, John McKay-Clements, Stephen Connors and Ed Steinbrecher (1930-2002) of D.O.M.E., GraZia Bordoni, Lois Rodden (1928-2003) and Pat Taglilatelo of AstroDataBank, and Stephanie Johnson of Esoteric Technologies. Please support these data collectors by clicking on their names to check out their websites where you can purchase their books, computer programmes, or other materials, and learn ever more about Astrology.

The chart data of other collectors will not be published here without their permission, and in turn, I request that others extend me the same courtesy by acknowledging my research efforts when citing original data from my collection. Data collecting can be a time-consuming, expensive and thankless task!

Privacy Policy

Unless I have received their permission, the dates and places of birth of living persons will not be published here unless already available elsewhere (in which case I provide references). I see no problem in publishing people's times of birth if their date and place of birth is already available elsewhere. However I will respect people's privacy and remove any data if they wish.