Alan Cumming

---
Scottish film & stage actor, writer
---
astrology chart, profile, links
---
---
Aquarius Ascendant, Aquarius Sun, Sagittarius Moon, Grand Earth Trine
---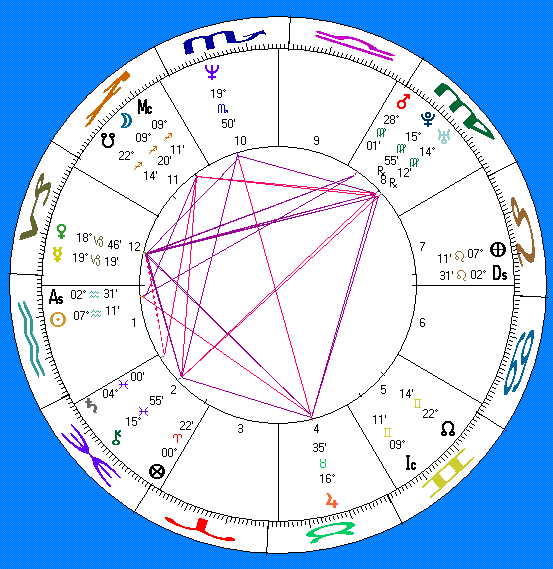 ---
BORN: 27 January 1965, 08:20 (8:20am) GMT (UT), Aberfeldy, Scotland. RR: AA. Sy Scholfield [copyright] quotes data (including time of birth for chart) from Frank Clifford's British Entertainers: The Astrological Profiles (quoting Caroline Gerard for data from birth certificate; data used here with permission).
---
FEATURES: PERSONALIZED PLANETS: Aquarius SUN (conjunct Ascendant), Taurus JUPITER (square Sun; disposits Sagittarius Moon), Virgo URANUS (square Moon; disposits Aquarius Sun), Sagittarius MOON (conjunct MC). PATTERNS: MUTABLE T-SQUARE (Chiron opposite Uranus-Pluto, all square Moon), GRAND EARTH TRINE (Jupiter, Uranus-Pluto, Venus-Mercury), KITE (Grand Trine plus Pisces CHIRON). UNASPECTED: Virgo MARS. SHAPE: HORSESHOE. CHINESE SIGN: WOOD DRAGON. NUMEROLOGY: "4" LIFEPATH.
---
Wikipedia Biography
[with Astrology notes by Sy Scholfield] :
Alan Cumming is a Scottish film and stage actor, perhaps best known for his supporting roles as Boris Grishenko in the James Bond film GoldenEye, Kurt Wagner/Nightcrawler in X2: X-Men United and on the stage with his Tony Award-winning lead performance as the Emcee in the highly successful revival of Cabaret. He has directed, produced, and written films, TV series and plays, voiced several soundtracks, written a book, developed a stand-up show at the Edinburgh Fringe, and formed his own production company.
Early life Cumming was born in Aberfeldy, Scotland, the son of Mary, an insurance company secretary, and Alex Cumming, a forester [Sun (father) ruled by Uranus in Virgo (forestry)]. Cumming attended Monikie Primary School and Carnoustie High School and originally aspired to a career in veterinary medicine [life-saving Pluto in Virgo (animals) rules 10th House (career)]; but a personality clash with his biology teacher put him off the idea and he subsequently set his sights on becoming an actor. Following graduation, he spent a year and a half employed as an editor for the Scottish pop magazine TOPS before entering the Royal Scottish Academy of Music and Drama.
Career
Film
Developing his talents off-camera, Cumming co-wrote, co-directed, co-produced, and co-starred in the ensemble film The Anniversary Party with friend and former Cabaret co-star Jennifer Jason Leigh, in 2001. The two starred in the movie as a Hollywood couple.
Cumming plays a psychotic ex-amusement park employee in David Munro's upcoming Full Grown Men, which will be shown in theaters throughout the U.S. in summer 2008. In 2008, Cumming will provide the voice of Adolf Hitler in the film Jackboots on Whitehall. He is also the host of the 2008 season of the PBS 'Mystery" series.
During his career, Cumming has also directed two short films, Butter and Burn Your Phone - the latter was firstly a one-off drama on BBC Radio 4, however the nature of the narrative meant that it translated poorly to television.
Television
2003 saw him playing a cameo role in the successful American sitcom Frasier, playing Niles's yoga instructor.
In 2004, he starred in Showtime's Reefer Madness: The Movie Musical in which he played the role of The Lecturer - a versatile character who narrates the story and transforms himself into several other minor characters. Shortly afterwards, he had a short role in Richard Bell's provocative feature film Eighteen, which was narrated by Ian McKellen. Having also worked together on X2: X-Men United, and also linked by their work for gay rights, they have become friends [Cumming's Aquarian Sun trines McKellen's Gemini Sun].
Cumming played the role of Bill Blaikie, a party promoter hired by Kit Porter to manage her café cum nightclub, in season 3 of The L Word. He appeared in episodes 2 to 7, which originally aired on Showtime in 2006.
In 2007, Cumming played Glitch/Ambrose, an inventor whose brain had been partially removed, in the TV miniseries, Tin Man. He also provided the voice of Chuck Masters, a 50 year-old, paralyzed, HIV-positive gay man in Logo's Rick and Steve, a stop animation sitcom created by Q. Allan Brocka.
Cumming also appeared as the third celebrity hijacker in Big Brother: Celebrity Hijack, giving the housemates a method acting task in which they had to stay in character all day and then produce an improvised play.
Theatre
Cumming had a highly acclaimed performance as the impish Emcee in the 1998 Broadway revival of Cabaret, for which he won a Tony, as well as other awards.[5] He had previously played the role in a production at London's famed Donmar Warehouse theatre, for which he had been nominated for an Olivier Award.[5] Both productions were directed by Sam Mendes.
Other stage roles have included Otto in the 2001 Broadway production of Design for Living by Noel Coward, Valere in David Hirson's multi award-winning La Bete, the title role in the 1993 English Touring Theatre's Hamlet (playing opposite his then-wife, Hilary Lyon, in the role of Ophelia), and The Madman in the 1990 Royal National Theatre production of Accidental Death of an Anarchist by Dario Fo, for which he won an Olivier Award.[6]
In 2002, Cumming and then-boyfriend British director Nick Philippou formed the production company The Art Party. The company's first play was the first English production of Jean Genet's play Elle, which Cumming had adapted from a literal translation by Terri Gordon. The play was hugely successful, however, the company folded in 2003.
In 2006, Cumming returned to the stage, firstly performing in a revival of the Bertolt Brecht-Kurt Weill musical The Threepenny Opera opposite Cyndi Lauper. They later performed at the Tony Awards. In late 2006, he appeared in the West End playing the lead role in Bent, a play about homosexuals in Germany under the Nazis. In 2007 he took the lead role in the National Theatre of Scotland's production of The Bacchae, which premiéred at the Edinburgh Festival in August, transferring to the Lyric Theatre in London during September.
Cumming performed alongside Dianne Wiest in Classic Stage Company's production of Anton Chekhov's The Seagull, directed by Viacheslav Dolgachev. In 2008, he played a lead role in a National Theatre of Scotland production of 'The Bacchae'.
Other work
Cumming has also dabbled in other media. His first novel, Tommy's Tale, was published in 2002.[7] He has also written many articles for magazines, notably as a contributing editor for Marie Claire magazine, writing articles about the haute couture shows in Paris. In addition to various film and musical soundtracks on which he has appeared, in 2001, he recorded a duet of "Baby, It's Cold Outside" with Liza Minnelli to raise money for Broadway Cares/Equity Fights AIDS and the September 11 Fund.
Cumming also has his own range of beauty products, the initial product being a cologne called "Cumming: the Fragrance", as well as a series of other bath/body products, many with suggestive names such as "Cumming All Over" body wash.[8]
Cumming served as a delegate for the Creative Coalition during the 2004 Democratic National Convention in Boston.[9] In this same vein, he contributed to If You Had Five Minutes with the President, an original non-partisan collection of 55+ essays by members or supporters of The Creative Coalition.[10]
Recent projects include adapting his novel for the screen, and several gay-themed films: Gray Matters, Coming Out and Suffering Man's Charity.
Personal life
Cumming holding a producer credit for The 1 Second Film in May 2006Cumming divides his time between New York City and London with his dog, Honey.[11] Alan has dated both men and women, and was once described in The Observer as "a frolicky pan-sexual sex symbol for the new millennium," though he has stated that he thinks of himself as bisexual.[12]
In 1985, he married Hilary Lyon. However, they divorced in 1993, and he subsequently became involved in several shorter relationships over the next two years, including one with Saffron Burrows.
He wed graphic artist Grant Shaffer in a civil ceremony at the Old Royal Naval College Greenwich on January 7, 2007.[13] The couple met in 2004 and dated for two years before the union. In a profile for The Times, he recently stated that he "would dearly like to adopt a child."[14] In March 2005, he was honoured with the Vito Russo Award at the 16th Annual GLAAD Media Awards for outstanding contributions toward eliminating homophobia.[15]
In November 2006, he was made a Doctor of Arts when given an honorary degree from the University of Abertay Dundee.
Cumming is openly bisexual, an LGBT rights activist, and has promoted gay rights on both sides of the Atlantic with organisations such as GLAAD and the HRC, as well as working for several AIDS charities, including AMFAR and Broadway Cares/Equity Fights AIDS. He is also a member of the Creative Coalition, an organisation to bring public awareness of social issues. He was presented with the San Francisco Human Rights Campaign's Humanitarian Award in 2005.
Cumming became a patron of NORM-UK, a UK registered charity concerned with the foreskin and genital integrity.
.... [read more at Wikipedia, the free encyclopedia].
---