Anne Heche

---
American Actor, Director & Screenwriter
---
astrology chart, profile, biography, films, books, links
---
---
Libra Ascendant, Gemini Sun, Virgo Moon, Venus Descending
---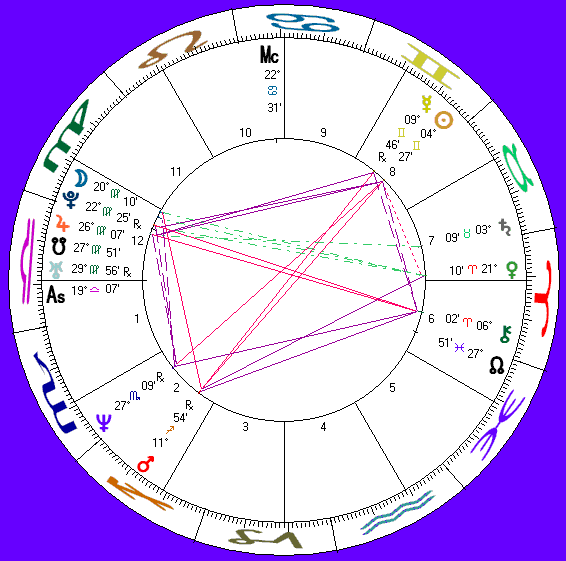 ---
Anne Celeste Heche, born 25 May 1969, 16:51 (4:51PM) EDT (4hW), Cleveland, OH, USA. RR: AA. Sy Scholfield [copyright] quotes data from birth certificate in hand.
---
FEATURES: PERSONALIZED PLANETS: Sagittarius MARS (opposite Sun, square Moon); Aries CHIRON (conjunct South Node); Aries VENUS (conjunct Descendant; semi-square Sun; quincunx Moon); Virgo MOON, PLUTO, JUPITER & URANUS (conjunct North Node). UNASPECTED: Taurus SATURN. PATTERNS: VIRGO STELLIUM (Moon, Pluto, Jupiter, North Node, Uranus). SHAPE: SEE~SAW. CHINESE SIGN: EARTH ROOSTER (aka COCK). NUMEROLOGY: "10" LIFEPATH.
---
Wikipedia Biography:

Heche was born in Aurora, Ohio, the daughter of Nancy and Donald Heche. Her father was an organist, church founder, Baptist minister, and choir director.[1] In her book, Call Me Crazy, she claimed that her father molested her during her childhood, giving her herpes. Her father later disclosed his homosexuality to his family, before dying of AIDS in 1983. In that same year, Heche's older brother Nate, who was also an actor, was killed in a car accident just a few months before his graduation from high school.[2] Heche was a noted actress even at Francis W. Parker School, in Chicago, and the soap opera As the World Turns offered her a contract in 1985, when she was 16. However, both she and her mother felt it best that she finish high school first.

Immediately after her high school graduation, she accepted another soap offer and left for New York City. Heche first became famous by playing the dual roles of "Vicky Hudson" and "Marley Love Hudson" on the American soap opera Another World from 1987 to 1991, for which she won a Daytime Emmy Award; her acclaimed work as Vicky and Marley can currently be seen on Soapnet. Heche has starred in a number of high-profile films, including Donnie Brasco, Volcano, Wag the Dog, Six Days Seven Nights, and Psycho. She was nominated for a Tony Award for her performance in the 2004 Broadway revival of Twentieth Century, and also appeared in the play Proof. She is presently starring in the ABC television drama Men in Trees as a New York City author and relationships expert who relocates to Elmo, Alaska when she discovers her fiancÚ is having an affair. She also starred in Wild Side with Joan Chen as her lesbian lover. In 2007, she was announced to be a member of the voice cast for PG-13 animated feature Superman: Doomsday as Lois Lane, alongside Adam Baldwin as Superman and James Marsters as Lex Luthor.

Heche's relationship with comedian Ellen DeGeneres and the events following their breakup became subjects of widespread media interest. The couple started dating in 1997 shortly after the famous "Puppy Episode" of DeGeneres' eponymous sitcom. At one point, the two said they would get a civil union if such became legal in Vermont. They also worked on film and TV projects together. The couple split up in August 2000 and Heche began dating cameraman Coleman Laffoon, whom she met while Laffoon was filming a comedy special for DeGeneres. They were married in September 2001 and have a son, Homer Heche Laffoon, born March 2, 2002. On January 24, 2007, it was confirmed that Heche had split from Laffoon after five years of marriage.[3][4] Lafoon filed for divorce on February 2, 2007.[5] Sources say Heche left him for Men in Trees co-star James Tupper.[6] Heche's rep had no comment, but the actress herself confirmed the relationship in October 2007 while appearing on Late Show with David Letterman.

A year after her split with DeGeneres, Heche made claims in television interviews and in her autobiography, Call Me Crazy, that she was mentally ill for the first 31 years of her life after being sexually abused by her father. She also claimed to have an alter ego that was the daughter of God and half-sibling of Jesus named "Celestia," who had contacts with extraterrestrial life forms. In her book, she explained that before her split with DeGeneres, she was contacted by God and told he would walk with her for seven days.[citation needed]

Her mother, Dr. Nancy Heche, is a professional Christian psychotherapist. She has toured the nation as a Christian speaker giving testimony of the impact on her life by her husband's death from AIDS in 1983, by the sudden "death bed" revelation of his secret adulterous relationship, and by Anne's lesbian relationship. Nancy Heche has described how her spiritual views toward homosexuals have changed. In her recent book, The Truth Comes Out she describes how prayers and her own personal spiritual awakening coincided with Anne's change from a lesbian relationship.

Heche said her split with DeGeneres was not because of a change in her own sexual orientation. In an interview with The Advocate following the split, Heche said she does not give a label to her own sexual orientation and said "I have been very clear to everybody that just because I'm getting married does not mean I call myself a straight."

Before dating DeGeneres, Heche dated comedian Steve Martin for two years (she is rumored to be the basis for Heather Graham's character in Bowfinger, although Martin denies it).[7] She also dated musician Lindsey Buckingham of Fleetwood Mac for a year in the early 1990s. Some speculate that she is the subject of Buckingham's barbed song "Come." Others speculate that he wrote "Down on Rodeo" (on the Under the Skin album) about her because he can be heard saying "Do you hear me, Annie?" at the end.

In 1994, Heche's sister, Susan Bergman, wrote a book about the family and their relationship with their father titled Anonymity. Heche and Bergman were reportedly estranged after the release of Bergman's book; Bergman died in January 2006[8].

.... [read more].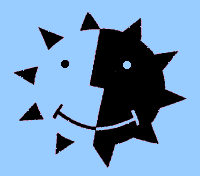 more lesbian stars