Barbara Stanwyck, 1907-1990

---
American actor, film & television star
---
astrology chart, profile, books, links
---
---
Unknown Ascendant, Cancer Sun, (Virgo or Libra?) Moon
---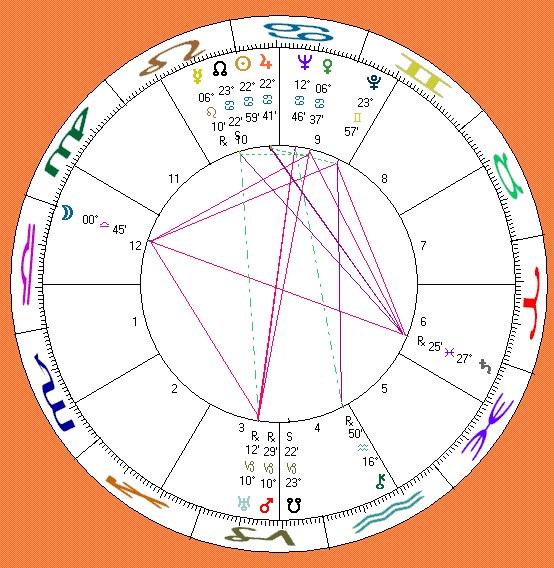 ---
Born: Ruby Catherine Stevens, 16 July 1907, Brooklyn, Kings County, New York, USA. RR: X.
---
FEATURES: PERSONALIZED PLANETS: Cancer JUPITER & SUN (conjunct North Node), Pisces SATURN (opposite Moon; trine Sun). PATTERNS: ???. SHAPE: SEE-SAW. CHINESE SIGN: FIRE GOAT (aka SHEEP). NUMEROLOGY: "22" LIFEPATH.
---
Wikipedia Biography:

Barbara Stanwyck (16 July 1907–20 January 1990) was an American actress, a star of film and television, known during her 60 year career as a consummate and versatile professional with a strong screen presence, and a favorite of directors such as Cecil B. DeMille, Fritz Lang and Frank Capra.[1] After a short stint as a stage actress, she made over 80 films in 38 years in Hollywood, before turning her considerable talent to television.

Stanwyck was nominated for a competitive Academy Award four times, and won three Emmy Awards and a Golden Globe. She was the recipient of honorary lifetime awards from the Motion Picture Academy, the Film Society of Lincoln Center, the Golden Globes, the Los Angeles Film Critics Association, and the Screen Actors Guild, has a star on the Hollywood Walk of Fame[2] and is ranked as the eleventh greatest female star of all time by the American Film Institute.[3]

Barbara Stanwyck was born Ruby Catherine Stevens in New York City to Catherine Ann McPhee, a Canadian immigrant from Nova Scotia, and Byron E. Stevens, an American.[4] When she was two, her mother, who was pregnant at the time, died after being pushed off a moving trolley by a drunk. By age four, her father had abandoned the family. She was raised in foster homes and by an elder sister, but began working at age 13, and was a fashion model and Ziegfeld Girl by the age of 15. She was reared in Brooklyn, New York, where she attended Erasmus Hall High School.[5]

In 1926, Stanwyck began performing at the Hudson Theatre in the drama The Noose, which became one of the biggest hit plays of the season. She co-starred with actors Rex Cherryman and Wilfred Lucas. Cherryman and Stanwyck began a romantic relationship.[citation needed] The relationship was cut short however, when in 1928, Cherryman died at the age of 30 of septic poisoning while vacationing in Le Havre, France. Her performance in The Noose earned rave reviews, and she was summoned by film producer Bob Kane to make a screen test for his upcoming 1927 silent film Broadway Nights where she won a minor part of a fan dancer after losing out the lead role, because she couldn't cry during the screen test.[6] This marked Stanwyck's first film appearance.....

.... Rumors of Stanwyck's sexuality have lingered for decades, with it being said that she was in fact lesbian or bisexual, and that she'd had an affair with actress Tallulah Bankhead, during the same time frame that Bankhead was having her affair with actress Patsy Kelly.[8] While such rumors were never confirmed by Miss Stanwyck, similar stories about her are featured in books about lesbians in Hollywood.

.... [read more at Wikipedia, the free encyclopedia].
---
references