Chad Allen

---
American Actor, Gay & Lesbian Rights Campaigner
---
Astrology chart, profile, biography, photos, DVDs, links
---
---
Scorpio Ascendant, Gemini Sun, Sagittarius Moon, Boomerang
---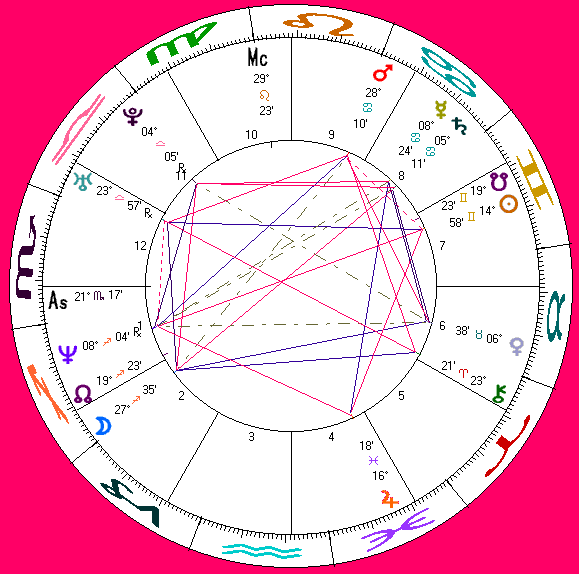 ---
BORN: Chad Allen Lazzari, 5 June 1974, 18:02 (6:02PM) PDT (7hW), Hawaiian Gardens, Los Angeles, California, USA (33n50, 118w04). [RR: AA]. Sy Scholfield [copyright] quotes birth certificate in hand.
---
FEATURES: PERSONALIZED PLANETS: Sagittarius MOON (conjunct North Node); Pisces JUPITER (square Sun; disposits Sagittarius Moon); Gemini SUN (conjunct South Node); Cancer MARS (quincunx Moon; semi-square Sun); Libra URANUS (trine Sun; sextile Moon). PATTERNS: T-SQUARE (Moon opposite Saturn-Mercury, all square Pluto); MUTABLE T-SQUARE (Sun opposite Neptune, both square Jupiter); CARDINAL T-SQUARE (Uranus opposite Chiron, both square Mars); YOD (Venus sextile Saturn-Mercury, all quincunx Neptune). SHAPE: SPLAY. CHINESE SIGN: WOOD TIGER. NUMEROLOGY: "5" LIFEPATH.
---
Chad Allen's Wikipedia Biography
[with Astrology notes by Sy Scholfield]
---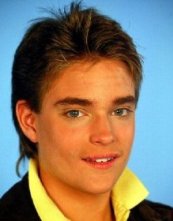 Chad Allen is an American actor. Performing since he was a child [Gemini (child) Sun (actor)], Allen is perhaps best known for appearing on the television series Dr. Quinn: Medicine Woman. Chad got his big break after starring in a McDonald's commercial.

In 1996, at age 21, Allen was outed as gay when the US tabloid The Globe published photos of him kissing another man in a hot tub at a party [Ascendant at 21° Scorpio]. The photos had been sold to the paper by Allen's then-boyfriend [Neptune (underhand move by) quincunx Venus, ruler of 7th House (one's partner)]. He has since become an activist for the LGBT community in addition to his continuing acting and producing career. Allen has been featured in The Advocate magazine multiple times and has appeared on its cover [Uranus (activist) aspecting both Luminaries; Ascendant ruler Pluto in Libra (sexy cover boy)].

Allen portrayed lead character Donald Strachey, a gay private detective in a monogamous relationship, in the 2005 here! television movie Third Man Out and its 2006 sequel, Shock to the System. Both films are adaptations of novels by author Richard Stevenson. Allen noted that it was the first gay character he had ever played outside of theater, and that though his career was "different" since coming out, he finds it "more interesting and fun for me than it has ever been." He will reprise the role in two new films in 2008 : On the Other Hand, Death and Ice Blues.

Controversy surrounded Allen's casting as real-life Christian missionary Nate Saint in the 2006 docudrama film End of the Spear, as some conservative Christians lashed out at producers for putting an openly-gay man in the role [Ruler of 5th House, Neptune (known for playing...) semi-square Uranus (...openly-gay characters)].

On January 17, 2006, Allen appeared on CNN's Larry King Live to represent the gay viewpoint in a debate over same-sex marriage. Allen appeared alongside Valerie Harper from June through August 2008 in Looped, a stage play based on the life of Tallulah Bankhead, at the Pasadena Playhouse in Pasadena, California.

Starting September 23, 2008, Allen will portray the love interest of Dr. Kyle Julian for three episodes of the prime time SOAPnet serial General Hospital: Night Shift, a spin-off of the ABC Daytime soap opera General Hospital.

Allen has a twin sister named Charity [Venus (sister) sextile Mercury (twin)].