Dirk Bogarde, 1921-1999

---
gay English actor, writer
---
"Two fairies on a moonlit night" - Sabian Symbol for Dirk Bogarde's Pluto
---
Astrology chart, profile, books, DVDs, links
---
---
Gemini Ascendant, Aries Sun, Sagittarius Moon, Saturn Unaspected
---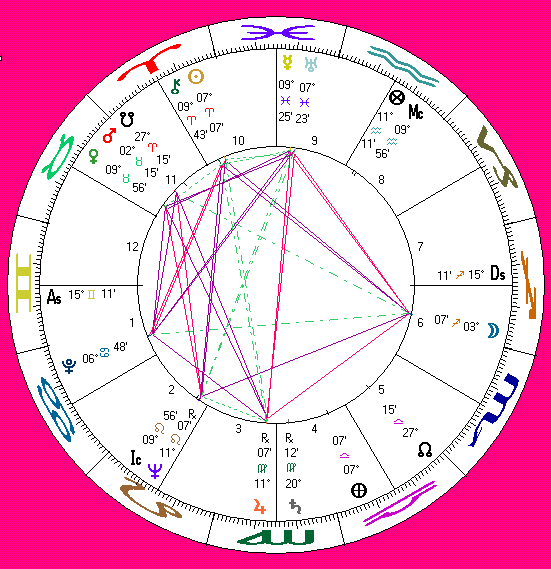 ---
BORN: Derek Jules Gaspard Ulric Niven van den Bogaerde, 28 March 1921, West Hampstead, London, England. RR: AB (from autobiography). Sy Scholfield [copyright] quotes data (including time of birth for chart) from Bogarde's autobiography, plus same date and place in his birth notice in the Times. Also, see Frank Clifford's British Entertainers: The Astrological Profiles. DIED: 8 May 1999, Chelsea, London, England (aged 78).
---
FEATURES: PERSONALIZED PLANETS: Cancer PLUTO (quincunx Moon; square Sun), Leo NEPTUNE (conjunct IC; trine Luminaries), Virgo JUPITER (conjunct Base; square & dispositing Sagittarius Moon; quincunx Sun), Virgo SATURN (conjunct IC), Pisces URANUS (conjunct Midheaven; square Moon; semi-sextile Sun), Pisces MERCURY (conjunct Midheaven), Aries CHIRON (trine Moon; conjunct Sun), Taurus MARS (conjunct South Node; quincunx Moon; disposits Aries Sun). FINAL DISPOSITOR: Taurus VENUS. UNASPECTED: Virgo SATURN. SHAPE: HORSESHOE. CHINESE SIGN: METAL ROOSTER (aka COCK). NUMEROLOGY: "44" LIFEPATH.
---
Abridged Wikipedia Biography
[with Astrology notes by Sy Scholfield]
---
Bogarde was born in West Hampstead, London, of mixed Flemish, Dutch and Scottish ancestry. His father, Ulric van den Bogaerde (born in Perry Barr, Birmingham), was the art editor of The Times [Sun (father) conjunct Chiron (editor) ruled by Mars in artistic Taurus ] and his mother Margaret Niven was a former actress [Sun (performer) & Neptune (role-playing) in Grand Trine with Moon (mother)]. He attended the former Allan Glen's School in Glasgow, a time he described in his autobiography as unhappy, although others have disputed his account.
Bogarde served in World War II, being commissioned into the Queen's Royal Regiment in 1943. He reached the rank of major [Sun in Aries (military) in 10th House (high-ranking)] and served in both the European and Pacific theatres, principally as an intelligence officer [Chiron (intelligence) in Aries (military)]. In April 1945, he claimed he was one of the first Allied officers to reach the Bergen-Belsen concentration camp in Germany, an experience that had the most profound effect on him and about which he found it difficult to speak for many years afterward. His horror and revulsion at the cruelty and inhumanity that he said he witnessed in Belsen left him with a deep-seated hostility towards Germany; he wrote in the 1990s that he would disembark from an elevator rather than ride with a German.[citation needed] Nevertheless, three of his more memorable film roles were as Germans, one of them as a former SS officer (The Night Porter [4]). He was most vocal, towards the end of his life, on the issue of voluntary euthanasia, of which he became a staunch proponent after witnessing the protracted death of his partner and manager Anthony Forwood in 1988 [unaspected Saturn ("staunch proponent") rules his 8th House (trauma, death issues)].
Film career
After the war, Bogarde's good looks [Venus in Taurus (beauty, attractiveness) sextile Mercury, ruler of Ascendant] helped him begin a career as a film actor [Pisces (film) on 10th House (career)], contracted to The Rank Organisation. His 1950 appearance as the criminal, Tom Riley, who shoots Police Constable George Dixon in The Blue Lamp launched him as a lead player, but it was the comedy, Doctor in the House (1954), produced by Betty Box, directed by Ralph Thomas and co-starring Kenneth More, Donald Sinden, and James Robertson Justice as his crabby mentor, which made Bogarde a star [Sun (important roles) in Aries (police, doctors)].
During the 1950s, he also starred as a murderer who befriends a young boy in Hunted (aka The Stranger in Between) (1952); Appointment in London (1953) as a young airman in Bomber Command who, against orders, joins a major offensive against the Germans; The Sea Shall Not Have Them (1954), playing a flight sergeant trapped in a dinghy with Sir Michael Redgrave; The Sleeping Tiger (1954), playing a neurotic criminal with co-star Alexis Smith in fine form, and Bogarde's first film for American expatriate director Joseph Losey; Doctor at Sea (1955), co-starring Brigitte Bardot in one of her first film roles; Cast a Dark Shadow (1955), as a man who marries women for money and then kills them; The Spanish Gardener (1956), co-starring Cyril Cusack and Bernard Lee; Doctor at Large (1957), another entry in the "Doctor series", co-starring Shirley Eaton; A Tale of Two Cities (1958), a faithful retelling of Charles Dickens' classic; The Doctor's Dilemma (1959), by George Bernard Shaw and co-starring Leslie Caron and Robert Morley, not a part of the "Doctor series"; and Libel (1959), playing three separate roles and co-starring Olivia de Havilland.
Bogarde quickly became a matinee idol and was Britain's number one box office draw of the 1950s, gaining the title of "The Matinee Idol of the Odeon" [The ruler of his Ascendant -- Mercury (idol) in Pisces (film) -- is found at noon/matinee position].
After 1960, Bogarde abandoned his heart-throb image for more challenging parts, such as barrister Melville Farr in Victim (1961); decadent valet Hugo Barrett in The Servant (1963) (directed by Joseph Losey); television reporter Robert Gold in Darling (1965); Stephen, a bored Oxford University professor, in Accident (1967); German industrialist Frederick Bruckman in Luchino Visconti's The Damned (1969); the ex-Nazi, Max, in the chilling and controversial The Night Porter (1974) directed by Liliana Cavani; and, most notably, as Gustav von Aschenbach in Death in Venice (1971) also directed by Luchino Visconti, now probably his best-remembered role [unaspected Saturn (elderly figure sitting alone) in 4th House (beside the ocean) ruling 8th House (awaiting death)].
In some of his other roles during the 1960s and 1970s, Bogarde played opposite renowned stars, yet some of the films were of uneven quality. Some of these movies included The Angel Wore Red (1960), playing an unfrocked priest who falls in love with cabaret entertainer Ava Gardner during the Spanish Civil War; Song Without End (1960), playing Hungarian composer and virtuoso pianist Franz Liszt, a film made under the direction of American director George Cukor in Bogarde's only foray into Hollywood; The Singer Not the Song (1961), as a Mexican bandit and co-starring Sir John Mills as a priest; HMS Defiant (aka Damn the Defiant!) (1962), playing sadistic Lieutenant Scott-Padget, in which Bogarde practically steals the movie from his co-star Sir Alec Guinness; I Could Go On Singing (1963), co-starring Judy Garland in her final screen role; The Mind Benders (1963), an off-beat film where Bogarde plays an Oxford professor conducting sensory deprivation experiments at Oxford University (precursor to Altered States (1980)); Hot Enough For June, (aka Agent 8 3/4) (1964), a James Bond-type spy spoof; King And Country (1964), playing an army lawyer reluctantly defending deserter Tom Courtenay; Modesty Blaise (1966), a camp spy send-up playing archvillain Gabriel; Our Mother's House (1967), an off-beat film playing an estranged father of seven children, directed by Jack Clayton; The Fixer (1968), based on Bernard Malamud's novel, co-starring Alan Bates; Sebastian (1968), playing a former Oxford professor heading the all-female decoding office of British Intelligence, co-starring Sir John Gielgud, Susannah York, and Lilli Palmer; Oh! What A Lovely War (1969), co-starring Sir John Gielgud, Sir Laurence Olivier and directed by Sir Richard Attenborough; Justine (1969), directed by George Cukor; Le Serpent (1973), co-starring Henry Fonda and Yul Brynner; A Bridge Too Far (1977), in a rather controversial performance as Lieutenant General Frederick "Boy" Browning; Providence (1977), co-starring Sir John Gielgud; Despair (1978); and Daddy Nostalgie (1991) co-starring Jane Birkin as his daughter, Bogarde's final film role. [The Moon is the focal point of his T-Square and Yod (literally pointing him toward female and feminine figures), and the Moon is found in a Grand Trine with theatrical Neptune & playful Sun (female screen stars)]
Bogarde was nominated six times as Best Actor by the British Academy of Film and Television Arts (BAFTA), winning twice, for The Servant in 1963, and for Darling in 1965 [Pluto transited his Jupiter during these years]. He also received the London Film Critics Circle Lifetime Award in 1991. He made a total of 63 films between 1939 and 1991 [Neptune in Leo (a screen star) on Leo IC (who built his career on many roles)].
Later career and private life
In 1977, Bogarde embarked on his second career as an author. Starting with a first volume A Postillion Struck by Lightning, he wrote a series of autobiographical volumes, novels and book reviews [Mercury (storyteller) square and ruling Gemini Ascendant ('I must tell my story')]. As a writer Bogarde displayed a witty, elegant, highly literate and thoughtful style, though some find his style to be somewhat precious at times [Pluto trine Mercury can make for 'precious' writing].
Bogarde was a life-long bachelor [Jupiter in Virgo (fussy) rules Sagittarian 7th House (about one's need for freedom in/from relationships)] and, during his life, was reported to be homosexual [Uranus (unusual sexuality) on midheaven conjunct Mercury, ruler of Ascendant (seen for who he is)]. Bogarde's most serious friendship with a woman was with the bisexual French actress Capucine. For many years he shared his homes, first in Amersham, England, then in France with his manager Anthony Forwood (a former husband of the actress Glynis Johns and the father of her only child, actor Gareth Forwood), but repeatedly denied that their relationship was anything other than friendship. These denials were understandable, mainly given that homosexual acts were illegal during most of his career, and also given his following among female admirers which he was loath to jeopardise. His brother Gareth Van den Bogaerde confirmed in a 2004 interview that Bogarde was engaging in homosexual sex at a time when such acts were illegal, and also that his long-term relationship with Tony Forwood was more than simply that of a manager and friend [unaspected Saturn (hidden and controlled) ruling 8th House (sexuality)] .
Many people believed Bogarde's refusal to enter into a marriage of convenience in order to cover up his homosexuality was a major reason for his failure to become a star in Hollywood, together with the critical and commercial failure of Song Without End. His friend Helena Bonham Carter believed Bogarde could never come out as gay in later life, after his movie stardom had ended, because he would not have been able to deal with the fact that he had been forced to live a lie during his career. [unaspected Saturn (preferring not to appear secretive) ruling 8th House (about one's sexuality)]
Bogarde starred in the landmark 1961 film Victim, playing a prominent homosexual barrister in London who fights the blackmailers of a young man with whom he had an emotional relationship. The young man commits suicide after being arrested for embezzlement, rather than ruining the attorney's reputation. In the process of exposing the ring of extortionists, Bogarde's character puts at risk his successful legal career and marriage in order to see that justice is served. Victim was the first mainstream British film to treat the subject of homosexuality seriously and the film helped lead to the changing of the law [Neptune in Leo (screen star) ruling Pisces Uranus (appearing in film about unusual sexuality)] .
As Britain's leading box-office star of the 1950s, Bogarde displayed enormous personal courage in appearing in such a controversial film as Victim, which could have destroyed his career at that time [Sun in Aries (bravery) ruled by Mars in 11th House (for a social cause)]. However, his performance opened a path to more challenging roles that gained him respect as one of the leading actors in the intellectual ("art house") film genre [Venus in Taurus ("arthouse") conjunct Mars]. Bogarde's decision to appear in Victim appears even more daring today, given that many contemporary film stars are afraid to portray a serious gay character because of the perceived public reaction and effect on their career that such a role could have [Sun (actor) in Aries (in pioneering role/s)].
Despite the stereotyping his performance in Victim could have brought him, during his career Bogarde portrayed heterosexual single or married men in the majority of his films, with the exception of his roles in Victim, The Servant, Modesty Blaise, and Death in Venice, although even those roles could be considered as being more bisexual than homosexual in nature [His Mutable T-square enabled him to build a career on 'going with the flow'].
Bogarde's controversial film choices later in his career led him to have something of a cult following. The singer Morrissey was a fan and, according to Charlotte Rampling, Bogarde was approached in 1990 by Madonna to appear in her video for Justify My Love, citing The Night Porter as an inspiration. Bogarde declined the offer [Uranus in Pisces on midheaven (cult film figure)].
In 1984, Bogarde served as president of the jury at the Cannes Film Festival. He was the first Briton ever to serve in that capacity, and this represented an immense honor for Bogarde. He was knighted in 1992 for services to acting, and was the recipient of several honorary doctorates, including from St Andrews and Sussex universities.
Formerly a heavy smoker, Bogarde suffered a minor stroke in November 1987 while Anthony Forwood was dying of liver cancer and Parkinson's disease. Never afraid of voicing his opinion [Mercury square and ruling Gemini Ascendant (outspokenness)], after witnessing Forwood's protracted death he became active in promoting voluntary euthanasia for terminally ill patients in Britain and toured the UK giving lectures and answering questions from live audiences on the subject [Uranus trine Pluto (voluntary euthanasia, or the right to die as I one chooses)]. It was a cause, he stated, that had been important to him since the war, during which he had witnessed severely injured men pleading to be put out of their misery.
In September 1996, he underwent angioplasty to widen arteries leading to his heart [Aries (blood, arteries) Sun (heart)] and suffered a pulmonary embolism following this operation. For the final three years of his life Bogarde was paralyzed on one side of his body, which affected his speech. He managed, however, to complete a final volume of autobiography, which covered the stroke and its effect on him. He spent some time the day before he died with his good friend Lauren Bacall. Sir Dirk Bogarde died in London from a heart attack on May 8, 1999, aged 78. His ashes were scattered at his former beloved estate of "Le Haut Clermont" in Grasse, Southern France.
.... [read more at Wikipedia, the free encyclopedia].
---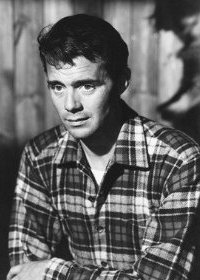 Dirk Bogarde (& James Fox) in The Servant (1963)