Drew Barrymore

---
American Actor & Film Producer
---
astrology chart, profile, books, DVDs, links
---
---
Gemini Ascendant, Pisces Sun, Cancer Moon, Grand Water Trine
---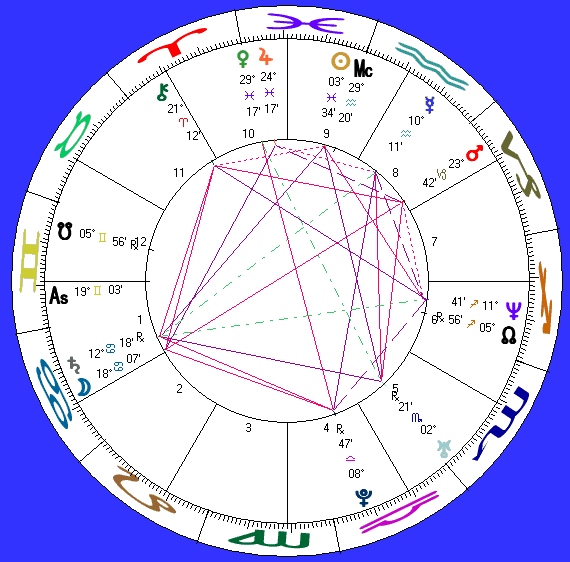 ---
Born: Drew Blyth Barrymore, 22 February 1975, 11:51 (11:51AM) PST (7hW), Brotman Memorial Hospital, Culver City, California, USA (Lois Rodden quotes birth certificate; RR: AA).
---
FEATURES: PERSONALIZED PLANETS: Cancer SATURN (conjunct Moon, trine Sun), Sagittarius NEPTUNE (conjunct North Node), Pisces SUN (conjunct MC), Pisces JUPITER (conjunct MidHeaven), Aries CHIRON (semi-square Sun, square Moon). PATTERNS: CARDINAL T-SQUARE (Moon opposite Mars, both square Chiron), GRAND WATER TRINE (Saturn, Uranus, Sun). MUTUAL RECEPTION: NEPTUNE in SAGITTARIUS & JUPITER in PISCES. SHAPE: SPLAY. CHINESE SIGN: WOOD CAT ~ RABBIT. NUMEROLOGY: "10" LIFEPATH.
---
Wikipedia Biography [Astrology comments by Sy Scholfield]:

Drew Blyth Barrymore (born February 22, 1975) is an American actress and film producer [Pisces Sun conjunct MC]. She is the youngest member of the Barrymore family of American actors. She first appeared in a film when she was eleven months old. Barrymore made her screen debut in Altered States in 1980. Afterwards, she starred in her breakout role in E.T. the Extra-Terrestrial. She quickly became one of Hollywood's most recognized child actresses, going on to establish herself in mainly comic roles.

Following a turbulent childhood which was marked by drug and alcohol abuse and two stints in rehab, Barrymore wrote the 1990 autobiography, Little Girl Lost [Venus 29 Pisces]. Barrymore successfully made the transition from child star to adult actress with a number of films including the unsuccessful Poison Ivy, Bad Girls, Boys on the Side, and Everyone Says I Love You. Subsequently, she has established herself in romantic comedies such as The Wedding Singer [Pluto in marital Libra rules 5th House of acting/comedy] and starred in the drama film Lucky You opposite Eric Bana.

In 1995, she and partner Nancy Juvonen formed the production company Flower Films, with its first production the 1999 Barrymore film Never Been Kissed. Flower Films has gone on to produce the Barrymore vehicle films Charlie's Angels, 50 First Dates, and Music and Lyrics, as well as the cult film Donnie Darko. Barrymore's more recent projects include He's Just Not That into You, Beverly Hills Chihuahua, and Everybody's Fine. A recipient of a star on the Hollywood Walk of Fame, Barrymore appeared on the cover of the 2007 People magazine's 100 Most Beautiful issue.

Barrymore was named Ambassador Against Hunger for the United Nations World Food Programme (WFP). Since then, she has donated over $1 million dollars to the program [A Pisces Sun can be very philanthropic]. In 2007, she became both CoverGirl's newest model and spokeswoman for the cosmetic and the face for Gucci's newest jewelry line.