James Mitchell, 1920-2010

---
American actor, dancer
---
Astrology chart, profile, books, films, links
---
---
Taurus Ascendant, Pisces Sun, Cancer Moon, Neptune-Jupiter Boomerang
---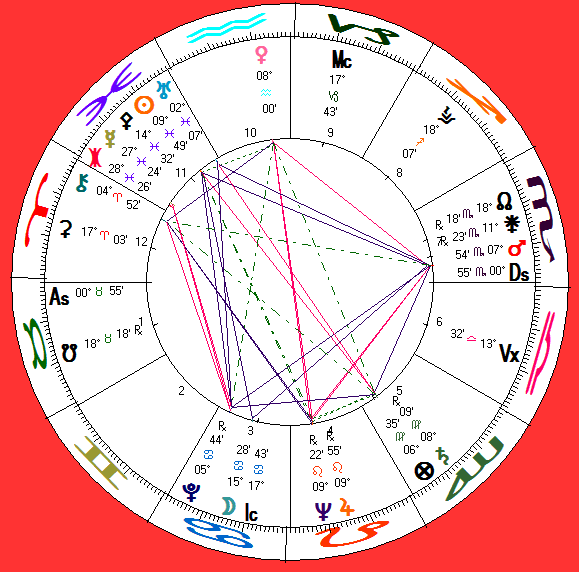 ---
AstroData: 29 February 1920, 08:50 (8:50 AM) PST (8hW), Sacramento, California, USA.(Sy Scholfield [copyright] quotes data from Gauquelin Book of American Charts. RR: AA). DIED: 22 January 2010.
---
FEATURES: PERSONALIZED PLANETS: Cancer MOON (conjunct IC), Leo NEPTUNE-JUPITER (conjunct base of chart), Scorpio MARS (conjunct Descendant, trine Sun; trine Moon), Aquarius VENUS (conjunct Midheaven). PATTERNS: YOD (Venus sextile Chiron, both quincunx Saturn), BOOMERANG (Pluto sextile Saturn, both quincunx Venus; Venus opposite Neptune-Jupiter), FIXED T-SQUARE (Venus opposite Neptune-Jupiter, all square Mars), GRAND WATER TRINE (Pluto-Moon, Mars, Uranus-Sun). MUTUAL RECEPTION: Leo NEPTUNE & Pisces SUN. SHAPE: HORSESHOE. CHINESE SIGN: ??. NUMEROLOGY: "7" LIFEPATH.
---
Wikipedia Biography [Astrology by Sy Scholfield]:

James Mitchell was an American actor and dancer. Although he is best-known to television audiences as Palmer Cortlandt on the soap opera All My Children (1979 – 2009), theatre and dance historians remember him as one of Agnes de Mille's leading dancers. Mitchell's skill at combining dance and acting was considered something of a novelty; in 1959, the critic Olga Maynard singled him out as "an important example of the new dancer-actor-singer in American ballet", pointing to his interpretive abilities and "masculine" technique.

While studying drama at Los Angeles City College, Mitchell was introduced to modern dance at the school of the famed teacher and choreographer, Lester Horton. After receiving his associate's degree, he joined Horton's company, where he remained for nearly four years. While working with Horton, he became a close friend of dancer Bella Lewitzky; in the 1970s, he became President of the Board of Directors of her Dance Foundation, and afterwards remained a "major longtime […] supporter" of hers.[4] In 1944, Horton took Mitchell to New York with him to form a new dance company, but the venture abruptly collapsed.

Stage and Film Career As it happened, the failure of Horton's company was a significant turning point in Mitchell's career: while struggling to find either acting or dancing roles in New York, he successfully auditioned for Agnes de Mille, who was choreographing her first musical since Oklahoma!. Mitchell, who did not study ballet until he was in his mid-twenties, was at a loss when faced with de Mille's ballet combination. Much later, describing his approach to the audition, he said, "Well, I really hadn't too much familiarity with that but I threw myself across the floor and about the third or fourth pass, Agnes cried 'Stop' and summoned me over and said 'Where on earth did you get your dance training?'". De Mille nevertheless offered him the dual position of principal dancer and assistant choreographer. Given the option between touring with Helen Hayes and dancing for de Mille, he chose de Mille. Bloomer Girl (1944) began an important artistic partnership with de Mille that lasted from 1944 to 1969 and spanned theater, film, television, and concert dance. De Mille's biographer, Carol Easton, describes him as the "quintessential male de Mille dancer" and de Mille's "closest confidant" in her artistic life.[8] In one of her autobiographical volumes, de Mille herself said of Mitchell that he had "probably the strongest arms in the business, and the adagio style developed by him and his partners has become since a valued addition to ballet vocabulary." When, nearly thirty years later, an interviewer asked Mitchell to respond to de Mille's comments, he offered a more modest assessment of his career: "I was primarily an actor [...] and I think what Agnes was referring to was my acting and regard for the woman I was partnering. Because in the end I really was a partner. When I look at today's dancers, or I look at the great dance movies, such as Seven Brides for Seven Brothers--I couldn't do any of that! I know I was a dancer, but I didn't have the technique. At most I was an actor-dancer."

As a film performer, Mitchell had only moderate success. In the early 1940s, he did both chorus dancing and extra work in a number of minor musicals and westerns. On the strength of his award-winning performance in Brigadoon, he was scouted by producer Michael Curtiz and signed to a contract at Warner Brothers. Curtiz initially intended to put Mitchell in a picture with Doris Day that never materialized.[11] After several months, Mitchell eventually made two films for Warner Brothers, including Raoul Walsh's Colorado Territory, before following Curtiz to Metro-Goldwyn-Mayer. At MGM, he played supporting roles in six films between 1949-55, most notably Anthony Mann's Border Incident, Jacques Tourneur's Stars in My Crown, and Vincente Minnelli's The Band Wagon — an experience he loathed so much that he refused to see the film[12][13] — but he did not work for the studio again after appearing in the infamously over-budgeted flop The Prodigal (1955). Mitchell's film career ended abruptly after he starred in Hal R. Makelim's Western The Peacemaker (1956), the only time he was ever billed above the title. After that, it took over two decades before he made his next and what proved to be his final appearance on the big screen, The Turning Point (1977). He also co-starred with Thelma "Tad" Tadlock in the famous sponsored film A Touch of Magic presented by General Motors at the 1961 Motorama.

Besides performing, Mitchell occasionally worked as a director and choreographer, particularly in the late 1960s and 1970s. He staged musicals at the Paper Mill Playhouse, the Mark Taper Forum, and The Muny, among other theatres. In 1956, he and Katherine Litz co-staged The Enchanted for American Ballet Theatre.

Television Career

On television, Mitchell was considerably more active, especially in the late 1950s and early 1960s. In addition to working regularly as a dancer, he played dramatic roles in a number of TV movies and prime-time series, as well as in the anthologies that were once so popular, such as Play of the Week, Gruen Guild Playhouse, and Armstrong Circle Theatre. In 1964, he took his first contract role on a soap opera in The Edge of Night, as the corrupt Capt. Lloyd Griffin; this was followed by the entire run of Where the Heart Is (1969-73), in which he played the male lead, Julian Hathaway. During the late 1970s, he was a guest star on Lou Grant and Charlie's Angels.

However, after Mack & Mabel flopped in 1974, Mitchell's performing career nearly ended altogether. He earned a BA from Empire State College and an MFA from Goddard College in order to teach full-time at the college level, and taught movement for actors at Juilliard, Yale University, and Drake University.

After a few years of almost no work--he once summed up the 1970s as "I cried and did a lot of gardening"[14] In 1979,he was hired for his best-known role, self-made millionaire Palmer Cortlandt on ABC's long-running soap opera "All My Children." Initially hired for only one year, he remained on contract through 2009. His final appearance as a contract player was September 19, 2008, although his retirement was not made official until September 30, 2009.[15] On January 4, 2010, he appeared briefly on the 40th anniversary celebration. He died a few weeks later, at the age of 89. The show aired a tribute to Mitchell on April 20, 2010, stating that Palmer Cortlandt had suffered a heart attack during the previous night. The episode aired scenes and memories from the show and cast covering the near 30 years of Palmer's life in Pine Valley.

Personal life Mitchell's longtime partner was the Oscar award-winning costume designer Albert Wolsky.

Though he was born in 1920, in 2004 James celebrated his 21st birthday with friends in New York City. He was born on February 29, a leap year baby.

James Mitchell died on January 22, 2010, in Los Angeles, a matter of weeks before what would have been his 90th birthday. His death came after suffering from chronic obstructive pulmonary disease complicated by pneumonia.

.... [read more at Wikipedia, the free encyclopedia].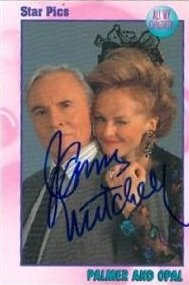 James Mitchell autographed trading card from Amazon