Jodie Foster

---
American film star, actor, director, producer
---
"A woman the father of her own child" - Sabian Symbol for Jodie Foster's Venus (16° Scorpio)
---
Astrology chart, profile, books, DVDs, links
---
Sagittarius Ascendant, Scorpio Sun, Virgo Moon, Pluto Midheaven
---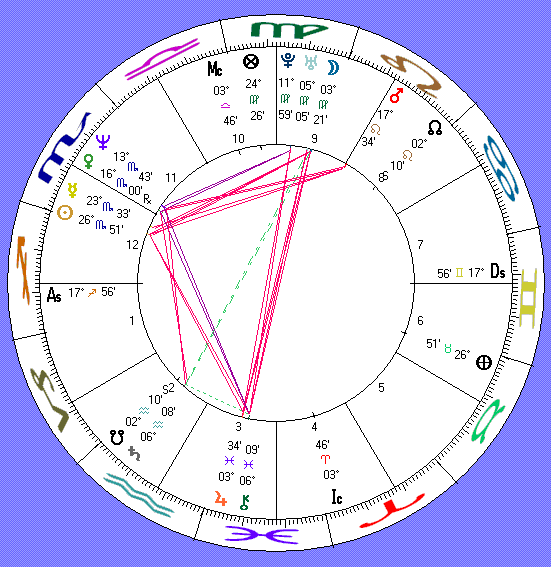 ---
BORN: Alicia Christian Foster, 19 November 1962, 08:14 (8:14AM) PST (8hW), Los Angeles, California, USA. RR: AA. Sy Scholfield [copyright] quotes data from birth certificate.
---
FEATURES: PERSONALIZED PLANETS: Aquarius SATURN (conjunct South Node), Pisces JUPITER & CHIRON (opposite Moon; square Sun), Virgo URANUS (conjunct Moon; square Sun), Virgo PLUTO (conjunct Moon & Midheaven, square & dispositing Scorpio Sun), Scorpio MERCURY (square Moon; conjunct Sun). PATTERNS: T-SQUARE (Jupiter-Chiron opposite Moon-Uranus, all square Sun). SHAPE: LOCOMOTIVE (Leo MARS leads). CHINESE SIGN: WATER TIGER. NUMEROLOGY: "11" LIFEPATH.
---
WIKIPEDIA BIOGRAPHY [with Astrology notes by Sy Scholfield]
---
Although Foster's first acting appearance was at three years old [Jupiter 3° Pisces opposite Moon 3° Virgo], her first significant role came in 1976 as an underage prostitute in Taxi Driver [Solar Arc progressed Moon in Virgo, ruler of 8th House (sex worker) and Jupiter (taxi driver) respectively conjunct and opposite natal 10th House cusp], for which she received an Oscar nomination for Best Supporting Actress. She won an Oscar for Best Actress in 1988 for playing a rape survivor in The Accused [Solar Arc progressed Mercury conjunct natal Ascendant, trined by natal Mars in dramatic Leo (ruler of theatrical 5th House)]. In 1991, she starred in The Silence of the Lambs as Clarice Starling, a gifted FBI trainee, assisting in a hunt for a serial killer. This performance received international acclaim and her second Oscar for Best Actress [Solar Arc progressed Moon conjunct natal MC, semi-squared by Leo Mars, ruler of 5th House]. Her films and roles have spanned a wide variety of genres, including thrillers, crime, romance, comedy, children's films and science fiction [Mercury (versatile) in 12th House (films) square Mars, ruler of 5th House (roles)]. Popular later films include the box office successes Contact (1997), Panic Room (2002), Flightplan (2005), Inside Man (2006) and The Brave One (2007).
Early life
Her father, an Air Force Lieutenant-Colonel (being a veteran of the Battle of Britain and a highly decorated soldier) [military Mars and aviator Uranus both square Sun (father), moreover exactly from their midpoint; Sabian Symbol for Sun: "A military band on the march"] turned real estate broker [Sun (father) in the Cancer (real estate) decanate of Scorpio], came from a wealthy background and left his wife before Jodie was born. Foster's mother supported them by working as a film producer [Moon (mother) ruled and opposed by Chiron, ruler of 10th House (producer)]. After appearing as a child in several commercials, Foster made her first credited TV appearance on The Doris Day Show. Her first film role was in the 1970 television movie Menace on the Mountain [Solar Arc progressed Moon conjunct natal Pluto, ruler of natal 12th House], which was followed by several Disney productions.
Foster attended a French-speaking prep school, the Lycée Français de Los Angeles, and graduated in 1980 as the valedictorian. As a teenager, Foster frequently stayed and worked in France, and still speaks the language, dubbing herself in French-language versions of most of her films. She then attended Yale University. Foster earned a B.A. in literature and graduated magna cum laude in 1985. She was scheduled to graduate in 1984 but the shooting of then-President Ronald Reagan by John Hinckley, Jr., in which Hinckley's fascination with Foster created unwanted adverse publicity for her, caused her to take a year-long leave of absence from Yale. She is fluent in French and German [Jupiter (multi-culturalism) in 3rd House (languages) rules Ascendant (self-expression)].
Child star
Foster made nearly 50 film and television appearances before she attended college. She began her career at age three as the Coppertone Girl in a television commercial [Jupiter, ruler of Ascendant (breakthrough role) at 3° Pisces (advertising) opposite Moon (beach) at 3° Virgo (semi-nudity); MC-IC axis 3°Libra-3°Aries] and debuted as a television actress in a 1968 episode of Mayberry R.F.D. [At about age five: Uranus (television role) at 5° Virgo]. In 1969, she appeared in an episode of Gunsmoke, where she was credited as "Jody Foster" [Solar Arc progressed Venus (semi-sextile Ascendant in natal chart) conjunct natal Mercury, plus SA progressed Mars, ruler of 5th House (stage name) square natal Mercury]. Although not a regular on The Courtship of Eddie's Father, she appeared from time to time as Eddie's friend Joey Kelly. She made her film debut in the 1970 TV movie Menace on the Mountain [Solar Arc progressed Chiron (debutante) trine its ruler, natal Neptune (film)]. Foster made a number of Disney movies, including Napoleon and Samantha (1972), One Little Indian (1973), Freaky Friday (1976), and Candleshoe (1977). She also co-starred with Christopher Connelly in the 1974 TV series version of Paper Moon and alongside Martin Sheen in the 1976 cult film The Little Girl Who Lives Down the Lane.
As a teenager, Foster made several appearances on the French pop music circuit as a singer. Commenting on her years as a child actress, which she describes as an "actor's career", Foster has said that "it was very clear to me at a young age that I had to fight for my life and that if I didn't, my life would get gobbled up and taken away from me" [Mercury (youth) in Scorpio (fighting for ones life; fear of loss)]. She hosted Saturday Night Live at age 14, making her the youngest person to host at that time [Solar Arc progressed Pluto sextile & ruling natal Sun] until Drew Barrymore hosted at the age of seven. She also said, "I think all of us when we look back on our childhood, we always think of it as somebody else. It's just a completely different place. But I was lucky to be around in the '70s and to really be making movies in the '70s with some great filmmakers — the most exciting time, for me, in American Cinema. I learned a lot from some very interesting artists -- and I learned a lot about the business at a young age, because, for whatever reason, I was paying attention; so it was kind of invaluable in my career" [Ruler of 10th House (business, career) is Chiron (learner) in 3rd House (childhood, early years)].
At age 14, Foster was nominated for the Academy Award For Best Supporting Actress for her role as Iris, an underage prostitute in Martin Scorsese's film Taxi Driver opposite Robert De Niro [Solar Arc progressed Moon in Virgo, ruler of 8th House (female sex worker) conjunct 10th House cusp (public recognition), opposite Solar Arc progressed Jupiter (taxi driver)]. Foster received two BAFTA awards in 1976: Best Newcomer and Best Supporting Actress for her performances in Bugsy Malone and Taxi Driver [].
She made her debut (and only official) musical recordings in France in 1977: two 7" singles, "Je T'attends Depuis la Nuit des Temps" b/w "La Vie C'est Chouette"[11]and "When I Looked at Your Face" b/w "La Vie C'est Chouette." The A-side of the former is sung in French, the A-side of the latter in English. The B-side of both is mostly spoken word and is performed in both French and English. These three recordings were included on the soundtrack to Foster's 1977 French film Moi, fleur bleue [].
Reagan assassination attempt
John Hinckley Jr., a deranged fan, became obsessed with her after watching Taxi Driver a number of times, and he stalked her while she attended Yale, sending her love letters to her campus mail box and even talking to her on the phone [Uranus & Pluto conjunct Moon (crazed, obsessive fan) ruling 8th House (becoming too close for comfort)]. On March 30, 1981, he attempted to assassinate U.S. President Ronald Reagan, (shooting and wounding Reagan and three others) and claimed his motive was to impress Foster, then a Yale freshman. The media stormed the Yale campus in April "like a cavalry invasion", and followed Foster relentlessly [Pisces Jupiter (Media) opposite Uranus (university campus)]. In 1982, Foster was called to testify during his trial. After she responded to a question by saying that "I don't have any relationship with John Hinckley," Hinckley threw a pen at her and yelled "I'll get you, Foster!" Hinckley's obsession inspired a punk rock band to name themselves Jodie Foster's Army. Another man, Edward Richardson, followed Foster around Yale and planned to shoot her, but decided against it because she "was too pretty". This all caused intense discomfort to Foster, who has been known to walk out of interviews if Hinckley's name is even mentioned [Moon (emotional issues) ruling 8th House (based on threats and trauma)].
Adult Career Unlike other child stars such as Shirley Temple or Tatum O'Neal, Foster successfully made the transition to adult roles, but not without initial difficulty. Several of her post-Taxi Driver works were financially unsuccessful, such as Foxes, The Hotel New Hampshire, Five Corners, and Stealing Home. She had to audition for her role in The Accused. She won the part and the first of her two Golden Globes and Academy Awards as Best Actress for her role as a rape survivor. She earned her second as FBI agent Clarice Starling [with a stellium of 4 planets in Scorpio ruled by Pluto on her Midheaven Foster was bound to make her mark playing extremely brave survivors], opposite Anthony Hopkins as Hannibal Lecter, in the 1991 film The Silence of the Lambs. She made her directorial debut in 1991 with Little Man Tate, a critically acclaimed drama about a child prodigy, in which she also co-starred as the child's mother. She also directed Home for the Holidays (1995), a black comedy starring Holly Hunter and Robert Downey Jr. In 1992, Foster founded a production company called Egg Pictures in Los Angeles. It primarily produced independent films until it was closed in 2001. Foster said that she did not have the ambition to produce "big mainstream popcorn" movies, and as a child, independent films made her more interested in the movie business than mainstream ones. [At around age 30 [1991-1992], Foster's solar arc progressed Mars (ruler of her creative and dramatic 5th House) reached her 10th House cusp (marking a career change and new 'direction')]. She began working as a producer in 1994 with the acclaimed Nell, the story of a young woman raised in an isolated place who has to return to civilization. She later commented that it was difficult being an actress and a producer for Nell.
Foster played Laurel Sommersby in Sommersby and Annabelle Bransford in the 1994 film Maverick. Sommersby co-star Richard Gere would comment that "She's very much a close-up actress, because her thoughts are clear" [clarity of thought?: Uranus in Virgo ruling 3rd House] In 1997, she starred alongside Matthew McConaughey in the sci-fi movie Contact, based on the novel by scientist Carl Sagan. She portrayed a scientist searching for extraterrestrial life in the SETI project. She commented on the script that "I have to have some acute personal connection with the material. And that's pretty hard for me to find." Contact was also her first science fiction film, and her first experience with a bluescreen. She commented, "Blue walls, blue roof. It was just blue, blue, blue. And I was rotated on a lazy Susan with the camera moving on a computerized arm. It was really tough." In 1998, an asteroid, 17744 Jodiefoster, was named in her honor [Aged 35-36 [1997-1998], solar arc progressed Neptune (the 'blue planet') was crossing Foster's ascendant].
In 2002, Foster took over the lead role in David Fincher's Panic Room after Nicole Kidman was injured during initial filming. The film grossed over 30 million dollars in its opening weekend in the United States, Foster's biggest box office opening success of her career so far [Solar Arc progressed Neptune at 23° Sagittarius semi-sextile natal Mercury at 23° Scorpio]. She then performed in the French-language film Un long dimanche de fiançailles (A Very Long Engagement) (2004), speaking French fluently throughout . Foster returned in the 2005 film Flightplan which opened once again #1 at the U.S. box office and was a worldwide hit. Foster portrayed a woman whose daughter disappears on an airplane that her character, an engineer, had helped to design.
In 2006, she appeared in Inside Man, a thriller directed by Spike Lee and co-starring Denzel Washington and Clive Owen, which opened #1 at the U.S. box office and went on to be one of the commercial hits of the year. In 2008, she starred in The Brave One directed by Neil Jordan and co-starring Terrence Howard, another urban thriller that opened at #1 at the U.S. box office. Foster's performance in the film would earn her a sixth Golden Globe acting nomination. Commenting on her latest roles, Foster has said that she enjoys appearing in mainstream genre films that have a "real heart to them". Indeed, many of her most successful films in recent years have been thrillers ["successful thrillers"?: Uranus-Pluto (excitement-fear) conjunct her midheaven (success)].
Personal life
Foster says she has only met her father three times in her entire life and that their meetings have been very awkward [Sun (father) in 12th House (distant, mystifying character) ruled by Pluto conjunct Uranus (awkwardness)]. She has two older sisters, Lucinda "Cindy" Foster (b. 1954), Constance "Connie" Foster (b. 1955), and one older brother, Lucius "Buddy" Foster (b. 1957). During the filming of both Taxi Driver and The Little Girl Who Lives Down the Lane, Connie was her stand-in. Buddy Foster had his own career for several years appearing in regular spots on television shows such as Hondo and Mayberry, R.F.D. Foster and her brother have been estranged for many years. In 1997, he wrote a book entitled Foster Child in which stated "I have always assumed Jodie was gay or bisexual" [In 1997 Solar Arc progressed Neptune (free-flowing sexuality) ruler of 3rd House planets (Jupiter/Chiron: published book) transited Foster's Ascendant]. In the book, he writes that Jodie was conceived in her father's office three years after their parents divorced when their mother went to him for child support. He also claims that her name was changed from "Alicia" to "Jodie" because it was a code "Jo D" for their mother's lesbian lover, Josephina Dominguez. Jodie called the book "A cheap cry for attention and money filled with hazy recollections, fantasies and borrowed press releases. Buddy has done nothing but break our mother's heart his whole life" [SA progressed Neptune on natal Ascendant prompts charges of haziness and fantasties].
Foster is intensely private about certain aspects of her personal life, notably her sexual orientation, which has been the subject of speculation [Pluto )secrecy) conjunct Moon (orientation), ruler of 8th House (sexuality)]. In her teens, she dated actor Scott Baio, her costar in Bugsy Malone and Foxes. In July 2007, Baio told Entertainment Weekly that he and Foster would make out on the set. In an interview in 2005, Foster talked about her relationship with Rob Lowe on the set of The Hotel New Hampshire saying that both "got to spend [the] entire day naked in bed, and when everyone went out to eat lunch we ordered in and talked about our lives and played music and laughed and fell asleep." In 1989, Foster's Oscar date for the Academy Awards was Julian Sands, her costar in Siesta. For years, Russell Crowe accompanied her to premieres and award ceremonies, but they never commented on the rumor that they were romantically involved [Gemini on 7th cusp at least indicates a show of versatility in partnership choices].
Foster has two sons: Charles Foster (b. 20 July 1998) and Christopher "Kit" Foster (b. 29 September 2001). Foster gave birth to both children, but has not revealed the identity of the children's father(s) or the specifics of their conception [12th House (secrecy) Mercury (about her chidren's origins) conjunct Sun (and their father)].
In December 2007, Foster made headlines when during an acceptance speech at Hollywood Reporter's "Women in Entertainment" event, she paid tribute to film producer Cydney Bernard, referring to her as "my beautiful Cydney, who sticks with me through the rotten and the bliss" [At age 45, Foster's Solar Arc progressed Moon reached her 11th House cusp, the midpoint between her Ascendant (coming out) and Mars, ruler of her 5th House (about her romantic life)]. Some media interpreted this as Foster coming out, as she was believed to be her girlfriend since both met in 1992 during the filming of Sommersby. Foster and Bernard never attended premieres or award ceremonies together, but were often seen walking with Foster's children in public. On May 15, 2008, several news outlets reported that Foster and Bernard had "called it quits." The Daily Mail, a UK tabloid newspaper, reported that the split came after Foster had an affair with The Brave One screenwriter Cynthia Mort.
Foster is an atheist and does not follow any "traditional religion," but has "great respect for all religions" [Saturn in Aquarius] and spends "a lot of time studying divine texts, whether it's Eastern religion or Western religion" [Jupiter-Chiron in Pisces (different religions) in 3rd House (reading, study)]. In an interview with Entertainment Weekly, she stated that she and her children celebrate both Christmas and Hannukah.
....[read more at Wikipedia, the free encyclopedia]