John Barrowman

---
Scottish actor, musical performer, dancer, singer & TV presenter
---
Astrology chart, profile, books, DVDs, music, links
---
---
Virgo Ascendant, Pisces Sun & Moon, Pluto-Uranus Rising
---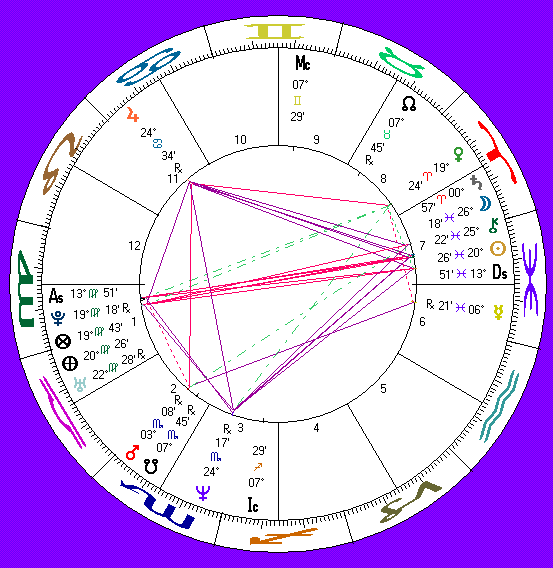 ---
BORN: John Scot Barrowman, 11 March 1967, Robroyston Hospital, Glasgow, Scotland. RR: AA. Sy Scholfield [copyright] quotes data (including time of birth for chart) from Frank Clifford's British Entertainers: The Astrological Profiles (quoting Caroline Gerard for data from birth certificate). Data used here with permission.
---
FEATURES: PERSONALIZED PLANETS: Virgo PLUTO-URANUS (conjunct AScendant; opposite Luminaries), Scorpio MARS (conjunct South Node), Scorpio NEPTUNE (trine and dispositing Pisces Luminaries), Pisces MERCURY and SUN (conjunct Descendant), Pisces CHIRON (conjunct Luminaries), Cancer JUPITER (trine Luminaries). PATTERNS: TRIPLE PISCES CONJUNCTION (Sun, Chiron, Moon), GRAND WATER TRINE (Neptune, triple conjunction, Jupiter), KITE (Grand Trine plus Pluto-Uranus), YOD (Pluto-Uranus sextile Neptune, all quincunx Aries VENUS). SHAPE: SEE-SAW. CHINESE SIGN: FIRE GOAT (aka SHEEP). NUMEROLOGY: "10" LIFEPATH.
---
Abridged Wikipedia Biography
[with Astrology notes by Sy Scholfield]:
John Scot Barrowman (born 11 March 1967 in Mount Vernon, Glasgow) is a Scottish actor, musical performer, dancer, singer and television presenter, who has lived and worked both in the United Kingdom and the United States. He currently lives in the UK with his civil partner Scott Gill.
Barrowman is best known on British television for his acting and presenting work for the BBC. His most prominent television role has been as Captain Jack Harkness in Doctor Who and its spin-off series Torchwood. He has featured in such light entertainment shows as Live & Kicking, Any Dream Will Do, How Do You Solve A Problem Like Maria?, and I'd Do Anything as well as appearing on the celebrity ice skating show Dancing on Ice. As a result of his family's move to Illinois when he was 9 years old, Barrowman speaks in an American accent on screen but reverts to a Scottish accent when with family or in Scotland.[1]
Barrowman is openly gay [Pluto conjunct Ascendant & Part of Fortune in 1st House]. He was voted the 2006 Stonewall "Entertainer of the Year"[2] and was third in Broadcast magazine's "Hottest Commodity" poll in November 2006.[3]
BIOGRAPHY
John Scot Barrowman was born in Mount Vernon, Glasgow, where he lived for the first eight years of his life. His mother worked in a record shop [(musical) Pisces Moon (mother) in 7th house (sales)] and his father worked for the Caterpillar heavy machinery company [Pluto-Uranus (heavy mechanics) opposite Sun (father) ] in nearby Uddingston. In 1976 the family was relocated to the United States by the company for which his father was working.[4]
He spent the next few years of his life in Joliet, Illinois, where his father was a manager at the Caterpillar tractor factory. Barrowman graduated from Joliet West High School in 1985. While still in high school, he won parts in several musical productions even as a freshman. Between 1983 and 1985 he performed in productions of Hello, Dolly!, Oliver!, Camelot, Li'l Abner and Anything Goes. He also spent a summer working for an Illinois power company, a job arranged by his father to give him experience of manual labour.[5] He attended university in San Diego, and returned to the United Kingdom in 1990.
Acting career
Barrowman's musical abilities have been featured in film: he had a duet with Kevin Kline singing Night and Day in the Cole Porter biopic De-Lovely, and he sang Springtime for Hitler in the 2005 film of Mel Brooks' The Producers, based on the Broadway adaptation of the original movie. He also recently performed in and co-presented a BBC One series on Saturday nights, entitled The Sound of Musicals, in which performers from West End musicals sing songs from the shows.[6] His professional debut was in the 1989 London West End production of Cole Porter's Anything Goes, playing Billy Crocker, a role that he reprised in Trevor Nunn's 2003 West End revival. He has also appeared in the West End productions of Miss Saigon, Beauty and the Beast, Matador, Hair, Grease!, Sunset Boulevard, Chicago and The Phantom of the Opera. He was nominated for an Olivier Award for Best Actor in a Musical in 1998 for originating the role of Cal Chandler in The Fix[7], a performance he repeated in Cameron Mackintosh's 1998 gala concert Hey, Mr Producer!. He has played the role of Joe Gillis in Sunset Boulevard in the West End and, briefly, on Broadway. [His musical flair is indicated by the quincunx between Venus and Neptune, the rulers of his musical 2nd and 7th Houses].
He is best known in the UK for his appearances in the Doctor Who TV series and its spinoff Torchwood. In the United States these programs have been very popular on BBC America. He has played recurring guest character Captain Jack Harkness in BBC One's science fiction television series Doctor Who, since the show was revived in 2005. The omnisexual time traveller first appeared in "The Empty Child"/"The Doctor Dances" two-part story, and appeared in the next three episodes, "Boom Town", "Bad Wolf" and "The Parting of the Ways". Due to the character's popularity, in 2006 Captain Jack Harkness was given his own spin-off series Torchwood, which begins filming its third series in August 2008, following a team of alien hunters based in modern day Cardiff. Barrowman also reprised the role in the 2007 Doctor Who episodes "Utopia", "The Sound of Drums" and "Last of the Time Lords", and the two-part 2008 series[11] finale, "The Stolen Earth" and "Journey's End". [Uranus (the sci-fi planet) is opposite his Pisces Sun & Moon and sextile their ruler, Neptune].
Personal life
Barrowman has been with his partner, Scott Gill, since 1993, after meeting during a production of Rope at the Chichester Festival Theatre. [Sun in 7th House(the man in his life) in Pisces ruling 12th House (from theatre industry)].[24] The couple have homes in London and Penarth in Cardiff.
Despite this long-standing relationship, Barrowman told Scotland's The Herald newspaper that he had no plans to marry, saying, "Why would I want a 'marriage' from a belief system that hates me?" [Venus (marriage) squared by Jupiter (belief system)]. However, he and Gill did become civil partners on December 27, 2006. As Barrowman explained when the couple were interviewed by Attitude magazine, the couple do not want to call this a marriage: "We're just going to sign the civil register. We're not going to have any ceremony because I'm not a supporter of the word marriage for a gay partnership."[25][10][26] The two did have a small ceremony in Cardiff with around 40 friends and family.[27] Among the guests were the regular cast of Torchwood, along with Russell T Davies, the Doctor Who and Torchwood executive producer.[24] The civil partnership was covered by OK! magazine, which published pictures of the ceremony on 16 January, 2007. [Neptune, rule of his 7th House (marriage/partnership) placed in Scorpio (ultra-sensitivity) in sextile with its ruler Pluto in conjunction with Uranus in the 1st House (extreme ideas)].
Barrowman's autobiography, titled Anything Goes, was published on January 24, 2008 with Michael O'Mara Books. It was named after the Cole Porter song and musical of the same name. It was published in the US on April 28, 2008 [28] His sister - English professor and journalist - Carole Barrowman wrote the book using her brother's dictations.[29] Barrowman is bidialectal [Neptune in 3rd House (communications) ruled by Mercury (language, accent) in Pisces (duality)]. He learned an American accent after school children picked on his Scottish accent when he moved to the U.S.[1] His accent is often called Mid-Atlantic.[30] He stated while he was appearing on The Friday Night Project that he still speaks in a Scottish accent when he is with his parents, which can be seen during recordings of him with them for the show The Making of Me first broadcast on 24th July 2008 on BBC One.
According to David Tennant's video diary of filming Doctor Who Series 3, Barrowman had a dog named Tegan after the Fifth Doctor's companion Tegan Jovanka, as well as another dog named Lewis. Tegan (the dog) was euthanized in October 2007.[31] On the 27th February 2008, Barrowman and Gill adopted another dog, a Jack Russell, whom they named Captain Jack. [Uranus (the sci-fi planet) in Virgo (animals) rules his 6th House (pets)].[32]
.... [read more at Wikipedia, the free encyclopedia].
---