Meredith Baxter

---
American actor, producer
---
astrology chart, profile, links
---
---
Leo Ascendant, Gemini Sun, Leo Moon, Pluto Rising
---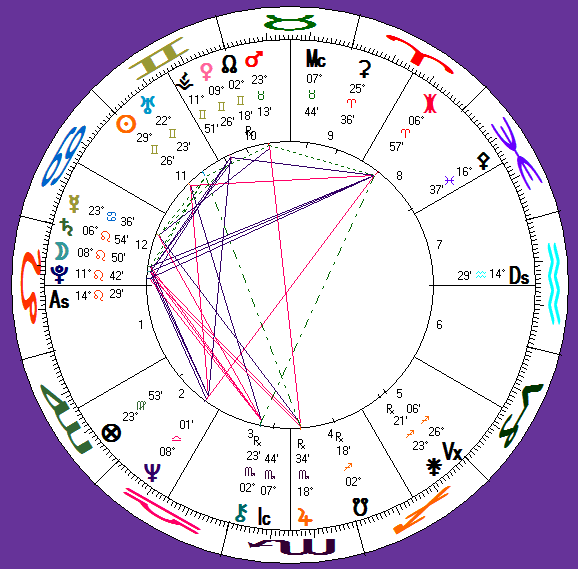 ---
BORN: 21 June 1947, 08:18 (8:18 AM) PST (8hW), Pasadena CA, USA. RR: AA. [Astro-Databank quotes B.C. in hand from the Wilsons].
---
FEATURES: PERSONALIZED PLANETS: Leo PLUTO, MOON, SATURN (all conjunct Ascendant), Scorpio CHIRON (conjunct IC), Taurus MARS (conjunct North Node), Gemini VENUS (conjunct North Node). PATTERNS: T-SQUARE (Chiron opposite Eris, both square Gemini Sun). SHAPE: LOCOMOTIVE (Aries ERIS leads). CHINESE SIGN: FIRE PIG. NUMEROLOGY: "3" LIFEPATH.
---
WIKIPEDIA BIOGRAPHY [with Astrology notes by Sy Scholfield]
---
Meredith Baxter (born June 21, 1947), also known for some years as Meredith Baxter-Birney, is an American actress and producer. She is known for her acting roles including three television series: Family (1976–1980), an ABC television-network drama, Family Ties (1982–1989), an NBC television-network situation comedy, and Dan Vs. (2011-present), a situation comedy on The Hub television-network.
Early life
She was born Meredith Ann Baxter in South Pasadena, California, the daughter of actress and situation-comedy creator Whitney Blake [motherly Moon in dramatic Leo in 12th] and Tom Baxter, a radio announcer [fatherly Sun in verbal Gemini]. She was raised in Southern California and has two brothers: Richard (born 1944) and Brian (born 1946). Her mother's widower was situation-comedy writer Allan Manings.
Career
Baxter got her first big break on television in 1972 as one of the stars of the Bridget Loves Bernie, a CBS television-network situation comedy. The series was canceled after one season, but her co-star, David Birney became her second husband in 1974. Following their marriage and until their divorce in 1989, she was credited as Meredith Baxter-Birney.
As Baxter-Birney, she became widely known several years later on Family. She played the role of Nancy Lawrence Maitland and received two Emmy Award nominations for Outstanding Continuing Performance by a Supporting Actress in a Drama Series (1977 and 1978).
After Family ended, she starred with Annette O'Toole and Shelley Hack in Vanities (1981), a television production of the comedy-drama stage play about the lives, loves and friendship of three Texas cheerleaders starting from high school to post-college graduation; it aired as a part of Standing Room Only, a series on the premium-television channel HBO.
Baxter-Birney's next series was Family Ties, on which she played an ex-flower child mother, Elyse Keaton. In reality, she is only fourteen years older than Michael J. Fox, who played her son Alex Keaton.
In 1986, during her time on Family Ties, Baxter garnered critical acclaim for her dramatic performance as Kate Stark in the well-known NBC television movie Kate's Secret, about a seemingly "perfect" suburban housewife and mother who is secretly suffering from bulimia nervosa.
Following Family Ties, Baxter (whose marriage to Birney ended in 1989) produced and starred in television films. She portrayed a psychopathic kidnapper in The Kissing Place (1990) and was nominated for an Emmy Award for Outstanding Lead Actress in a Miniseries or a Special for her work in A Woman Scorned: The Betty Broderick Story (1992), based on the true story of a divorcée who was convicted of murder in the shooting of her ex-husband and his young wife.
In 1994, she won a Daytime Emmy Award for her role as a lesbian mother raising a young son, in Other Mothers (1993), a CBS Schoolbreak Special. For her work on the television film My Breast (1994), she received a special award for public awareness from the National Breast Cancer Coalition.
In 1997, Baxter once again played the mother of a character played by Michael J. Fox, this time on Spin City, an ABC situation comedy.
In 2005, she began appearing in television commercials for Garden State Life Insurance Company. In 2006, she temporarily co-hosted — with Matt Lauer — Today, the NBC morning news and talk show. In 2007, she made a guest appearance on What About Brian, an ABC drama series. That same year, she also made several appearances as the dying mother of Detective Lilly Rush on Cold Case, a CBS police-procedural series. In 2009, she is guest starring in season two of the web series We Have to Stop Now.
In recent years, Baxter has also created a skin-care line, Meredith Baxter Simple Works, which helps raise funds for her breast cancer research foundation. She is also a spokesperson for Consumer Cellular, a cell phone company advertised as providing a cheaper cell phone alternative for senior citizens.
She currently costars in the hit TV comedy Dan Vs. on family channel The Hub.
Personal life
Baxter has been married three times and has five children. In 1966, she married Robert Lewis Bush and they had two children — Ted (born 1967) and Eva (born 1969); the couple was divorced in 1969. In 1974, she married David Birney and had three children — Kate (born 1974) and twins, Mollie and Peter (born 1984). Following their divorce in 1989, she reverted to using Meredith Baxter. In 1995, she married actor and screenwriter Michael Blodgett; they were divorced in 2000.
Baxter was diagnosed with breast cancer in 1999.[Mammary Moon conjunct Pluto and Saturn]
Baxter was the guest speaker at the 2008 Southern Commencement for National University in La Jolla, California, and was awarded an honorary doctorate degree from the university.
In 2009, The National Enquirer reported that Baxter was seen on a lesbian cruise with a female friend. This led to speculation as to whether Baxter was a lesbian or simply enjoying the cruise as a platonic straight friend. On December 2, 2009, she came out as a lesbian during an interview with Matt Lauer on Today, and on the Frank DeCaro Show on Sirius-XM OutQ 102. She lives with her partner, Nancy Locke, a general contractor, with whom she has been since 2005. Baxter said she first realized she was a lesbian when she began her first same-sex relationship in 2002. [In 2002 Baxter's Solar Arc Ascendant at 6 Libra exactly opposed her natal Eris, such that Eris was exactly conjunct the cusp of the 7th house in her Solar Arc chart].
On December 17, 2009, TV Guide reported that Baxter will write a memoir. Broadway Books, an imprint of Crown Publishing Group, has purchased the rights to Baxter's as-yet-untitled and as-yet-unwritten life story. In the book, Baxter "will present a fully realized portrait of her life as an actress, mother of five children, and grandmother, and will candidly discuss her fight with breast cancer, her 19 years of sobriety, entrepreneurship, and her decision to come out," a press release said.
....[read more at Wikipedia]