Michael Jeter, 1952-2003

---
American actor of film, stage & screen
---
---
Astrology chart, profile, books, DVDs, music, links
---
---
Unknown Ascendant, Virgo Sun, Scorpio Moon, Pluto on South Node
---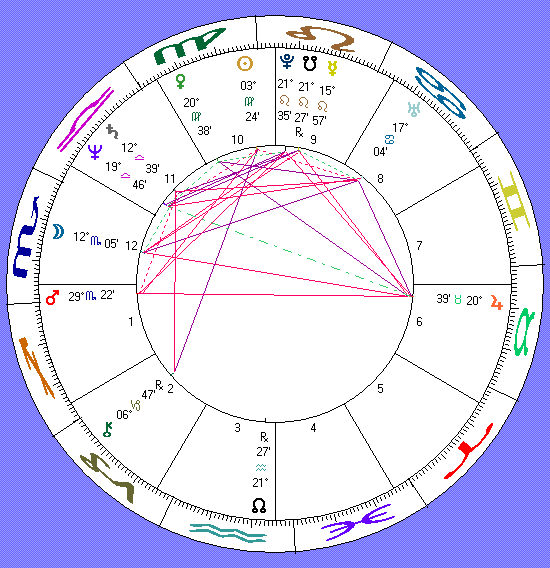 ---
BORN: 26 August 1952, Lawrenceburg, Tennessee, USA. RR: XAA. Sy Scholfield [copyright] quotes data from birth certificate in hand (courtesy of Frank Clifford), no time of birth included. Died: 30 March 2003, (aged 50), Los Angeles, California, USA.
---
FEATURES: PERSONALIZED PLANETS: Cancer URANUS (trine ? Moon; semi-square Sun), Leo MERCURY & PLUTO (conjunct South Node). PATTERNS: FIXED T-SQUARE (Moon opposite Jupiter, both square Leo MERCURY) SHAPE: LOCOMOTIVE (Taurus JUPITER leads). CHINESE SIGN: WATER DRAGON. NUMEROLOGY: "33" LIFEPATH.
---
Abridged Wikipedia Biography
[with Astrology notes by Sy Scholfield]:
The Sabian Symbol for Michael Jeter's Mars (29° Scorpio) is "The Halloween jester." I don't have his time of birth but Mars turns up at this degree on the Ascendant of Jeter's noon chart. And indeed there was a special emotional charge and scary-but-funny quality about some of this wonderful actor's major roles, including the homeless cabaret singer in The Fisher King and "Mr. Noodle's brother Mr. Noodle" on Sesame Street.
Early life
Jeter was born in Lawrenceburg, Tennessee to Virginia and William Jeter, a dentist [Chiron in Capricorn (teeth, dentist) trine Sun (father)]. Jeter was a student at Memphis State University when his interests changed from medicine to acting. He pursued his initial stage career in Baltimore, Maryland, as he had heard it was hard to get work in New York without an equity card.
Career
His woebegone look, extreme flexibility and high energy [flexible Mercury in high-energy Leo at apex of T-Square ("woebegone look")] led Tommy Tune to cast him in the Off-Broadway Cloud 9 and, on Broadway, in a memorable role in the musical Grand Hotel, for which he won a Tony Award in 1990. Much of his film and television work specialized in playing eccentric, pretentious or wimpy characters [Uranus (oddball) in Cancer (wimpy) semi-square Sun (pretentious)] like The Fisher King, Fear and Loathing in Las Vegas and Drop Zone. Although occasionally, Jeter was able to stay away from these kinds of roles for more appealing characters like Jurassic Park III, Air Bud, The Green Mile and Open Range. He won an Emmy award in 1992 for his role in the television sitcom Evening Shade [Uranus in Cancer ruling Moon in Scorpio]. He was also a favorite with younger audiences [Mercury in Leo] in his role as "Mr. Noodle's brother Mr. Noodle" on Sesame Street from 2000 to 2003. The movies The Polar Express and Open Range are dedicated to his memory.
Personal life
Jeter was open about being gay [Pluto exactly conjunct South Node] and troubles with drug and alcohol addiction, and for a short time retired from entertainment. Although he was diagnosed HIV-positive in 1997, it is not thought to be a factor in his death.
.... [read more at Wikipedia, the free encyclopedia].
---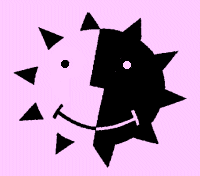 Mr Noodle!