Nigel Hawthorne, 1929-2001

---
gay English actor
---
Astrology chart, profile, books, films, links
---
---
Taurus Ascendant, Aries Sun, Aquarius Moon, Pluto IC
---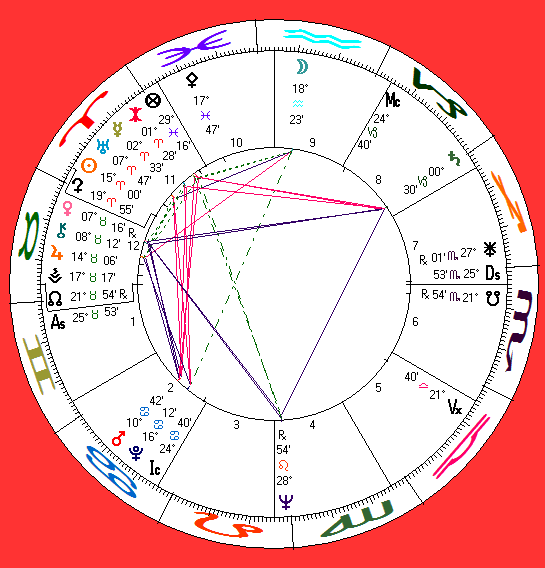 ---
AstroData: born 5 April 1929, 07:00 (7am) GMT, Coventry, England. (Sy Scholfield [copyright] cites data from Frank Clifford's British Entertainers: The Astrological Profiles (Clifford quotes Hawthorne for the data, from his parents. Used here with permission). RR: A).
---
FEATURES: PERSONALIZED PLANETS: Cancer PLUTO (conjunct IC; quincunx Moon; square Sun), Aries URANUS (conjunct Sun; rules Aquarian Moon). PATTERNS: GRAND TRINE (Neptune, Saturn, Venus). SHAPE: LOCOMOTIVE (Capricorn SATURN leads). CHINESE SIGN: ??. NUMEROLOGY: "3" LIFEPATH.
---
Wikipedia Biography [Astrology by Sy Scholfield]:

Sir Nigel Barnard Hawthorne, CBE (5 April 1929 – 26 December 2001) was an English actor, perhaps best remembered for his role as Sir Humphrey Appleby, the Permanent Secretary in the 1980s sitcom Yes Minister and the Cabinet Secretary in its sequel, Yes, Prime Minister. For this role he would win four Bafta Awards during the 1980s in the 'Best Light Entertainment Performance' Category. In the 1990s He would win two more Bafta Awards, one as Best TV Actor for 'The Fragile Heart' and one as Best Film Actor for 'The Madness of King George'. His role in the latter also garnered him his sole Oscar Nomination.

Early lifeHawthorne was born in Coventry, England, the son of Agnes Rosemary (née Rice) and Charles Barnard Hawthorne, a physician.[2] He grew up in South Africa, where he was educated at St George's Grammar School, Cape Town and Christian Brothers College.[3] He enrolled at the University of Cape Town but withdrew and returned to the United Kingdom in the 1950s to pursue a career in acting.[3]

Career

Hawthorne made his professional stage debut in 1950, playing Archie Fellows in a Cape Town production of The Shop at Sly Corner.[3] In a long and varied career, which began with an advert for Mackeson stout and a bit part in Dad's Army, his most famous roles were as Sir Humphrey Appleby, the Permanent Secretary of the fictional Department of Administrative Affairs in the television series Yes Minister (and Cabinet Secretary in its sequel, Yes, Prime Minister), for which he won four BAFTA awards, and as King George III in Alan Bennett's stage play The Madness of George III (Olivier Award) and the film version entitled The Madness of King George, for which he received an Academy Award nomination for Best Actor. Hawthorne was also a voice actor, and lent his voice to two Disney films. In 1985, he voiced Fflewddur Fflam in The Black Cauldron, and in 1999, he voiced Professor Porter in Tarzan.

Honours

He was appointed a Commander of the Order of the British Empire (CBE) in 1987, and was knighted in 1999.[1]

Personal life and death

An intensely private individual, he was upset at having been involuntarily "outed" as gay in 1995 in the publicity surrounding the Academy Awards, but he did attend the ceremony with his long-time partner Trevor Bentham, speaking openly about being gay in interviews and his autobiography, Straight Face, which was published posthumously.[4]

Hawthorne had several operations for pancreatic cancer, although his immediate cause of death was from a heart attack, aged 72. He was survived by his partner, Trevor Bentham, and buried at the Parish Church of Thundridge near Ware, Hertfordshire. ... [read more at Wikipedia, the free encyclopedia].