Rock Hudson, 1925-1985

---
American actor, film & TV star
---
astrology chart, profile, books, DVDs, links
---
---
Libra Ascendant, Scorpio Sun, Unaspected Sagittarius Moon
---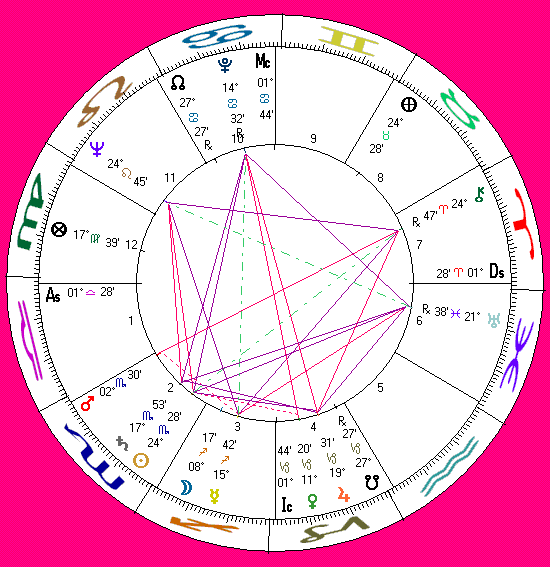 ---
BORN: Roy Harold Scherer Jr., 17 November 1925, Winnetka, Illinois, USA. RR: AA (Sy Scholfield [copyright] quotes data from birth certificate...). DIED: 2 October 1985, 08:37 (8:37 AM) PST (8hW), Beverly Hills, Los Angeles, California; aged 59 (see death chart).
---
FEATURES: PERSONALIZED PLANETS: Capricorn VENUS (conjunct IC; rules Ascendant), Capricorn JUPITER (sextile Sun; disposits Moon; conjunct South Node), Pisces URANUS (conjunct Descendant). PATTERNS: GRAND WATER TRINE (Saturn-Sun, Uranus, Pluto), KITE (Grand Trine plus Jupiter), GRAND FIRE TRINE (Mercury, Chiron, Neptune). UNASPECTED PLANETS: Scorpio MARS; Sagittarius MOON. SHAPE: SPLAY. CHINESE SIGN: WOOD OX (aka BUFFALO). NUMEROLOGY: "9" LIFEPATH.
---
Wikipedia Biography [Astrology by Sy Scholfield]:

Rock Hudson (November 17, 1925 – October 2, 1985) was an American film and television actor, recognised as a romantic leading man during the 1960s and 1970s [Uranus in Romantic Pisces ruling 5th House]. Hudson was voted Star of the Year, Favorite Leading Man, and similar titles by numerous movie magazines and was unquestionably one of the most popular and well-known movie stars of the time [midpoint of Saturn-Sun conjunction trine Uranus, as above]. He completed nearly 70 motion pictures and starred in several television productions during a career that spanned over four decades [Sun exactly square and dispositing Leo Neptune]. Hudson was also one of the first major Hollywood celebrities to die from an AIDS related illness [Pluto (death) in Tenth House (fame, celebrity) ruling unaspected Mars in Scorpio (hidden blood- & sex- associated illness)].

Early life

Hudson was born Roy Harold Scherer, Jr., in Winnetka, Illinois, the son of Katherine Wood, a telephone operator [Moon (mother) in Third House (communications)], and Roy Harold Scherer, Sr., an auto mechanic who abandoned the family during the depths of the Great Depression [Scorpio Saturn (deep depression)conjunct Sun (father) in Scorpio (abandonment)]. His mother remarried and his stepfather Wallace "Wally" Fitzgerald adopted him, changing his last name to Fitzgerald. Hudson's years at New Trier High School were unremarkable. He sang in the school's glee club and was remembered as a shy boy who delivered newspapers, ran errands and worked as a golf caddy.

After graduating from high school, he served in the Philippines as an aircraft mechanic for the United States Navy [Uranus (aviation) in Pisces (ocean, navy) in 6th House (work)] during World War II. In 1946, Hudson moved to the Los Angeles area to pursue an acting career and applied to the University of Southern California's dramatics program, but he was rejected owing to poor grades. Hudson worked for a time as a truck driver, longing to be an actor but with no success in breaking into the movies. A fortunate meeting with Hollywood talent scout Henry Willson in 1948 got Hudson his start in the business.

Early career

Hudson made his debut with a small part in the 1948 Warner Bros.' Fighter Squadron. Hudson needed no less than 38 takes before successfully delivering his only line in the film.[1]

He was further coached in acting, singing, dancing, fencing and horseback riding, and he began to feature in film magazines where he was promoted, possibly on the basis of his good looks [Lovely Libra Ascendant]. Success and recognition came in 1954 with Magnificent Obsession in which Hudson plays a bad boy who is redeemed opposite the popular star Jane Wyman. The film received rave reviews, with Modern Screen Magazine citing Hudson as the most popular actor of the year. Hudson's popularity soared in George Stevens's Giant, based on Edna Ferber's novel and co-starring Elizabeth Taylor and James Dean. As a result of their powerful performances, both Hudson and Dean were nominated for Oscars in the Best Actor category.

Following Richard Brooks's notable Something of Value in 1957 and a moving performance in Charles Vidor's A Farewell to Arms, based on Ernest Hemingway's novel, Hudson sailed through the 1960s on a wave of romantic comedies. He portrayed humorous characters in Pillow Talk, the first of several profitable co-starring performances with Doris Day. This was followed by Come September, Send Me No Flowers, Man's Favorite Sport?, The Spiral Road (written by Jan de Hartog) and Strange Bedfellows. He worked outside his usual range on the science-fiction thriller Seconds (1966). The film flopped badly at the time but it later gained cult status, and his performance is often regarded as one of his best.[2][3]

Later career

Hudson's popularity on the big screen diminished after the 1960s. He was quite successful on television starring in a number of made-for-TV movies. His most successful series was McMillan and Wife opposite Susan Saint James from 1971 to 1977. In this series, Hudson played police commissioner [Scorpio Mars square cusps of 5th and 11th Houses] Stewart "Mac" McMillan with Saint James playing his wife Sally. Their on-screen chemistry helped make the show a success.

In the early 1980s following years of heavy drinking and smoking [Neptune (drugs) square (sapping) Sun (lifeforce)], Hudson began having health problems. Emergency quintuple heart bypass surgery in November 1981 [transiting Chiron (onset of health problems) opposite Sun (heart)] sidelined Hudson and his then-new TV show, The Devlin Connection for a year; the show suffered for the delay and was cancelled not long after it returned to the airwaves in December 1982. Hudson recovered from the surgery but continued to smoke [Neptune exactly square Sun (hard-to-kick-drug-habit)].. He was visibly ill filming The Ambassador in 1983 with Robert Mitchum - the two stars did not like each other, and Mitchum himself had a serious drinking problem.[4]A couple of years later, Hudson's health had visibly deteriorated again, prompting different rumors.

From 1984 to 1985, Hudson landed a recurring role on the hit ABC prime time soap opera Dynasty as "Daniel Reece," a love-interest for Krystle Carrington played by Linda Evans, and biological father of Sammy Jo Carrington played by Heather Locklear. While he had long been known to have difficulty memorizing lines, on Dynasty, Hudson's speech itself began to deteriorate.

Personal life

While Hudson's career was blooming, he was struggling to keep his personal life out of the headlines. Throughout his career, he epitomized wholesome manliness [wholesome Chiron in masculine Aries in exact trine and square respectively with Neptune and Sun], and in 1955, after several male lovers, he married his agent's secretary Phyllis Gates. The news was made known by all the major gossip magazines. One magazine story, headlined "When Day Is Done, Heaven Is Waiting," quoted Hudson as saying, "When I count my blessings, my marriage tops the list." The union lasted three years. Gates filed for divorce in April 1958, charging mental cruelty. Hudson did not contest the divorce, and Gates received an alimony of US$250 a week for 10 years.[5]

In Gates' 1987 autobiography My Husband, Rock Hudson, the book she wrote with veteran Hollywood chronicler Bob Thomas, Gates insists she dated Hudson for several months and lived with him for two months before his surprise marriage proposal. She claims to have married Hudson out of love and not, as it was later purported, to stave off a major exposure of Hudson's sexual orientation. However, after her death from lung cancer in January 2006, some informants reportedly stated that she was actually a lesbian who married Hudson for his money, knowing from the beginning of their relationship that he was gay.[6] She never remarried [Unaspected Moon].

According to the 1986 biography, Rock Hudson: His Story, by Hudson and Sara Davidson, Rock was good friends with American novelist Armistead Maupin and a few of Hudson's lovers were: Jack Coates (b. 1944); Hollywood publicist Tom Clark (b. 1933, d. 1995), who also later published a memoir about Hudson, Rock Hudson: Friend of Mine; and Marc Christian, who later won a suit against the Hudson estate.

The book, The Thin Thirty, by Shannon Ragland, chronicles Hudson's involvement in a 1962 sex scandal at the University of Kentucky involving the football team. Ragland writes that Jim Barnett, a local low-level promoter, engaged in prostitution with members of the team, and that Hudson was one of Barnett's customers [Transiting Neptune at about 11° Scorpio sextile natal Venus (ruler of natal Ascendant)].[7]

A popular urban legend states that Hudson married Jim Nabors in the 1970s. While Hudson was in fact a closet homosexual at the time, the two never had anything beyond a friendship. The legend was originated with a group of "middle-aged homosexuals who live in Huntington Beach", as Hudson put it, sending out joke invitations to "the marriage of Rock Hudson and Jim Nabors" [unapsected (rumour-mongering) Mars in Scorpio ruling and quincunx 7th House cusp (relationships)]. Despite the obvious impossibility of such an event, the joke was taken seriously by some [Mars's ruler Pluto trined and ruled by oh-too-serious Saturn]. As a result of the false rumor, Nabors and Hudson never spoke to each other again.[8]

Later years

In July 1985, Hudson joined his old friend Doris Day for the launch of her new TV cable show, Doris Day's Best Friends. His gaunt appearance, and his nearly incoherent speech, were so shocking it was broadcast again all over the national news shows that night and for weeks to come. Day herself stared at him throughout their appearance.

Hudson had been diagnosed with HIV on June 5, 1984, but when the signs of illness became apparent, his publicity staff and doctors told the public he had inoperable liver cancer [Pluto (deadly illness) in 10th House of public life ruled by unaspected Moon in Sagittarius (liver)]. It was not until July 25, 1985, while in Paris for treatment, that Hudson issued a press release announcing that he was dying of AIDS. In a later press release, Hudson speculated he might have contracted HIV through transfused blood from an infected donor during the multiple blood transfusions he received as part of his heart bypass procedure. At the time of his operation, blood was not tested for HIV, which was then unknown [Unaspected Mars in Scorpio].

Hudson flew back to Los Angeles on July 31, where he was so physically weak he was taken off by stretcher from an Air France Boeing 747, which he chartered and was the sole passenger along with his medical attendants.[9] He was flown by helicopter to Cedars Sinai Hospital, where he spent nearly a month undergoing further treatment. When the doctors told him there was no hope of saving his life, since the disease had progressed into the advanced stages, Hudson returned to his house, "The Castle," [palatial Capricorn on the 4th House (one's type of abode)] in Beverly Hills, where he remained in seclusion until his death on October 2 at 08:37 PST.

Morgan Fairchild said "Rock Hudson's death gave AIDS a face" [Ascendant of death chart at 1° Scorpio exactly semi-sextile natal Ascendant of 1° Libra; the one degrees literally manifesting in him becoming 'the first face of AIDS'].[10] Another Hudson biographer, David Bret maintained that the actor, sexually, was invariably the active partner (known as a "top") and that he therefore more than likely contracted AIDS from an infected blood transfusion during open-heart surgery, as he had first explained: the hospital where the procedure took place certainly recorded a number of such cases at the time [again, unaspected Mars in Scorpio].

Following his funeral, his partner Marc Christian sued Hudson's estate on grounds of "intentional infliction of emotional distress."[11] Christian tested negative for HIV but claimed Hudson continued having sex with him until February 1985, more than eight months after Hudson knew he had AIDS. Hudson biographer Sara Davidson later stated that, by the time she had met Hudson, Christian was living in the guest house, and Tom Clark, who had been Hudson's life partner for many years before, was living in the house.[12]

.... [read more at Wikipedia, the free encyclopedia].
---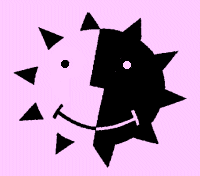 Rock Hudson
the official website