Luke Roberts

---
Australian visual & performance artist
---
creator of Her Divine Holiness Pope Alice & Alice Jitterbug
---
Astrology chart, profile, links, books
---
---
Pisces Ascendant, Libra Sun, Aries Moon & Eris Rising
---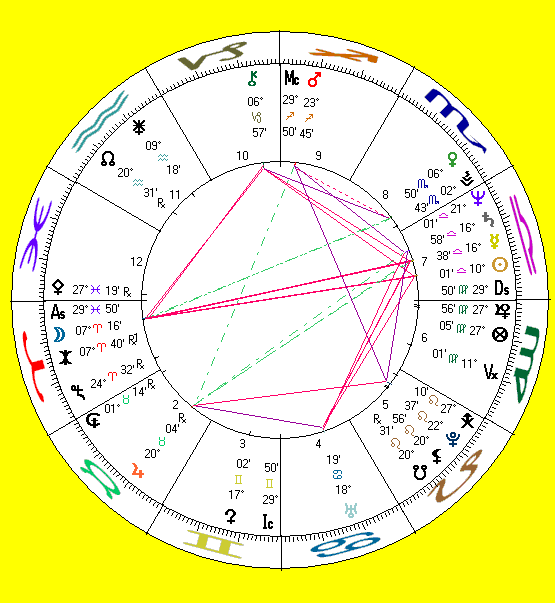 ---
Born 1952, Alpha, Queensland, Australia. Sy Scholfield [copyright] has data for chart from Luke Roberts personally: "about 5.30PM, Pisces rising" RR: A.
---
FEATURES: PERSONALIZED PLANETS: Aries MOON (conjunct Ascendant), Aries ERIS (conjunct Ascendant & Moon; opposite and ruling Libra Sun), Leo PLUTO (conjunct South Node), Libra MERCURY-SATURN (conjunct Sun; opposite Moon), Sagittarius MARS (conjunct Zenith), Capricorn CHIRON (conjunct Zenith; square Sun & Moon), Pisces PALLAS (conjunct Ascendant). PATTERNS: LIBRA STELLIUM (Sun, Mercury, Saturn, Neptune), CARDINAL T-SQUARE (Moon-Eris opposite Sun, both square Chiron), YOD (Mercury-Saturn sextile Mars, all sextile Jupiter). SHAPE: HORSESHOE (Black Moon & Pluto are pivotal). CHINESE SIGN: WATER DRAGON. NUMEROLOGY: "3" LIFEPATH.
---
Luke Roberts has Eris on his Ascendant, exactly conjunct his Moon, and opposite his Sun no less, making Eris his most prominent and personalized planet. Eris, the new planet that's larger than Pluto and beyond its orbit, probably rules Libra. Roberts has the far-out Eris in his First House, which has manifested in the creation of a major alter ego, the equally far-out Pope Alice, an extra-terrestrial creation who's "the world's greatest living curiosity."

Roberts was born in the town of Alpha, Queensland. His Moon-Eris conjunction is found in Aries, the Alpha sign, ruled by Mars at the top of his chart. Marc Edmund Jones's Sabian Symbol for the degree of Roberts' Moon-Eris conjunction is "A woman's hat, with streamers blown by the east wind," explained by Jones as the "first real attempt at self-exteriorization and embodiment in consciousness." Pope Alice's always amazing headgear appears to be a literal manifestation of this imagery (and Roberts success was founded along Australia's east coast), and Roberts' creation and portrayal of Pope Alice provides a unique interpretation of Jones's message.

Roberts has exhibited publicly since 1975. His first major public exhibition "Pope Alice presents Luke Roberts" was in 1980. Roberts has Pallas rising at 27 Pisces opposing part of Fortune descending at 27 Virgo, plus his Angles at around 29 degrees of the cardinal signs, so we would expect him to experience major life developments around the ages of 27-29, particularly in 1980 at age 28.

Luke Roberts studied drawing at the Julian Ashton School in Sydney and Fine Art at the Queensland College of Art, Griffith University, Brisbane. He received his Master of Fine Arts degree from Queensland University of Technology in 2001.

From 1984-1987 he lived and worked in Europe.

He exhibited at Bellas Gallery and then BellasMilani Gallery from 1987-2005, Philip Bacon Gallery 2006 and is currently represented by Milani Gallery, Brisbane and John Buckley Gallery, Melbourne.

He has received various public art commissions from the Queensland State Government and the Brisbane City Council.

Luke was a featured actor in Tracey Moffatt's 1993 film Bedevil. The character drew on his performance work investigating the life of Mexican artist Frida Kahlo (Uranus rules Roberts' 12th House of film and is conjunct Kahlo's Sun-Jupiter conjunction in Cancer. Also, Kahlo's Saturn at 27 Pisces is exactly conjunct Roberts' Pallas).

Luke was Australian Fellow and Artist in Residence at P.S.1, Contemporary Art Center, New York 1996-97.

In 2002 he represented Australia at the Biennale of Sydney. His installation 'Mu Pavilion: Greetings from Amnesia' was installed at the Museum of Contemporary Art.

His work has featured in the 2nd Asia-Pacific Triennial, Queensland Art Gallery, Australian Perspecta 1991 & 1995, Art Gallery of New South Wales

In 1999 the Institute of Modern Art, Brisbane, published Vanitas; Pope Alice presents Luke Roberts, a monograph on his work. He had a solo show at the Institute of Modern Art in 1982 and also in 1996.

He is also both an adviser to, and patronized by Her Divine Holiness Pope Alice, whose mission to Planet Earth keeps Luke in demand as Camerlingo, tour manager, Master of Wardrobe, and Senior Curator of the Papal Wunderkammer. He is also represents Pope Alice's interests as Head of the Supreme Council for Antiquities. He has pioneered various embassies and consulates for her Divine Holiness around the globe including New York, Tokyo and Amsterdam.

Luke is a regular contributer to Heyoka Magazine.

His work is held in numerous public collections nationally and internationally.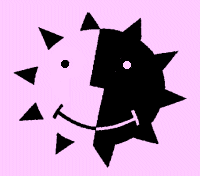 Pope Alice Presents Luke Roberts: Vanitas (With essays by Michele Helmrich, Ihor Holubitzky, and Nicholas Zurbrugg; Brisbane: Institute of Modern Art, 1999)