Barbie

---
Bisexual Beauty, Queer Icon
---
astrology chart, profile, books, links
---
---
Gemini Ascendant, Pisces Sun, Pisces Moon, Mars Rising
---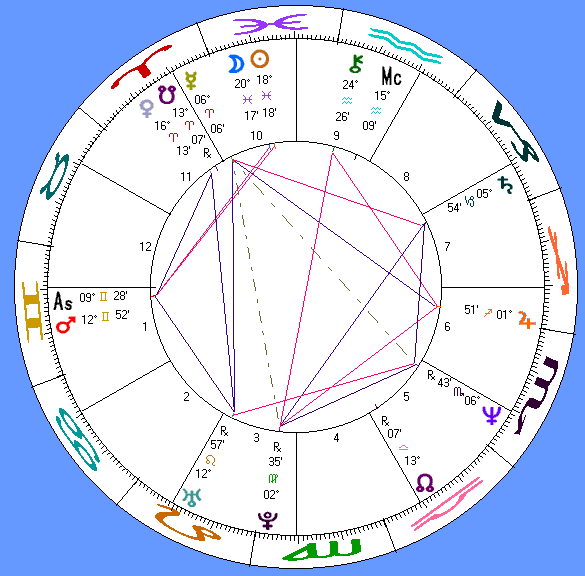 ---
DATA FOR THE LAUNCH OF "BARBIE" DOLL: Barbara Millicent Roberts, 9 March 1959, 10:00 (10AM) EST (5hw), Manhattan, NY, USA (40n46, 73w59).

Various reliable references state that Barbie was launched at the American Toy Fair on 9th March 1959 in New York City and that date was celebrated by the global media for her 40th "birthday." The New York Times 9 March 1959, p. 48, column 1, states that, "TODAY 10 AM TO 9 PM ... VARIETY TOY & NOVELTY MERCHANDISE FAIR, NY TRADE SHOW BLDG, 8th Ave, at 35th St." As far as I know Barbie was not launched at the 9th International Toy & Trade Fair which opened the previous day, 8th March, "9:30 AM to 9:30 PM" at the Statler Hilton (see same page, column 6). RR: B.
---
FEATURES: PERSONALIZED PLANETS: Gemini MARS (on Ascendant, square both luminaries); Virgo PLUTO (on the Base); Sagittarius JUPITER (ruling and conjunct Descendant); Pisces SUN (on Midheaven). PATTERNS: GRAND SEXTILE (Ascendant/Mars, Uranus, South Node, Descendant, MC, Venus/South Node); YOD (Pluto sextile Neptune, both quincunx Mercury); YOD (Mercury sextile Ascendant, both quincunx Neptune); T-SQUARE (Chiron opposite Pluto, both square Jupiter). MUTUAL RECEPTION: MERCURY in ARIES & MARS in GEMINI. SHAPE: SPLAY. CHINESE SIGN: Earth Pig. NUMEROLOGY: "9" LIFEPATH.
---
Surprise! Surprise! This famous & much-copied fantasy figure is a double Pisces with both luminaries conjunct in the fairytale-princess Sign in her 10th House!!
And with Venus ruling her Libra North Node from her South Node she can always fall back on her beauty!
Neptune in Scorpio at the end of the pleasure-centred 5th House (and at the apex of a Yod) makes her the ultimate (& often sexualized) plaything, while the Mercury~Mars mutual reception in the tenth/first houses explains her pioneering into multiple careers...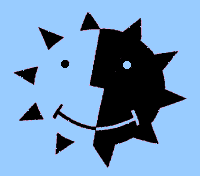 © 1999-2009+
Sy Scholfield