Boy George

---
gay British singer, DJ, fashionista
---
---
astrology chart, profile, music downloads, links
---
Taurus Ascendant, Gemini Sun, Cancer Moon, Venus Rising
---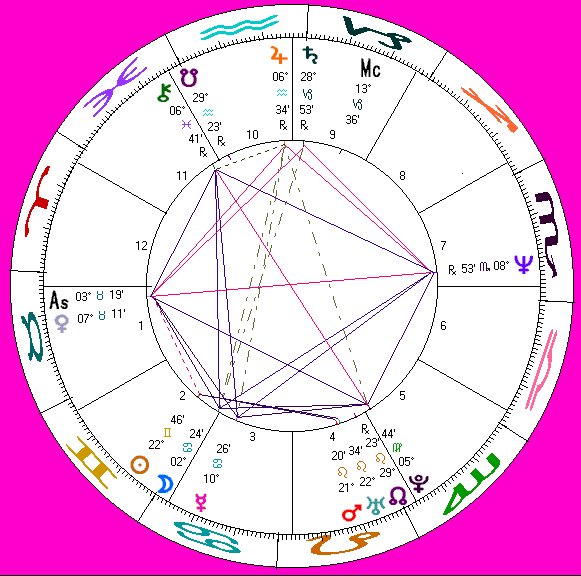 ---
ASTRO-DATA Born: George O'Dowd, 14 June 1961, Bexley, Kent, England (51n26, 0e10). Sy Scholfield quotes data from Frank Clifford's British Entertainers: The Astrological Profiles p. 48, which cites Laura Boomer for the timed data from Boy George's mother. [Data copyright, Frank Clifford. Used here with his permission]RR: A.
---
FEATURES: PERSONALIZED PLANETS: Taurus VENUS (conjunct Ascendant), Cancer MERCURY (conjunct Moon; disposits Sun; conjunct IC), Leo MARS-URANUS (conjunct North Node), Virgo PLUTO (conjunct North Node), Scorpio NEPTUNE (conjunct Descendant), Capricorn SATURN (conjunct EQHS Midheaven), Aquarius JUPITER (conjunct EQHS Midheaven), Pisces CHIRON (conjunct South Node). PATTERNS: GRAND WATER TRINE (Moon-Mercury, Neptune, Chiron), KITE (Grand Water Trine plus Venus), KITE (Grand Water Trine plus Pluto), T-SQUARE (Venus opposite Neptune, both square Saturn-Jupiter), YOD (Moon-Mercury sextile Pluto, all quincunx Jupiter), CRADLE (T-Square plus Yod). SHAPE: SPLAY. CHINESE SIGN: METAL OX. NUMEROLOGY: "10" LIFEPATH.
---
---
Boy George's Angular Venus-Neptune Opposition by Sy Scholfield

Boy George – British gay soul singer, lyricist, DJ, sexually ambiguous gender-bending superstar of the 80s, trendsetter, fashion model, autobiographer, gay rights campaigner, and anti-racism and animal rights activist – has Venus in its own sign Taurus conjunct (and ruling) his Taurus Ascendant in the First House opposite Neptune in Scorpio conjunct his Descendant in his Seventh House. With his pretty boy looks and endless costume-changes he's a personification of his Venus-Neptune opposition, and he's seen both the negative and positive sides of these planets. During his years with Culture Club he had international success as a media celebrity until revelations about his secret hard drug problem hit the tabloids. At the end of the 1980s he began to rehabilitate himself and move from being an outsider, "freak," and victim towards respected celebrity. In 1992 he appeared with twin girls in his arms on the cover of the anti-racism "Love Sees No Colour" issue of style magazine, The Face. By the mid 1990s, Boy George "ha[d] eclipsed [Quentin] Crisp as the most famous queer in England" if not the world, as noted by Out magazine. He also turned to a mix of spiritual beliefs (including Buddhism and Hare Krishna philosophy) which encompassed his Pacifist beliefs and vegetarianism.

Boy George once hinted only to his bisexuality and responded to a reporter's question about his sexuality by famously saying, "I'd rather have a cup of tea." In the early 1990s he came out as gay, and revealed he had had a steady boyfriend for many years. Later, he said that the two had done some serious relationship therapy. Then in 1997 George won a court case against a male ex-lover who was suing him for "libel" for publishing details of their gay affairs in his autobiography. Although having come out as gay, George has returned more recently to comments which idealize bisexuality while offering constructive criticism about the lack of spirituality and love in the straight and gay worlds. This is an expression of transiting Neptune in Aquarius which has crossed his natal Equal House Midheaven from where it squares his natal angular Venus-Neptune opposition. He escaped death by centimetres in mid December 1999 when a 300kg glitter-ball crashed down on him during rehearsals for a concert. "It would have been both ironic and glamorous to be finished off by a four-foot glitter-ball," he mused after the event in which he grazed his head. With transiting Venus in Scorpio conjunct his natal Neptune and transiting Neptune high in the sky, what a way to nearly go! Under that Neptune influence he's also currently on a world tour with the reformed Culture Club.

The following hagiography neatly captures Boy George's expression of his Venus-Neptune opposition: "At the height of his fame, before the crushing blows of pop superstardom failure and drug addiction tabloid infamy, Boy George was the very embodiment of fantasy escapism. A chameleon who blurred more than just the boundaries of sexuality and gender, he was a figure of wish fulfillment – the earthy manifestation of the secret desire in each of our hearts to be able to transcend our physical limitations and be other than what we are. Through magic and glamour of disguise, clothes and make-up, Boy George showed that you could be anything and anyone and still win acclaim. Feted by the cream of celebrity, even the two plastic Joans, Collins and Rivers, those papier maché queens of rhinestone kitsch and crayon thick eye liner, sought to be photographed with him." (Phillippe Cahill in Campaign magazine, 1995)

With a tight Venus-Neptune opposition across his Ascendant-Descendant axis, Boy George has become a spokesperson for this aspect by channeling astrological keywords for these feminine planets through his lyrics and press statements.

His songs include "Do You Really Want To Hurt Me?;" "Karma Chameleon;" "Victims," "The Crying Game;" "What Is Love?" (with its gay love rights theme); "Your Kisses Are Charity" (which he has called "a weird fusion of reggae [and] country [music]"); "Your Love Is What I Am" ("sometimes I cry because evil is so civilized"). His albums include "Sold," "Cheapness and Beauty," "Generations of Love" (with the group, Jesus Loves You), "The Martyr Mantras," "Everything I Own," "Same Thing In Reverse," and "Love Is Leaving."

His Venusian~Neptunian press statements include:

"I just want money so that I can be really irresponsible." (early 1980s)

"I've always been an excessive person." (1993)

"It's very difficult for me, 'cos if you show an interest [the press] want you to say 'I'm a Hare Krishna,' or 'I'm a Buddhist.' I feel very uncomfortable with those titles. I think you can be attracted to something without wanting to throw yourself into it one hundred per cent. I feel a real need to live in the real world, the material world. I love it in the material world." (1994)

"I think the English have always had a bit of a tradition of trany superstars…but [they] don't like to talk about it in sexual terms…it was better not to think about me as a gay man, but more as a cute little doll." (1995)

"I'm much more interested in people's personalities and spirits, than with what they wear." (1997)

"I don't think I'll ever be desensitized [toward my own quotes in the media]." (1997)

"Everybody is sexual, and all sexuality is fragile. To me, a truly evolved person is bisexual, or at least open to the possibility of being bisexual." (1997)

"…I think everyone is actually bisexual. Wherein lies the fear. Homosexuality is a denial of heterosexuality. I'm really into Freud and he says, as I mention in my bio, heterosexuality is as perverse as homosexuality and its actually abnormal. Because I've had heaps and heaps of therapy in the last four years, I've actually come to terms with the fact that women intimidate me." (1995)

"One of the biggest things missing in gay [male] culture is tenderness." (1997)

"I'm one of those people who can wear stripes and spots." (1997)

"The drag and the mastery of disguises is very much a part of me." (1997)

"I think I went through a period of self-pity, which is normal after a complete disaster. And then kind of dug my heels in and got on with it." [said following the reportage of his drug problems in the media]

"My stance was never very sexual [in the Culture Club days]. I was never out there saying 'come on, undo your fly,' it wasn't what we were about. I'd like to think that I'm a little more spiritual and intellectual than that." (1995)

"The odd thing about [gay] queens generally is that we're obsessed with sex. Yet the biggest taboo for a lot of gay men is love." (1995)

"You can't have anything unless you give everything, you can have a lot of casual romance but you can't really have passion without love." (1995)
---
WIKIPEDIA BIOGRAPHY
Boy George (born George Alan O'Dowd 14 June 1961 in Eltham, London) is a an English singer-songwriter and club DJ who was part of the English New Romantic movement which emerged in the early 1980s. He helped give androgyny an international stage with the success of Culture Club during the 1980s. His music is often classified as blue-eyed soul, which is influenced by rhythm and blues and reggae. His 1990s and 2000s-era solo music has glam influences such as David Bowie and Iggy Pop.
Boy George's androgynous style caught the attention of music executive Malcolm McLaren (of Sex Pistols fame), who arranged for O'Dowd to perform with the group Bow Wow Wow, featuring Annabella Lwin. Boy George's association with Bow Wow Wow ended soon afterwards, and he started his own group with bassist Mikey Craig. The group was to be called In Praise Of Lemmings, but the name was later abandoned. Jon Moss (who had drummed with The Damned, Adam and the Ants and London) then joined the group. The final member to join the band was Roy Hay. The group abandoned another name, Sex Gang Children, and settled on the name Culture Club, an in-joke about the ethnic composition of the group, which consisted of a transvestite Irish singer (George), a Jamaican-Briton (Craig) on bass, a Jewish drummer (Moss), and an Anglo-Saxon Englishman (Hay) on guitar.
The band signed with Virgin Records in the UK and with Epic Records in the US, and released its debut album Kissing To Be Clever in 1982. The album's third single, "Do You Really Want to Hurt Me?", reached #1 in sixteen countries and #2 in the United States. This single was followed by "Time (Clock Of The Heart)" (not on the UK LP), which reached the US #2, and "I'll Tumble 4 Ya", which reached #9. This gave Culture Club the distinction of being the first group since the Beatles to have three top 10 hits on the Billboard Hot 100 from a debut album. Their next album, Colour By Numbers was also a success.
The single "Church Of The Poison Mind" (featuring Helen Terry) became a Top 10 hit, and "Karma Chameleon" became a #1 single in numerous countries around the world, including the U.S., where it stayed at #1 for three weeks, and the UK, where it was the best-selling single of the year, spending six weeks at #1. It stands as the group's biggest hit. "Miss Me Blind" and "It's A Miracle" were Top 5 and Top 20 hits respectively, and "Victims" was another Top 3 UK hit.
George became the main songwriter of the band for Culture Club's contributions to the movie soundtrack Electric Dreams. George and Roy Hay had already written "Love Lies Lost" for backing singer Helen Terry and a new tune "Passing Friend" for the upcoming Beach Boys album but the two Culture Club songs for Electric Dreams, "The Dream" and "Love is Love", was also written solely by George and Roy Hay. Moreover, the P. P. Arnold song "Electric Dreams" was credited only to George and Phil Pickett, who also co-wrote "Karma Chameleon". George was one of the lead vocalists on the Band Aid single "Do They Know It's Christmas". In early 1986, he guest-starred on an episode of The A-Team entitled "Cowboy George", in which he played himself.
....[read more at Wikipedia, the free encyclopedia, the free encyclopedia]