Claudia Gonson

---
Vocalist, Drummer, Keyboardist, Band Manager
---
"I was straight when Stephin met me, and I'm gay now, which may have been influenced by the openness of hanging around with so many gay people," she reflects. "When we started Magnetic Fields we purposely had one lesbian, one gay guy, one straight woman, and one straight man. The audience could identify with whomever they wanted. I hang out with more gay women now, but I guess I'm more of a fag hag than a lezzie hag" -- Claudia Gonson (from the Walters interview) speaks through Venus in Pisces, ruler of her 7th House
---
Astrology chart, profile, music downloads, links
---
---
Aries Ascendant, Aries Sun, Cancer Moon, Neptune Wedge
---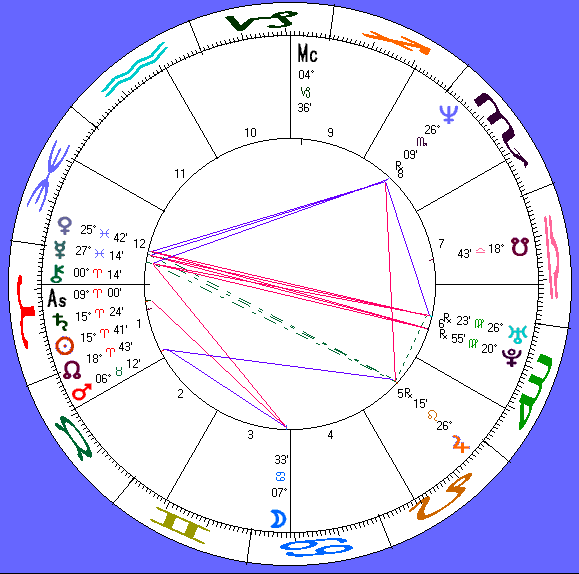 ---
ASTRODATA: Claudia Miriam Gonson, born 5 April 1968, 05:09 (5:09 AM), EST (5hw), Boston, Massachusetts, USA. (Sy Scholfield [copyright] quotes data from birth certificate, courtesy of Pat Taglilatelo; RR: AA).
---
FEATURES: PERSONALIZED PLANETS: Aries SATURN (conjunct Sun, ASC, and North Node; square Moon), Aries Sun (conjunct Ascendant & North Node), Aries CHIRON (conjunct Ascendant). PATTERNS: TRIPLE CONJUNCTION (Venus, Mercury, Chiron, all in 12th House). SHAPE: HORSESHOE. CHINESE SIGN: EARTH MONKEY. NUMEROLOGY: "33" LIFEPATH.
---
ASTRO-BIOGRAPHY by Sy Scholfield

Claudia Gonson plays drums for pop group, The Magnetic Fields, plus she manages lead singer Stephin Merritt and his other bands. She also drums in cult band, Tender Trap. Although not formally trained she's been a singer since childhood. A classical pianist from age 3-18 (quitting the piano after high school), she took up drums at 16. Having met Merritt in 1983 when they attended nearby high schools in the Boston area, she's been playing drums with him in various bands ever since. Their first band, the Zinnias, included their friends John on bass, Johny Blood on tuba, and Charles on voice. Next Gonson played drums in a 3-piece folk-country-rock Boston girl group, Lazy Susan, from 1986 to 1988. Around 2000 she switched back from drums to piano. She's also drummed for Honeybunch, a pop band featuring Jeffrey Underhill of the Velvet Crush, occasionally played with Dave Derby (Dambuilders)'s side band, Brilliantine, and been the singer for Future Bible Heroes, a new wave electro-pop band featuring Merritt on alternate lead vocals and Christopher Ewen on synths. Gonson's working on a PhD in English, at CUNY (City University of New York), and she enjoys yoga, making Ukranian Easter Eggs and painting clay pots.

Saturn conjunct the Sun both in Aries on her Ascendant plus her North Node explains her management skills, while Venus conjunct Mercury in Pisces in the Twelfth House indicates her musical versatility (and flexibility in her relationships because Venus rules her Libran 7th House).
---
references
"Claudia Gonson" ArtRat 2003.
Kemler, Allan. "The Magnetic Fields/Claudia Gonson Interview" Crud Magazine 26 March 2002.
Lichaw, Donna. "Claudia Gonson ...A Drummergirl exclusive" Drummergirl. The Media Factory, October 1997.
Merritt, Stephin. House of Tomorrow.
"Purge chats with Claudia Gonson of The Magnetic Fields"
Walters, Barry. "Sweet Singin' Woman" Advocate (online) 9 May 2000.
Wu, Suzanne. "The Magnetic Fields" Phoenix Online 20 January 2000.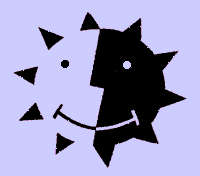 more Lesbian stars

Claudia Gonson on the cover of 69 Love Songs Vol. 3.

Claudia Gonson, (born 1968 in Boston, Massachusetts) is an American musician best known for her efforts with The Magnetic Fields. She occasionally provides the band lead vocals as well as performing the piano or drums. She is also currently the band's manager.
Gonson met Stephin Merritt in high school in the early 80's, and the pair have worked together ever since. Merritt writes, arranges and produces all of the music. He has built up an impressive roster of hundreds of published songs, spanning over fifteen albums.
While in high school, Gonson performed in her first band the Zinnias, in which Stephin Merritt wrote or co-wrote most of the band's material with John Gage. The band broke up when Gonson left to attend Harvard University. Gonson later joined the three-piece Boston girl group Lazy Susan.
She has since performed on many of Merritt's albums, including the critically-acclaimed 1999 album 69 Love Songs, and frequently appears with him live as part of the usual quartet that comprises The Magnetic Fields.
Gonson has been Merritt's longtime manager since the beginning, a job involving all aspects of music management including licensing songs to films, ads and TV, creating theater shows, and all aspects of album production and touring.
As well as her work with Stephin Merritt, Gonson also plays drums in the cult band Tender Trap. She has written and performed her own music with Shirley Simms and has collaborated with author Rick Moody. She has also played drums in Providence, Rhode Island-based cult band Honey Bunch and performs as an occasional singer in Merritt's Future Bible Heroes project.
....[read more at Wikipedia]