Graham Norton

---
gay Irish actor, comedian, TV presenter, columnist
---
Astro-chart, profile, books, films, links
---
---
Unknown Ascendant, Aries Sun, Leo Moon
---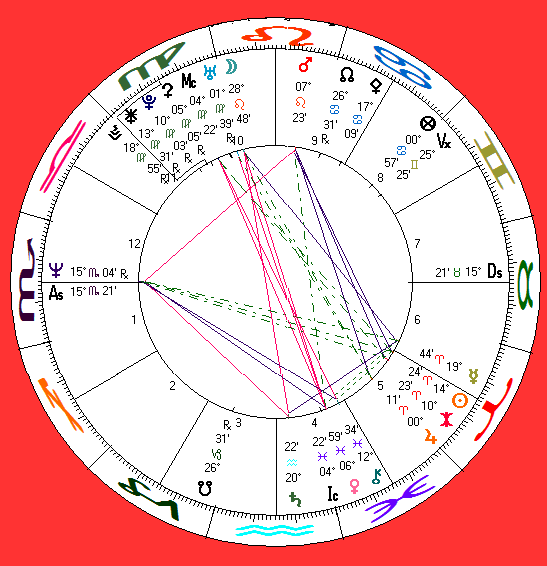 ---
AstroData: born 4 April 1963, about 23:00 (11pm) BST (1hE), Dublin, England. (Sy Scholfield [copyright] quotes Alison Bowyer's Graham Norton: Laid Bare (London: André Deutsche, 2002), pp: 17-18 which states Norton's birth name, date, and place, and quotes a neighbour, "I was in the house the night he was born … delivered safely by the doctor who afterwards, following with the Irish tradition, went downstairs to wet the baby's head with the proud father … as the night progressed so did the merriment… The doctor stayed on and had a drink…" NB: "As there is no mention that the merriment went into the early hours or into the morning I've chosen a speculative night-time of 11PM with Neptune on the Ascendant." RR: C: caution, speculative time).
---
FEATURES: PERSONALIZED PLANETS: UNKNOWN. PATTERNS: ARIES STELLIUM (Jupiter, Eris, Sun, Mercury). MUTUAL RECEPTION: Aries SUN & Leo MARS. SHAPE: SEE-SAW. CHINESE SIGN: WATER RABBIT (CAT or HARE). NUMEROLOGY: "9" LIFEPATH.
---
Wikipedia Biography [Astrology by Sy Scholfield]:

Graham William Walker (born 4 April 1963) is an Irish actor, comedian, television presenter and columnist, known by his stage name Graham Norton. He is the host of the comedy chat show The Graham Norton Show and the BBC commentator of the Eurovision Song Contest.

Norton is openly gay.

Norton suffers from vitiligo, a skin disease.

In 1988 he was mugged, stabbed in the chest and left for dead on the streets.

Norton caused controversy on 7 October 2006, when he described ecstasy as "fantastic".

Immediately after hosting the BAFTAs in 2009, he said he returned home only to fall down his stairs and break two ribs. He presented the next edition of The Graham Norton Show on crutches, joking that the incident had been caused by drinking.

.... [read more at Wikipedia, the free encyclopedia].