Divine (Harris Glenn Milstead), 1945-1988

---
Character Actor, Drag Queen, Disco Diva, Superstar !
---
"He was the Drag Queen of the Century. He called himself Divine and he was proud of his creation: a unique and hilarious high-camp cartoon, a Miss Piggy for the blissfully depraved. But he dreamed of the day when at last he would be seen as a gifted actor who could animate any number of fascinating characters." -- People (1988).

"Don't ask me why they like me so much. There must be some need out there" -- Divine (1981) talks through his Scorpio ("desire me") Ascendant
---
Astrology chart, profile, music downloads, links
---
---
Scorpio Ascendant, Libra Sun, Aries Moon, Mercury Rising
---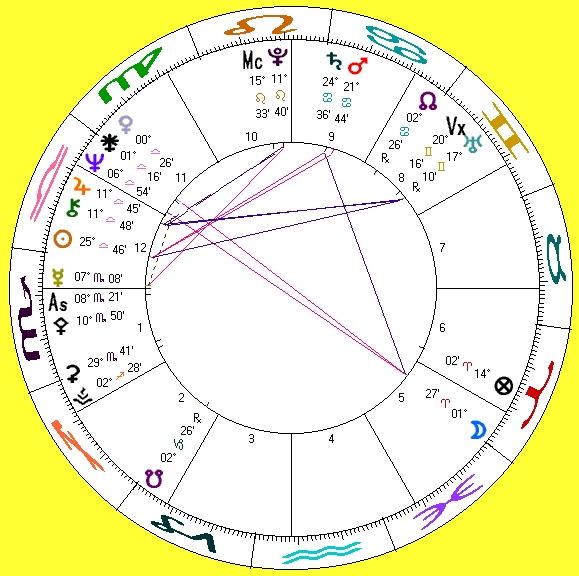 ---
ASTRODATA Born Harris Glenn Milstead, 19 October 1945, 07:28 (7:28am) EST (5hE), Baltimore, MD, USA (39n17 76w37). Sy Scholfield [copyright] quotes name and birth data from Not Simply Divine: Beneath the Make-up, Above the Heels and Behind the Scenes with a Cult Superstar (New York, NY: Fireside/Simon & Schuster, 1993), p. 13. RR: B. DEATH: 7 March 1988, early morning, "about 12:30 am," Los Angeles, CA, USA (Not Simply Divine p. 12).
---
FEATURES: PERSONALIZED PLANETS: Scorpio MERCURY (on Ascendant); Leo PLUTO (on MC, rules Ascendant); Cancer MARS & SATURN (square Sun, trine Moon). PATTERNS: None. MUTUAL RECEPTION: MOON in ARIES trine MARS in CANCER. SHAPE: LOCOMOTIVE (Aries Moon in 5th House leads). CHINESE SIGN: Wood Rooster (aka COCK). NUMEROLOGY: "3" LIFEPATH.
---
ASTROLOGY

Folk born in the Year of the Rooster really luv to strut their funky stuff and Divine was no exception!!

In the song "Divine", Antony Hegarty of Antony and the Johnsons sings, "He was my self-determined guru" and "I turn to think of you/Who walked the way with so much pain/Who holds the mirror up to fools". Hegarty tapped into Divine in this manner because his unaspected Jupiter in Scorpio is conjunct Divine's Ascendant and Pallas.
---
"Glenn was born before civil rights, gay rights, or women's rights...God doesn't want people created out of a Xerox machine...The tragedy is that Glenn was cut off right at the point of becoming who he really was, and the world will never see how that flower could have unfolded"
--Reverend Leland Higginbotham in his Eulogy at Divine's funeral; Baltimore, Maryland, March 1988.
---
Divine Music
Divine Movie DVDs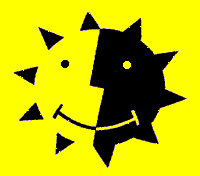 Not Simply Divine by Bernard Jay

---
WIKIPEDIA BIOGRAPHY:

Harris Glenn Milstead (October 19, 1945 – March 7, 1988) was an actor and singer known by his drag persona Divine. He appeared in several of John Waters' films, including Pink Flamingos, Female Trouble, Polyester, and Hairspray, as part of Waters' regular troupe of actors known as Dreamlanders. The New York Times said of Milstead's films in the 1980s, "Those who could get past the unremitting weirdness of Divine's performance discovered that the actor/actress had genuine talent, including a natural sense of comic timing and an uncanny gift for slapstick."[1]

Divine was born Harris Glenn Milstead, the only surviving child born to Harris Bernard Milstead (1917-1993) and Diana Frances "Frances" Milstead (née Vukovich). Frances had suffered two previous miscarriages in 1940 and 1943.

Milstead spent his childhood in the suburbs of Baltimore. He was born in Towson and, at the age of twelve, his family moved to Lutherville, Maryland where he attended Towson High School (he graduated in 1963). It was during those years that he became acquainted with John Waters, who lived in his neighborhood.

In the 1970s, Milstead starred as Divine in a number of New York City theater pieces, including Tom Eyen's classic camp women's prison drama, Women Behind Bars, which was a major off-Broadway hit in 1976, playing the lead role of the evil matron, Pauline. Divine returned to the stage in another Tom Eyen off-Broadway play, The Neon Woman, where he played the role of Flash Storm, the owner of a sleazy strip club plagued by a series of murders. Eyen's play was loosely based on famed burlesque entertainer Gypsy Rose Lee's book, The G-String Murders. Milstead starred in a number of films and was part of the regular cast known as the Dreamlanders. The Dreamlanders appeared in many of John Waters' earlier works such as Pink Flamingos (in 1972), Female Trouble, Polyester, and Hairspray. In 1985 Milstead appeared opposite Tab Hunter in their hit Lust in the Dust, repeating their successful pairing in Polyester.

He is also remembered as a major character in the documentary homage Divine Trash by Steve Yeager, covering the life and work of John Waters.

In 1988, the British film The Fruit Machine, also known as Wonderland in the United States, used Milstead's songs in a nightclub disco dance sequence that showcased an early Robbie Coltrane in drag as "Annabelle", the club's owner (a cross between Divine and Judy Garland in The Wizard of Oz).

Late in his career, Milstead also played male roles in his last three films: Trouble in Mind, Hairspray, and Out of the Dark. In Hairspray he played two roles, one male and one female (which he had first done in the earlier Female Trouble). He was also the inspiration for the design of Ursula the Sea-Witch in the Disney classic The Little Mermaid.[2]

He visited Bergen, Norway, in the mid-1980s. At that time, Polyester had been a great success at the local cinema. He was treated as a real superstar by the press and by the audience to his live show. He told in an interview with Bergen Gay Radio that this was one of only a few times when he had experienced this kind of appreciation. Usually he felt he was just some kind of industrial entertainer.

In 1988 Milstead was cast as a character (actually, two characters) on the FOX prime-time series Married...With Children.

On the evening of March 7th he was in Los Angeles staying in the Regency Hotel, and the night before he was due on set he had dinner with friends. Afterwards he returned to the hotel, and before entering his room he leaned over the balcony and sang "Arrivederci Roma."

Milstead was known for being on time when working, so when he didn't show up the next morning for his shoot on the show people became concerned. His manager Bernard Jay went to the hotel at noon to check on him and used his pass key to get in. The autopsy later found he had died in his sleep of heart failure, or an enlarged heart brought on by sleep apnea. He was 42 years old.[1]

The request was made that no money be donated to charity in Divine's name, but for people to buy flowers, because he loved them so much. Elton John sent a huge batch, as did Tab Hunter and Whoopi Goldberg – along with a card that read, "See what a good review will do?" The card from Fox and Married...With Children read, "If you didn't want the job, all you had to do was say so."