---
Alexander McQueen, 1969-2010

---
Gay British fashion designer
---
---
astrology chart, profile, links
---
Unknown Ascendant, Pisces Sun, Aquarius or Pisces Moon
---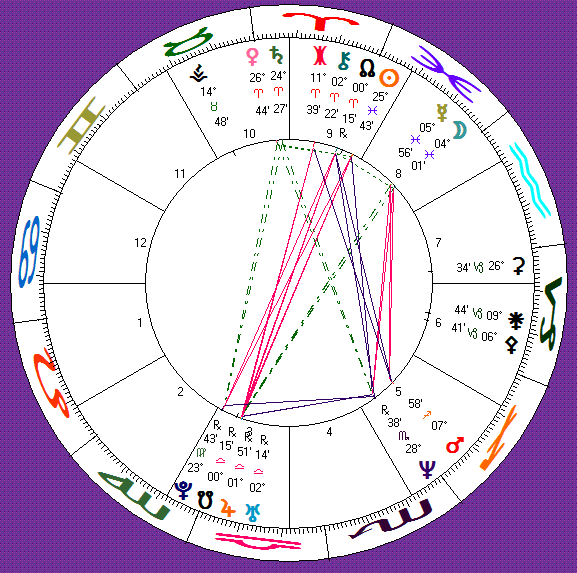 ---
ASTRoDATA: Lee Alexander McQueen, born 16 or 17 March 1969, London, England. Sy Scholfield quotes month and date of registering of McQueen's birth from St Catherine's Births Index. Both dates have been circulated in the media, so the above chart is for midnight between the 16th and 17th. RR: XC.
---
FEATURES: PERSONALIZED PLANETS: Virgo PLUTO (conjunct South Node), Libra JUPITER-URANUS (conjunct South Node), Pisces SUN (conjunct North Node), Aries CHIRON (conjunct North Node). PATTERNS: YOD (Pluto sextile Neptune, both quincunx Saturn-Venus). SHAPE: LOCOMOTIVE (Virgo Pluto leads). CHINESE SIGN: EARTH ROOSTER (COCK). NUMEROLOGY: "?" LIFEPATH.
---
WIKIPEDIA BIOGRAPHY:

Lee Alexander McQueen, CBE (16 March 1969 – 11 February 2010) was an English fashion designer known for his unconventional designs and shock tactics. McQueen worked as the head designer at Givenchy for five years before founding the Alexander McQueen and McQ labels. McQueen's dramatic designs, worn by celebrities including Rihanna, Björk and Lady Gaga, met with critical acclaim and earned him the British Designer of the Year award four times. ....[read more at Wikipedia, the free encyclopedia]

McQueen, the 'enfant terrible' of British fashion, died on 11 February 2010 under the transit of Juno to his natal Saturn-Venus conjunction in Aries, which is found at the apex of a natal Yod involving Neptune-in-Scorpio and its ruler Pluto-in-Virgo. Transiting Chiron-Neptune was forming a sextile with his natal Saturn-Venus at the time of his death.