kd lang

---
Lesbian Superstar Entertainer & Animal Rights Activist
---
Astrology chart, profile, music, books, links
---
---
Virgo Ascendant, Scorpio Sun, Virgo Moon, Pluto Rising
---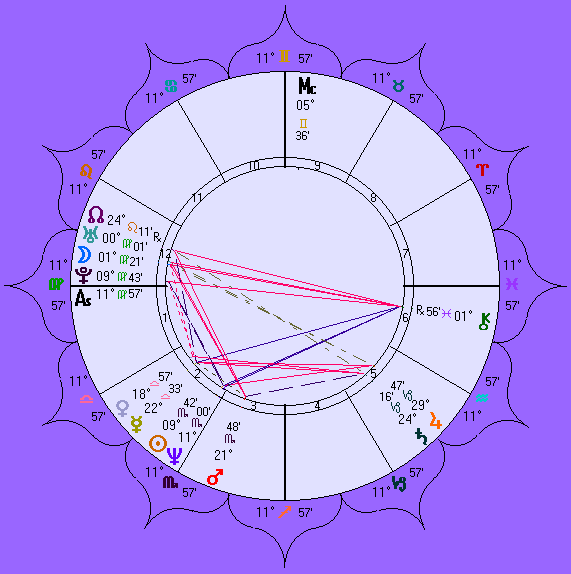 ---
ASTRoDATA: Kathryn Dawn Lang, born 2 November 1961, 02:03 (2:03AM) MST (7hW), Edmonton, Canada (53n33, 113w28). RR: A. (Sy Scholfield [copyright] cites data from Ed Steinbrecher who quotes Robin Bulla from Lang personally, December 1996. Data used with permission).
---
FEATURES: PERSONALIZED PLANETS: JUPITER in Capricorn (quincunx Moon, square Sun), CHIRON in Pisces (opposite & dispositing Virgo Moon, trine Sun), PLUTO in Virgo (conjunct Ascendant, conjunct Moon, sextile & dispositing Scorpio Sun). PATTERNS: WEDGE (Chiron, Pluto, Sun). SHAPE: UNDEFINED. CHINESE SIGN: METAL OX (aka BUFFALO). NUMEROLOGY: "3" life path.
---
Wikipedia Biography
Kathryn Dawn Lang, OC (born November 2, 1961), better known under her stage name k.d. lang[1][2] is a Grammy Award-winning Canadian singer and songwriter.
Lang was born on November 2, 1961, in Edmonton, Alberta, to Audrey and Fred Lang. The family moved to Consort, Alberta, when she was nine months old, and there she grew up with her two sisters and one brother on the Canadian prairie....
Her career received a huge boost when Roy Orbison chose her to record a duet of his standard, "Crying", a collaboration that won them the Grammy Award for Best Country Collaboration with Vocals....
Lang won the American Grammy Award for Best Female Country Vocal Performance for her 1989 album, Absolute Torch and Twang. The single "Full Moon Full of Love" that stemmed from that album became a modest hit in the United States in the summer of 1989 and a number 1 hit on the RPM Country chart in Canada....
Lang played the lead in the 1991 drama film Salmonberries, and also costarred with Ewan McGregor and Ashley Judd in Eye of the Beholder (1999). Lang had an uncredited role as a lounge singer in 2006's The Black Dahlia. She has also made guest appearances on the sitcoms The Larry Sanders Show, Dharma & Greg and Ellen....
Lang, who came out as a lesbian in a 1992 article of the LGBT-related news magazine The Advocate, has actively championed gay rights causes. She is sometimes known for utilizing an androgynous physical appearance. She has performed and supported many causes over the years, including HIV/AIDS care and research. Her animal rights vegetarian stance, including a "Meat Stinks" campaign, created much controversy, particularly at her hometown in the middle of Alberta's cattle ranching industry....
On June 3, 2008, it was announced that she would receive a star on Canada's Walk of Fame....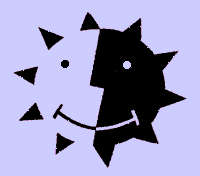 © 2003+ All rights reserved
Sy Scholfield