Lily Tomlin

---
American actor & comedian
---
Astrology chart, profile, films, books, links
---
---
Cancer Ascendant, Virgo Sun, Aries Moon, Chiron Rising
---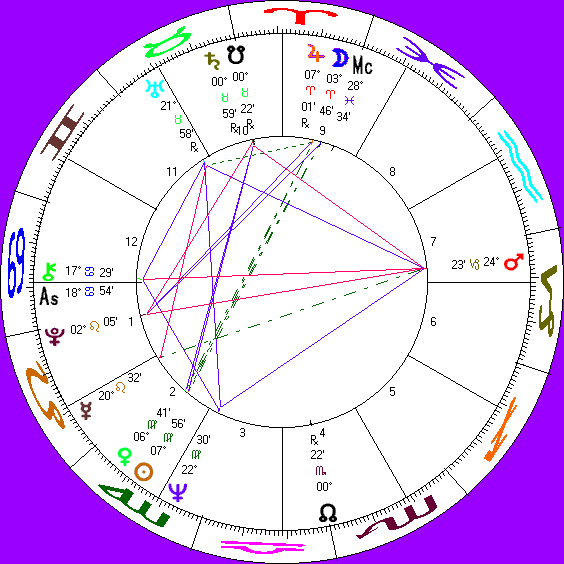 ---
Born: 1 September 1939, 01:45 (1:45 AM) EST (5hW), Detroit, Michigan, USA. Data from Contemporary Sidereal Horoscopes, RR: AA).
---
FEATURES: PERSONALIZED PLANETS: Cancer CHIRON (conjunct Ascendant), Virgo VENUS (conjunct Sun, quincunx Moon), Virgo NEPTUNE (conjunct IC), Capricorn MARS (conjunct Descendant), Aries MOON (conjunct MC), Aries JUPITER (conjunct Moon, quincunx Sun), Taurus SATURN (conjunct South Node). PATTERNS: GRAND EARTH TRINE (Neptune, Mars, Uranus), KITE (Grand Earth Trine plus Chiron), T-SQUARE (Pluto opposite Mars, both square Saturn). SHAPE: LOCOMOTIVE~BUCKET (Mars handle leads). CHINESE SIGN: EARTH CAT/RABBIT. NUMEROLOGY: "5" LIFEPATH.
---
Wikipedia Biography:

Mary Jean "Lily" Tomlin (born September 1, 1939) is an American actor, comedian, writer and producer. She has won multiple awards from many quarters, including Tony Awards, Emmy Awards, and a Grammy Award and has also been nominated for an Academy Award.

In 1969, Tomlin joined the sketch comedy show Laugh-In. Some characters from the show have been associated with her throughout her career, including the wisecracking, snorting telephone operator, Ernestine; the bratty five-year-old Edith Ann, seated in an over-sized rocking chair making rude noises while telling stories about her baby brother and pet dog Buster; and the Tasteful Lady, who lives a gracious, nażve life of entitlement in the upper class and shades of whom show up in Tomlin's film role in All of Me. Additional characters include Susie the Sorority Girl, who appeared on Tomlin's album Modern Scream and in her 1975 appearance on Saturday Night Live.

Tomlin was also one of the first female comedians to break out in male drag. Though drag had been around in Hollywood for some time by men, Tomlin broke new ground by not only crossing gender stereotypes, but racial ones as well. She accomplished this in the late 70's with Pervis Hawkins, a black rhythm-and-blues soul singer (patterned after Luther Vandross), with a mustache, beard and close-cropped afro hairstyle, dressed in a three-piece suit. Tomlin used very little if any skin-darkening cosmetics (it usually depended on stage lighting) as part of the character.

Tomlin met her life partner Jane Wagner in 1971. After watching an after school special written by Wagner, Tomlin invited her to Los Angeles to collaborate on a comedy album. Although Tomlin officially declared her homosexuality to the press in 2001, her sexual orientation has not really been a secret; in interviews she would often refer to Jane Wagner as her partner. As Tomlin herself stated in 2008, in an interview for Just Out magazine: "Everybody in the industry was certainly aware of my sexuality and of Jane... In interviews I always reference Jane and talk about Jane, but they don't always write about it." [An open secret?: Pluto in 1st House plus Neptune in 3rd sextile Ascendant].

Tomlin has been involved in a number of feminist and homosexual-friendly film productions, and on her 1975 album Modern Scream she poked-fun at straight actors who make a point of distancing themselves from their homosexual characters; answering the pseudo-interview question, "How did it feel to play a heterosexual?" she replied, "I've seen these women all my life, I know how they walk, I know how they talk ... ."[Saturn in Taurus on South Node]. Her narration of the documentary The Celluloid Closet in 1995, a film examining Hollywood's portrayals of homosexuals, was also largely considered a nod to the open secret of her orientation.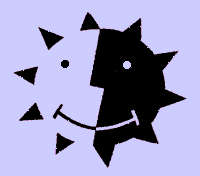 www.LilyTomlin.com