Marie Dressler, 1868-1934

---
Canadian-American Superstar, known as 'Queen Marie'
---
"Marie Dressler easily outdrew such cinematic sex symbols as Garbo, Dietrich and Harlow. To movie audiences suffering the hardships of the Great Depression, she was Everywoman. She was Bill's plain partner Min, Tugboat Annie, and Emma, the tough, no-nonsense broad who was more at home on the waterfront or in the kitchen than in the rarefied salons of Fifth Avenue. And, even if she happened to be invited to Dinner at Eight in one of those salons, Dressler was the actress who made it clear that she had not only bet her chips and collected her rewards in the great game of life, she had uncomplainingly paid her dues as well" -- Betty Lee.
---
Astrology chart, biography, books, DVDs, links
---
---
Cancer Ascendant, Scorpio Sun, Virgo Moon, Uranus Rising
---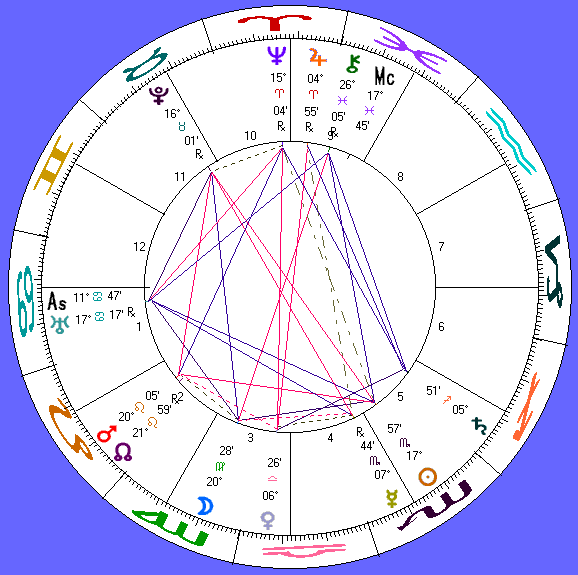 ---
DATA: Born Leila Maria Koerber, 9 November 1868, 19:57 (7:57pm) LMT, Cobourg, Ontario, Canada (43n58, 78w10). RR: C (Sy Scholfield [copyright] quotes date & place from Lee who cites birth records, p. 5; Time from Sabian Symbols, no reference). DIED: July 28, 1934, in Santa Barbara, CA.
---
FEATURES: PERSONALIZED PLANETS: Cancer URANUS (on Ascendant, sextile and diposited by Moon, trine Sun), Leo MARS (semi-sextile Moon, square Sun), Libra VENUS (on Nadir), Taurus PLUTO (opposite and dispositing Sun, trine Moon), Pisces CHIRON (opposite Moon, trine Sun), Aries NEPTUNE (on Zenith, quincunx Sun). PATTERNS: FIXED T-SQUARE (Scorpio Sun opposite Taurus Pluto, both square Leo Mars), GRAND WATER TRINE (Cancer Uranus, Scorpio Sun, Pisces Chiron). SHAPE: SPLAY. CHINESE SIGN: EARTH DRAGON. NUMEROLOGY: "7" LIFEPATH.
---
Wikipedia Biography [with Astrology notes by Sy Scholfield]
---
Marie Dressler (November 9, 1868 – July 28, 1934) was a Canadian actress and Depression-era film star. She won the Academy Award for Best Actress in 1932 in Min and Bill.

Legacy

Each year, the Marie Dressler Foundation Vintage Film Festival is held in her hometown of Cobourg, Ontario. Canada Post, as part of its "Canada in Hollywood" series, issued a postage stamp on June 30, 2008 to honour Marie Dressler.

In the late 1990s, two biographies of Dressler were published. One was entitled: Marie Dressler: The Unlikeliest Star, by Ontario resident and writer Betty Lee. The other, by Matthew Kennedy, titled Marie Dressler: A Biography (1999), is the more comprehensive source; however, only Lee had access to the diary of an intimate friend of Dressler's, the silent film actress Claire Dubrey. At least one of these biographers speculatively claims Dressler bore a son around 1896 or that even Dubrey was Dressler's biological daughter hence their close relationship.
---
references


Kennedy, Matthew. Marie Dressler: A Biography; With a Listing of Major Stage Performances, a Filmography and a Discography. McFarland, 1999.

Lee, Betty. Marie Dressler: The Unlikeliest Star. University Press of Kentucky, 1997.
---