---
Dr. Maxwell Anderson, PhD, 1956-2010


---

omnisexual transman, lecturer, tax accountant, psychologist

---

---

astrology chart, profile, links

---

---

Cancer Ascendant, Virgo Sun, Aries Moon, Venus Rising

---




---

BORN: 26 August 1956, 02:15 (2:15 AM) CST (6hW), Aurora, Illinois, USA. (Sy Scholfield [copyright] quotes data from Anderson via his [now defunct] website, Maxwell's World). DIED: 14 January 2010, according to his myspace profile.

---

FEATURES: PERSONALIZED PLANETS: Cancer VENUS (on Ascendant); Libra NEPTUNE (opposite Moon; sextile Sun), Pisces MARS (on Placidus MC); PLUTO (conjunct Sun; trine Moon), Aquarius CHIRON (quincunx Sun; widely square Moon). PATTERNS: GRAND CROSS (Uranus, Neptune, Chiron, Moon), GRAND WATER TRINE (Venus, Saturn, Mars), BOOMERANG (Mercury sextile Saturn both quincunx Moon which opposes Neptune). SHAPE: SEE~SAW. CHINESE SIGN: FIRE MONKEY. NUMEROLOGY: "10/1" LIFEPATH.



---
After high school Maxwell Anderson moved to Chicago where he spent most of his twenties and early thirties. During the mid 1980s (as transiting Neptune in early Capricorn squared its natal position and formed a Grand Trine with his natal luminaries) he began to live openly as a "queer-identified," omnisexual, (non-operative F2M Trans)man. The placement of Maxwell's Moon (ruler of his Cancer Ascendant) in masculine Aries together with masculine planet Mars in (mutable) Pisces on his Placidus MC (and ruling his Equal House MC) also manifested in his living as a (trans)man. Maxwell moved to Florida in 1990 where he established an "equally mixed" Transgendered Support Group, The Eden Society (transiting Chiron -- ruler of his Third House -- conjunct his Ascendant, then conjunct Venus -- ruler of his Eleventh House). Anderson completed a BA (Hons) in Business Administration, a Masters Degree, and a PhD in psychology (while transiting Pluto in academic Sagittarius squared his Sun & Jupiter conjunction in studious Virgo). Maxwell was also a lecturer (Jupiter in Virgo ruling his Sixth House of work) and a certified tax expert in Georgia, where he lived from 1996 (during his Uranus opposition -- with Uranus ruling his Eighth House of taxes). Max and his wife, Corissa, co-wrote a book called Gender Mirror.
In 2000, Maxwell co-chaired the 10th annual "Southern Comfort Conference" in Atlanta, Georgia. Footage from the conference, reportedly "the world's largest gathering of transgendered, intersexed, cross-dressing gender outlaws", along with shots of Maxwell and his partner Corissa Anderson, subsequently appeared in the award-winning documentary film Southern Comfort (released 2001, as his progressed Ascendant conjunct his natal Pluto and sextiled his natal Neptune).
According to his MySpace profile Maxwell Anderson died from brain cancer on 14 January 2010.
---
REFERENCES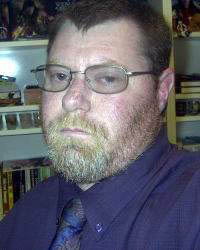 Kate Davis, director. Southern Comfort. With Robert Eads, Maxwell Anderson and others. USA, 90 mins, 2001. Grand Jury Prize for documentary feature at the 2000 Sundance Film Festival.
Dr. Maxwell Anderson (now defunct; try "www.archive.org").
"Maxwell Anderson (1956 – 2010) tax accountant, psychologist" A Gender Variance Who's Who: A prosopography of gender in theory and practice, its discontents and its enthusiasts. 15 January 2010.
Maxwell's World. (now defunct; try "www.archive.org").
Vicki Rene, "Interview with a Superstar! Maxwell Anderson," 15 February 2004.
---
---
© 2000, 2010
all rights reserved in all media