Michael Clark

---
Queer Scottish Post-Punk Dancer & Choreographer
---
a "polysexual python in heat" -- Sasha Selavie
---
Astrology chart, profile, books, links
---
---
Sagittarius Ascendant, Gemini Sun, Aries Moon, Saturn-Pluto Rising
---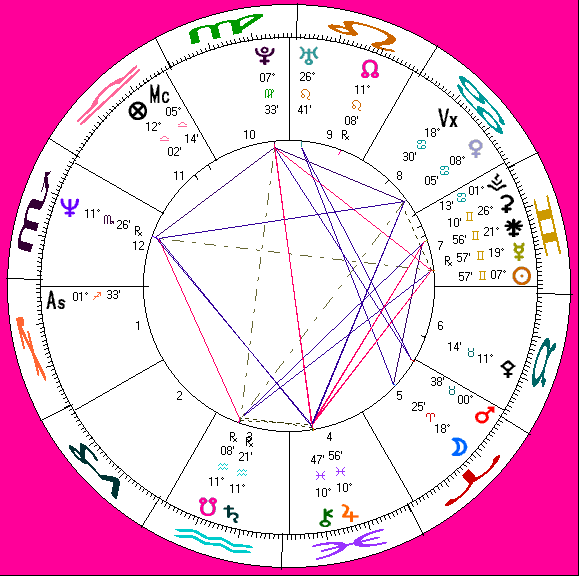 ---
DATA: 29 May 1962, 21:00 (9pm) GDT (1he), Aberdeen, Scotland (02w08, 57n09). Frank Clifford's British Entertainers: The Astrological Profiles quotes Caroline Gerard for data from birth certificate. [Data published here with their permission]. RR: AA.
---
FEATURES: PERSONALIZED PLANETS: Aquarius SATURN (conjunct South Node), Pisces CHIRON (on Base), Pisces JUPITER (on Base, rules Sagittarius Ascendant), Gemini SUN (conjunct Descendant), Leo URANUS (conjunct MH), Virgo PLUTO (conjunct MH). PATTERNS: GRAND WATER TRINE (Scorpio NEPTUNE, Pisces CHIRON & JUPITER, Cancer VENUS), KITE (Grand Trine plus Pluto), YOD (Venus sextile Pluto both quincunx Saturn), MUTABLE T-SQUARE (Pluto opposite Chiron/Jupiter all square Sun). SHAPE: SPLASHY. CHINESE SIGN: WATER TIGER. NUMEROLOGY: "7" LIFEPATH.
---
Wikipedia Biography [Astrology by Sy Scholfield]:
---
Michael Clark was born in Aberdeen and began traditional Scottish dancing at the age of four. In 1975 he left home to study at the Royal Ballet School in London, and on his final day at the school he was presented with the Ursula Moreton Choreographic Award. In 1979 Clark joined Ballet Rambert, working primarily with Richard Alston, who created roles for him in Bell High (1979), Landscape (1980), Rainbow Ripples (1981) and, subsequently, two solos: Soda Lake (1981) and Dutiful Ducks (1982). Later, attending a summer school with Merce Cunningham and John Cage led him to work with Karole Armitage, through whom he met Charles Atlas.

The first concert of his own choreography was in 1982 at London's Riverside Studios, where he became resident choreographer. By 1984 Clark had made 16 original pieces for himself, his friends, and various small-scale companies.

Dance productions and presentations

Michael Clark and Company was launched in 1984 with two works: Do You Me? I Did and New Puritans. The company was an immediate success and toured internationally with Not H.air (1984) and our caca phoney H. our caca phoney H. (1985).

During this time Clark collaborated with fashion designers Bodymap, artists Leigh Bowery and Trojan, as well as The Fall, Laibach, and Wire. He created large-scale works for his company such as No Fire Escape in Hell (1986), Because We Must (1987), and I Am Curious Orange (1988).

His commissions for major dance companies include Le French Revolting (1984) for G.R.C.O.P., Angel Food (1985) for The Paris Opera, Hail The Classical (1985) for Scottish Ballet, Drop Your Pearls and Hog It, Girl (1986) for London Festival Ballet, Swamp (1986) for Ballet Rambert, Rights (1989) for Phoenix Dance Company and Bog 3.0 (1992) for the Deutsche Oper Berlin. Clark has produced considerable work for film and video, including Hail the New Puritan with Charles Atlas (1984) and Because We Must (1989). He also choreographed and danced the role of Caliban in Peter Greenaway's Prospero's Books (1991).

In 1989 the Anthony d'Offay gallery in London commissioned Clark to create Heterospective.

After three years of commissions and solo work he created the original version of Mmm… (1992) and went on to create O in 1994. In 1998 he presented a new full-length work, current/SEE, in collaboration with Susan Stenger, Simon Pearson, Big Bottom, and Hussein Chalayan. The development of this work became the subject matter of a BBC documentary directed by Sophie Fiennes, The Late Michael Clark.

Before and After: The Fall (2001) was Clark's first major collaboration with the visual artist Sarah Lucas. In 2003 Clark created the first Satie Stud for William Trevitt of George Piper Dances, produced an evening entitled Would, Should, Can, Did, for the Barbican Theatre in London, and choreographed a solo for Mikhail Baryshnikov, Rattle Your Jewellery. In the same year, OH MY GODDESS opened London Dance Umbrella's 25th anniversary season at Sadler's Wells. In 2004 Rambert Dance Company revived Swamp, which received the Olivier Award for Best New Dance Production in 2005.

In 2005 Michael Clark became an Artistic Associate of the Barbican Centre, London, and embarked on the Stravinsky Project, a three-year collaboration to produce a trilogy of works to seminal dance scores by Igor Stravinsky. He radically reworked O and Mmm… for this project, and in 2007 he premiered his most recent work, I Do. The Stravinsky Project had its US premiere at the Lincoln Center, New York, in June 2008.

In 2009, his company toured new work, which premiered at the Venice Biennale in June of that year.

In October of 2010, his company performed 'Come, Been and Gone' in Melbourne, Australia. This worked featured dances to the music of vintage David Bowie, Lou Reed and Iggy Pop.

... [read more at Wikipedia, the free encyclopedia].