Adam Lambert
---
gay American singer, songwriter, actor
---
---
astrology chart, profile, free music, books, links
---
Libra Ascendant, Aquarius Sun, Aries Moon, Unaspected Uranus
---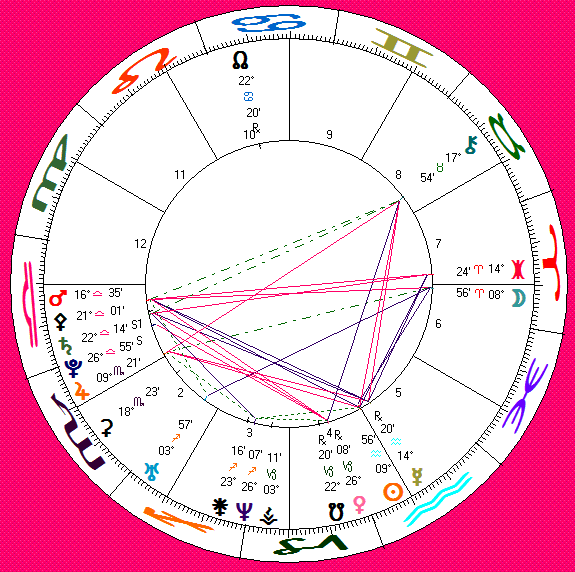 ---
ASTRoDATA: Adam Mitchel Lambert, born 29 January 1982, between 22:10 and 23:59 EST (5hW), Indianapolis, Indiana, USA. (Sy Scholfield [copyright] calculates data based on the statement on Lambert's tribe.net profile: "about me: 6'1''/170lbs/25 yrs old. I'm a singer. AQUARIUS. Libra Rising, Aries Moon." (http://people.tribe.net/6a8754d0-b038-41cd-b824-09d3c942255b). Lambert states on his Twitter profile that he was born in Indianapolis (http://twitter.com/adamlambert/status/3784913669). NB: His Ascendant would be somewhere between 00 and 21 degrees of Libra. RR: C).
---
FEATURES: PERSONALIZED PLANETS: Libra MARS (trine Sun; opposite & ruling Aries Moon; conjunct Ascendant?), Scorpio JUPITER (square Sun; quincunx Moon), Capricorn VENUS (conjunct South Node), Aries ERIS (conjunct Moon; sextile Sun; conjunct Descendant?). PATTERNS: FIXED T-SQUARE (Chiron opposite Jupiter, both square Sun-Mercury). MUTUAL RECEPTION: Aries ERIS & Libra MARS. UNASPECTED: Sagittarius URANUS. SHAPE: LOCOMOTIVE (Libra Mars leads). CHINESE SIGN: WATER DOG. NUMEROLOGY: "5" LIFEPATH.
---
Wikipedia Biography [with Astrology comments by Sy Scholfield].

Adam Mitchel Lambert is an American singer, songwriter and actor [T-Square to Sun-Mercury (actor-singer) on cusp of performative 5th House] from San Diego, California. In May 2009, he finished as the runner-up on the eighth season of American Idol [].

Lambert was born in Indianapolis, Indiana, and lived there for a year before moving out West to California. He grew up in Rancho Peñasquitos in northeastern San Diego and attended Deer Canyon Elementary School, Mesa Verde Middle School, where he was a winner in the Airband competition (featuring Michael Jackson's Thriller) and Mount Carmel High School (MCHS), where he was in theater, choir, and frequently performed vocals with the school's jazz band "MC Jazz". Some of his memorable MCHS performances included Frederick in The Pirates of Penzance and "It's Only a Paper Moon" with MC Jazz. Lambert is Jewish and has performed in Hebrew at Jewish events, singing songs such as "Shir LaShalom". He goes to Temple of the Arts in San Diego and has performed the Kol Nidre service on the Jewish holiday of Yom Kippur. Lambert also performed in The Ten Commandments: The Musical as Joshua, performing the song "Is Anybody Listening?" to critical acclaim. He has cited David Bowie, Madonna, Michael Jackson, Lady Gaga, Queen, Led Zeppelin, and Muse as his influences.

Adam Lambert has been a stage actor since he was about ten years old [His Sun is located near the end of the 10th degree of Aquarius]; he was cast as Linus in San Diego's Lyceum Theater's production of You're a Good Man, Charlie Brown. He also played the part of Joshua in The Ten Commandments: The Musical at the Kodak Theatre alongside Val Kilmer. He was the understudy for the part of Fiyero in the touring and Los Angeles casts of the musical Wicked. Since 2004, he has regularly performed at the Zodiac Show, which was co-created by Carmit Bachar of the Pussycat Dolls. [The Zodiac Show is a perfect vehicle for an astrologically-minded guy like Lambert]. He also performed at the Upright Cabaret.

Lambert auditioned for the eighth season of American Idol in San Francisco, California. During his initial audition, he sang "Rock with You" and "Bohemian Rhapsody." Lambert had cited several musical influences, e.g. Queen, David Bowie, Michael Jackson, Aerosmith and Led Zeppelin. [Lambert's Mars is conjunct Queen frontman Freddie Mercury's Mars; Lambert's Venus is conjunct Mercury's Jupiter]. In the semifinals, Lambert was voted into the Top 13, joining fellow Group 2 performers Allison Iraheta and Kris Allen. Lambert and Allen became roommates in the Idol mansion, with Allen stating it was due to their neatness.

During Michael Jackson week, he sang "Black or White" leading to praise from all four judges, with Paula Abdul predicting that he would go on to the finals. The following week, Lambert sang a version of "Ring of Fire". While Randy Jackson, Kara DioGuardi, and Abdul all liked his performance, Simon Cowell called it "indulgent rubbish". On Motown night, Lambert sang an acoustic version of The Miracles', "The Tracks of My Tears". The judges all liked it, and Smokey Robinson, the week's mentor and the original singer-songwriter, gave Lambert a standing ovation. For his Top 8 performance, Lambert sang the 2001 Gary Jules arrangement of "Mad World". Because the show had exceeded its time slot, only Cowell gave a critique, which he did by simply giving Lambert a standing ovation. During the results next night, the other judges agreed that a standing ovation was the best critique of Lambert's performance. For his second Top 7 performance, Lambert sang "If I Can't Have You", delivering what DioGuardi described as his "most memorable performance", while Cowell described his vocals as "immaculate". Abdul was reduced to tears, with host Ryan Seacrest joking that Lambert had melted her into a "pool of Abdul". In the Top 4, Lambert was the first to sing, performing "Whole Lotta Love". Cowell commented, "that was one of my favorite performances... nobody can top that now", while Abdul, punning on the song's title, described Lambert's performance as "a whole lotta perfect".

Photos of Lambert kissing a man surfaced in the middle of the Idol season; they were shown and discussed by commentators on The O'Reilly Factor; the panel agreed that the images would likely have no impact on the competition. Lambert confirmed that the photos were of him, stating he had nothing to hide and has always been open about his life. [Saturn-Pluto in First House (and/or conjunct the Ascendant) can manifest as in-your-face sexuality]. Mainstream media speculation centered on Lambert's sexuality; presuming he was gay, he would be the first gay American Idol. [Pluto in First House (or conjunct Ascendant) indicates the sexual pioneer]. Much of the media focus regarded the readiness of American Idol voters for an openly gay winner. Asked by Rolling Stone whether the speculation surrounding his sexual orientation impacted the final vote, Lambert laughed and said "probably". [Jupiter in Scorpio likes to laugh at sexual jokes and in the face of adversity]. Lambert confirmed that he was gay in a cover story interview with Rolling Stone, stating that "I don't think it should be a surprise for anyone to hear I'm gay... I'm proud of my sexuality. I embrace it. It's just another part of me." [Unaspected Uranus ruling Sun indicates pride and a lack of surprise and 'whatever' attitude to one's sexuality].

For the top three show, Lambert chose to sing at his alma mater, Mt. Carmel High School. While there, he performed both Michael Jackson's "Black or White", and the Gary Jules version of Tears for Fears' "Mad World." After his performance, San Diego mayor Jerry Sanders declared May 8 2009 "Adam Lambert Day."

On May 20, 2009, Lambert was announced as the runner-up for the eighth season of American Idol. Lambert performed a medley of "Beth", "Detroit Rock City", and "Rock and Roll All Nite" with rock band KISS during the final episode. His version of the winning single "No Boundaries" was later released on iTunes alongside American Idol winner Kris Allen's version. ["No boundaries" could be the motto of unaspected Uranus in Sagittarius!].

Upon winning, Allen said "Adam deserved this." Explaining this remark, Allen said that he thought Lambert deserved to win as much as he did, and that Lambert "was the most consistent person all year. He was seriously one of the most gifted performers that I've ever met." [Creative Sun in individualistic Aquarius on the cusp of the dramatic 5th House can manifest as a very talented performer].

Billboard magazine confirmed on May 22 that Lambert is working on a solo album, which is expected to be released some time in 2009. He stated that he would love to work with Slash, stating "When I was working with Slash I felt at home." Lambert also stated that his solo album will be eclectic, and have a variety of sounds. [Aquarius is the sign most associated with electricity]. Rock group Queen, with whom Lambert performed on the season finale, are said to be considering asking Lambert to be their new frontman. Lambert was a guest on Larry King Live (guest hosted by Ryan Seacrest) along with Kris Allen, judge Paula Abdul, and the rest of the top ten finalists. He has said that he plans to create a multi-genre album calling it a "rock-pop-electronic-dance thing". [Unaspected Uranus does not like to be pigeon-holed]. His version of the season winner's single, "No Boundaries", was released on May 20, 2009, on iTunes with Allen's version. In his Rolling Stone magazine cover article, Adam confirmed that he is in fact gay, saying he never came out as gay because he was always openly gay. [Because his Uranus is unaspected he always thought his (homo)sexuality was obvious to everyone]. It has been confirmed that Lambert will be working with producers RedOne, Greg Wells, Ryan Tedder, Max Martin, Sam Sparro and Linda Perry among others on his debut album, due this fall in November.

On June 19, 2009, Hi Fi Recordings and Wilshire Records revealed that they would be releasing On With the Show, a compilation of songs Lambert had recorded prior to American Idol while working as a session musician. The album's first single is "Want." [The Moon in Aries on the 7th cusp has very real 'needs']. Lambert later issued a statement through 19 Entertainment stating, "Back in 2005 when I was a struggling artist, I was hired as a studio singer to lend my vocals to tracks written by someone else. I was broke at the time and this was my chance to make a few bucks, so I jumped at the opportunity to record for my first time in a professional studio. The work I did back then in no way reflects the music I am currently in the studio working on."

Since Idol he has won two different awards: the Young Hollywood Award for Artist of the Year and the Teen Choice Award for Reality/Variety Star.

Rumoured as his first post-idol release will be the single-release theme song, "Time For Miracles", from upcoming movie, 2012. The song has been lauded ahead of its release or premiere with Queen's guitarist, Brian May[36] describing himself as being "completely blown away" upon hearing the track.

Adam Lambert has confirmed on Twitter that his album is scheduled to go on sale on November 24, 2009.