Andy Bell

---
lead singer of English synthpop duo Erasure
---
Astrology chart, profile, books, films, links
---
---
Aquarius Ascendant, Taurus Sun, Libra Moon, Venus T-Square
---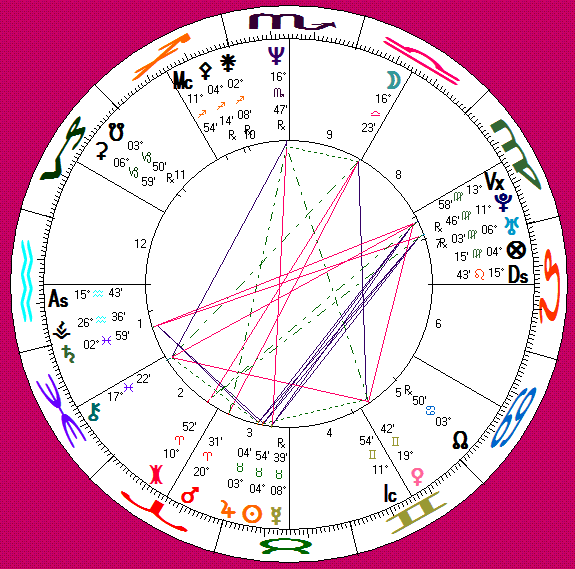 ---
AstroData: 25 April 1964, 03:30 (3:30AM) BST (1hE), Peterborough, England. (Sy Scholfield [copyright] quotes data from Bell's official website: "I was born at about 3.30AM on April 25th 1964 at The Gables in Peterborough, Cambridgeshire" (http://www.andybell.com/bio/index.html). RR: A.
---
FEATURES: PERSONALIZED PLANETS: Taurus MERCURY (conjunct Base), Gemini VENUS (semi-square & ruling Sun; trine Moon; conjunct IC), Scorpio NEPTUNE (conjunct Midheaven). PATTERNS: TRIPLE TAURUS CONJUNCTION (Jupiter, Sun, Mercury), MUTABLE T-SQUARE (Virgo PLUTO opposite Pisces CHIRON, both square Gemini VENUS). MUTUAL RECEPTION: Taurus MERCURY & Gemini VENUS. SHAPE: HORSESHOE (Cancer North Node is pivotal). CHINESE SIGN: WOOD DRAGON. NUMEROLOGY: "22" LIFEPATH.
---
Andy Bell's Wikipedia Biography [With Astrology by Sy Scholfield]:

Career

Originally working in a meat packing plant in the UK, Bell responded to a newspaper advert that was looking for a singer. He was picked by Vince Clarke and together they formed the group Erasure. The pair have sold over twenty million albums worldwide. [Bell has musical Neptune on the cusp of his 10th House (career) ruled by Pluto in the collaborative 7th House, indicating success through a long-term professional partnership].

Apart from his work with Erasure, he has taken part in numerous charities including the Ferry Aid version of "Let It Be" in 1987, a cover of Cole Porter's "Too Darn Hot" that was included in 1990s Red Hot + Blue album to raise funds for AIDS and HIV research, re-making Lene Lovich's "Rage" alongside her to be included in PETA's album in 1991 in favour of a wildlife campaign and performing twice on Big Spender's Red Hot and Dance events to support various AIDS projects (in December 1994 and November 2004). Bell also performed on the True Colors Tour 2008. [Neptune -- the planet most associated with charity work -- is Bell's most angular planet (conjunct the midheaven/10th cusp), in the Pisces decan of sexually-oriented Scorpio].

Bell sang the role of Montresor in Peter Hammill's opera The Fall of the House of Usher, released in 1991 and reissued with a new recording in 1999.

July 2005 brought the announcement of Bell's first solo album. He signed a worldwide solo recording deal with Sanctuary Records and announced details of his debut album, which was released on 3 October 2005 and entitled Electric Blue [Bell has Aquarius, the electric blue sign, rising in his chart]. The album featured fourteen tracks, including three duets, with Claudia Brücken of Propaganda and Jake Shears of Scissor Sisters, and encompasses a variety of musical genres. [Bell's Libran Moon in the 9th House inclines him toward work with a variety of other performers].

The first single, "Crazy", released on 26 September 2005, included club remixes from Erasure-partner Vince Clarke, plus Cicada, MHC and King Roc.

Electric Blue was co-written and recorded throughout 2004 and 2005 with Manhattan Clique (Philip Larsen and Chris Smith) who have worked with Erasure, Moby, The B-52's, Stereophonics and Goldfrapp.

As Erasure are currently on a break until 2010, Andy is working on his second solo album, which is due for release sometime in 2009. It is said to be a darker dance album to Electric Blue and will feature collaborations with Perry Farrell (Jane's Addiction) and Kate Pierson (The B-52's). The album will be produced by Pascal Gabriel, who previously remixed "It Doesn't Have to Be" for Erasure.

Personal life

Originating from the Dogsthorpe area in Peterborough, he has family still residing locally in the city and surrounding areas such as Market Deeping. He was a long time partner of Paul J. Hickey. Since the early 2000, he also practises reiki. He is also openly gay. On December 17, 2004 he publicly announced that he is HIV positive and has been aware of this since 1998. [Bell's Aquarian Ascendant is ruled by Uranus which is conjunct Pluto in the 7th House, meaning that he prefers to be out in the open about personal things that others might keep secret or hidden].

Discography

Albums 2005 Electric Blue (SANCD382) #119 UK, #12 U.S. Top Electronic Albums

Singles 2005 "Crazy" #35 UK, #3 U.S. Hot Dance Club Play 2006 "I'll Never Fall in Love Again"

.... [read more of his biography at Wikipedia, the free encyclopedia].