Lou Reed

---
American rock singer-songwriter & guitarist
---
astrology chart, profile, music, books, links, etc
---
---
Unknown Ascendant, Pisces Sun, Virgo Moon, Grand Trine
---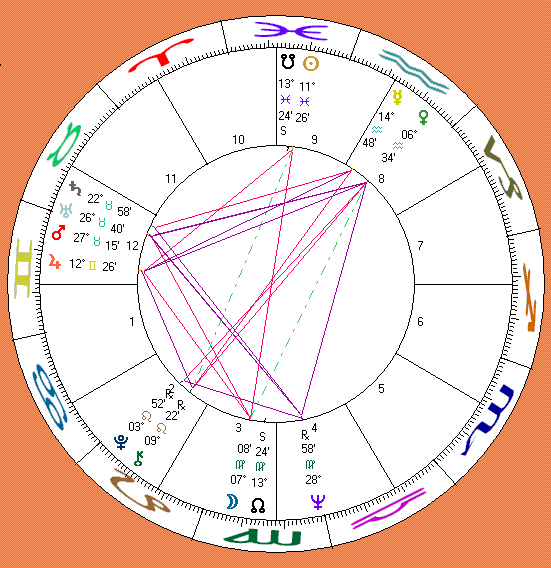 ---
ASTRODATA: Lewis Alan Reed, born 2 March 1942, Brooklyn (Kings County), New York, USA. RR: X (Sy Scholfield quotes flat data from various biographies).
---
FEATURES: PERSONALIZED PLANETS: Leo CHIRON (quincunx Sun; disposits Virgo Moon), Pisces SUN (conjunct South Node). PATTERNS: GRAND TRINE (Venus, Mars, Neptune). SHAPE: LOCOMOTIVE (Aquarius Venus leads). CHINESE SIGN: WATER HORSE. NUMEROLOGY: "3" LIFEPATH.
---
ASTRO TRIVIA by Sy Scholfield

Reed's insightful song "Candy Says" is, of course, about Warhol superstar Candy Darling ("Candy says Ive come to hate my body / And all that it requires in this world..."). She also features in Reed's "Walk on the Wild Side" ("Candy came from out on the island / In the backroom she was everybodys darling / But she never lost her head / Even when she was given head..."). Astro-logically, Darling's immortalization by Reed in this manner stems from his Chiron (he wrote her signature song) which is conjunct ,a href=https://astroqueer.tripod.com/charts/candydarling.html>her Pluto at 10 degrees Leo (his touching and sexual lyrics about her life give her currency beyond death).

Jackie Curtis also features in "Walk on the Wild Side" ("Jackie is just speeding away / Thought she was James Dean for a day / Then I guess she had to crash / Valium would have helped that dash..."). Reed's Pluto is exactly conjunct Curtis's Saturn at 3 degrees Leo in her 12th House no less (Pluto-Saturn connections often incur a 'crunch' and the Twelfth is the domain of drugs and escapism).

In a scene from the film Hedwig and the Angry Inch Hedwig starts singing "Walk on the Wild Side" while in an oven. John Cameron Mitchell (Hedwig)'s Chiron at 13 degrees Pisces is exactly conjunct Reed's South Node.
---
Wikipedia Biography:

Lou Reed (born March 2, 1942) is an American rock singer-songwriter and guitarist. He first came to prominence as the guitarist and principal singer-songwriter of The Velvet Underground (1965-1973). The band gained little mainstream attention during their career, but in hindsight became one of the most influential of their era.[1] As the Velvets' principal songwriter, Reed wrote about subjects of personal experience that rarely had been examined in rock and roll, including bondage and S&M ("Venus in Furs"), transvestites ("Sister Ray" and "Candy Says"), drug culture ("Heroin" and "I'm Waiting for the Man"), and transsexuals undergoing surgery ("Lady Godiva's Operation"). As a guitarist, he was a pioneer in the use of distortion, high volume feedback, and nonstandard tunings.

Reed began a long and eclectic solo career in 1971. He had a hit the following year with "Walk on the Wild Side", though for more than a decade Reed seemed to willfully evade the mainstream commercial success its chart status offered him.[2] One of rock's most volatile personalities, Reed's work as a solo artist has frustrated critics wishing for a return of The Velvet Underground. The most notable example is 1975's infamous double LP of recorded feedback loops, Metal Machine Music, upon which Reed later commented: "No one is supposed to be able to do a thing like that and survive." By the late 1980s, however, Reed had won wide recognition as an elder statesman of rock.

.... [read more at Wikipedia, the free encyclopedia].
---