Queen Latifah

---
American rapper, actor, singer
---
astrology chart, profile, music, books, links
---
---
Taurus Ascendant, Pisces Sun, Leo Moon, Mars Rising
---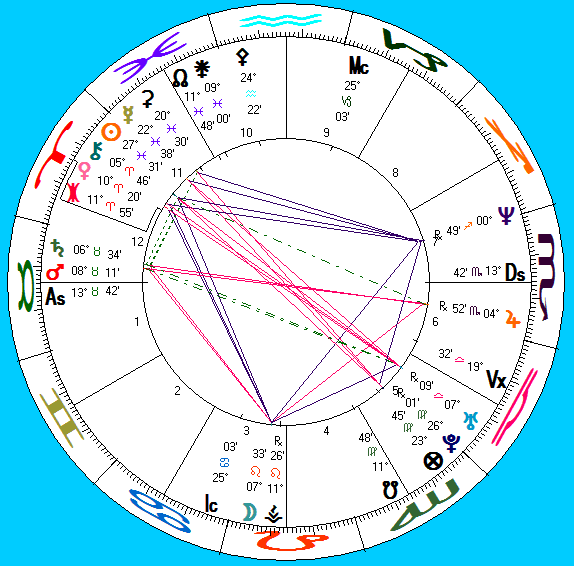 ---
Born: Dana Elaine Owens, 18 March 1970, 8:02 (8:02AM) EST (5hW), Newark, NJ, USA. RR: A (Astro-databank quotes Basil Fearrington for data from her from B.C., 10/1996).
---
FEATURES: PERSONALIZED PLANETS: Taurus SATURN-MARS (conjunct Ascendant), Aries CHIRON (conjunct Sun; trine Moon). PATTERNS: GRAND FIRE TRINE (Aries Chiron, Leo Moon, Sagittarius Neptune), FIXED T-SQUARE (Scorpio Jupiter opposite Taurus Saturn-Mars, all square Leo Moon). MUTUAL RECEPTION: Aries VENUS & Taurus MARS. SHAPE: SEE~SAW. CHINESE SIGN: METAL DOG. NUMEROLOGY: "4" LIFEPATH.
---
Wikipedia Biography:

Dana Elaine Owens (born March 18, 1970), better known by her stage name Queen Latifah, is an American rapper, actress and singer. Queen Latifah's work in music, film and television has earned her a Golden Globe award, two Screen Actors Guild Awards, two Image Awards, a Grammy Award, six additional Grammy nominations, an Emmy Award nomination and an Academy Award nomination.

.... [read more @ Wikipedia].