Rufus Wainwright

---
American-Canadian singer-songwriter, actor
---
Astrology chart, profile, free music, links
---
---
Gemini Ascendant, Cancer Sun, Aries Moon, Jupiter MC
---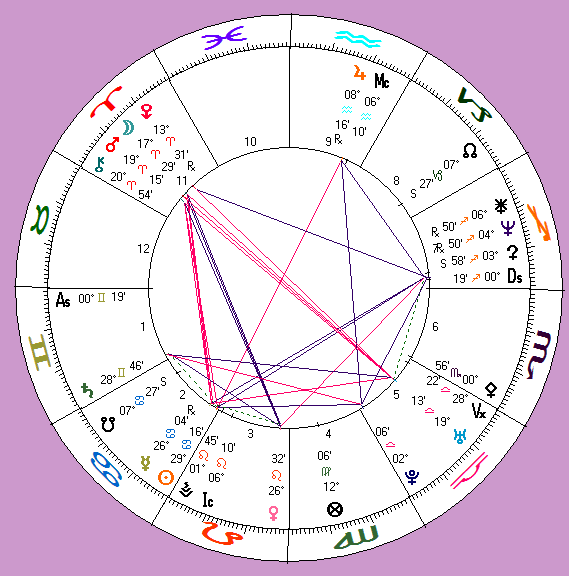 ---
AstroData: Rufus McGarrigle Wainwright, born 22 July 1973, 01:31 (1:31am) EDT (-4), Woodstock, New York, USA. (A-Db quotes Nick Dagan Best for data from Wainwright in 1997). NB: Wikipedia gives Rhinebeck, NY, as the place of birth. RR: A.
---
FEATURES: PERSONALIZED PLANETS: Cancer MERCURY (conjunct Sun; square Moon), Leo VESTA (conjunct Sun & IC; square Moon), Sagittarius NEPTUNE (conjunct Descendant), Aquarius JUPITER (conjunct MC), Aries CHIRON (conjunct Moon; square Sun). PATTERNS: QUADRUPLE ARIES CONJUNCTION (Eris, Moon, Mars, Chiron). FINAL DISPOSITOR: Aries MARS. SHAPE: SPLAY. CHINESE SIGN: WATER BUFFALO (OX). NUMEROLOGY: "4" LIFEPATH.
---
Rufus Wainwright: Wikipedia Biography [Astrology by Sy Scholfield]:

Rufus McGarrigle Wainwright (born July 22, 1973) is an American-Canadian singer-songwriter. He has recorded six albums of original music, EPs, and tracks on compilations and film soundtracks.

Wainwright was born in Rhinebeck, New York, to folk singers Kate McGarrigle and Loudon Wainwright III. His parents divorced when he was three, and he lived with his mother in Montreal for most of his youth. Wainwright has dual US and Canadian citizenship. He attended high school at the Millbrook School in New York (which would later inspire his song "Millbrook"), and later briefly studied piano at both Concordia and McGill Universities in Montreal. He began playing the piano at age six, and started touring at 13 with "The McGarrigle Sisters and Family", a folk group featuring Rufus, his sister Martha, his mother Kate, and aunt Anna. His song "I'm a-Runnin'", which he performed in the film Tommy Tricker and the Stamp Traveller at the age of 14, earned him a nomination for a 1989 Genie Award for Best Original Song. He was nominated for a 1990 Juno Award for Most Promising Male Vocalist of the Year.

Wainwright acknowledged that he was gay while a teenager. In 1999, he told Rolling Stone that his father recognized his homosexuality early on. "We'd drive around in the car, he'd play 'Heart of Glass' and I'd sort of mouth the words, pretend to be Blondie. Just a sign of many other things to come as well."[7] Wainwright later said in another interview that his "mother and father could not even handle me being gay. We never talked about it really."

.... [read more at Wikipedia, the free encyclopedia].