Gimme, Gimme, Gimme
---
queer cult UK t.v. show, 1999-2001
---
astrology chart, profile, DVDs, links
---
---
Virgo Ascendant, Capricorn Sun, Libra Moon, Unaspected Jupiter
---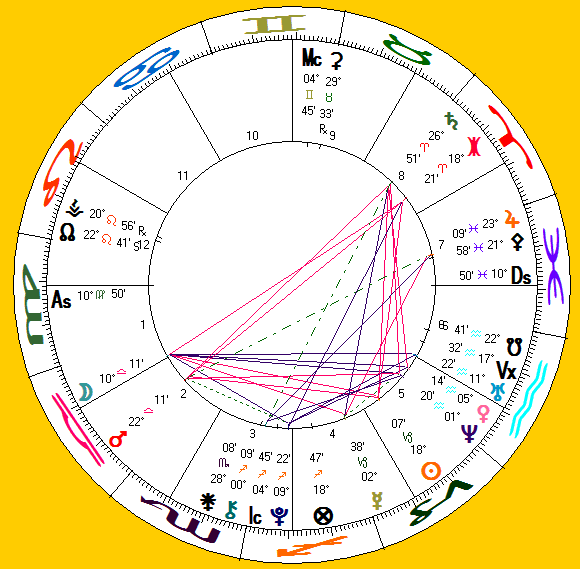 ---
---
DATA: 8 January 1999, 21:00 (9PM) GMT, London, England (51n30, 0w10). RR: B. (Sy Scholfield [copyright] quotes the Times, 8 January 1999, p. 51: "New sitcom" on BBC2).
---
FEATURES: PERSONALIZED PLANETS: Sagittarius CHIRON-PLUTO (on IC, sextile Moon). PATTERNS: GRAND AIR TRINE (Moon, Venus-Uranus, MC), KITE (Grand Trine plus Pluto), CARDINAL T-SQUARE (Saturn opposite Mars, both square Sun), YOD (North Node of Moon sextile Mars, both quincunx Jupiter). FINAL DISPOSITOR: URANUS in AQUARIUS. UNASPECTED: Pisces JUPITER. SHAPE: UNDEFINED. CHINESE SIGN: EARTH TIGER. NUMEROLOGY: "10" life path.

---
Wikipedia Biography
[with Astrology notes by Sy Scholfield]:
Gimme Gimme Gimme is a BBC television comedy by Tiger Aspect Productions that ran for three series between 1999 and 2001. It was written by Jonathan Harvey, who developed the series with Kathy Burke.
The theme song was a cover of ABBA's "Gimme! Gimme! Gimme! (A Man After Midnight)". The first series was shown on BBC Two, being deemed successful enough for the second and third series to be shown on BBC One. A fourth series was to be produced for 2002, but the BBC decided to drop the programme and cancelled production.
Gimme Gimme Gimme stars comedienne and director Kathy Burke as loudmouthed Londoner Linda La Hughes and James Dreyfus as her gay flatmate Tom. A modern twist on the traditional 'odd couple' format, much of Gimme Gimme Gimme's humour springs from its lubricious innuendo subplot, which springs from the mouths of both Tom and Linda.
Linda is characterised by her red perm, white glasses, and plump, lycra-clad figure. Boorish, unattractive Linda is convinced she is a "stunner"; in series three she is finally diagnosed with reversed body dysmorphic disorder. Linda shares a flat with homosexual actor Tom Farrell, played by James Dreyfus. It is suggested that Linda and Tom first met at a club, bonded instantly (due to both being on ecstasy), and decided to live together. What follows is, as writer Jonathan Harvey describes, "one long come-down." Linda often tells humorous anecdotes about her family and childhood which suggest abuse or neglect (such as how she apparently slept on a doormat as a baby, lived in a kennel as a child, and was left in a car-boot for the two weeks her aunt went on holiday), but she always thinks of these as positive experiences. She also claims that her Daddy now lives in an iron lung, although the only proof she has is a photo of a sideboard. Linda also lived in a convent and a borstal as a teenager. She has crushes on Liam Gallagher (in whom she lost interest after series one as she "couldn't bring up another bird's child"), Robbie Williams, and both male members of Hear'Say. She also imagines having sex with Dale Winton in a toilet cubicle.
Tom is melodramatic yet fails in his desire to get acting roles. He believes himself to be truly gifted in the art of acting, and often blames his failures on his agent or society itself. He did appear in one episode of EastEnders and often brags about it, delaying for as long as he can the fact that he was in one scene, had one line, and did nothing but buy a cagoule from Bianca Jackson's market stall. He also appeared in Daylight Robbery as an extra, standing in a queue in the background. He had one line but it was cut due to timekeeping. He insists that the entire series was ruined due to the axing of his line. Tom has an obsession with appearing to be middle-class even though he hails from a working-class background, possibly because he also has a hatred of his parents. It is often suggested that Tom has no friends whatsoever (apart from Linda and his housemates) but unlike Linda he usually tries to pretend he is popular. Tom is in love with the actor Simon Shepherd.
Although they appear to loathe each other, Tom and Linda are beholden to each other due to the simple fact that nobody else can tolerate them. They are in many ways alike: selfish, unsuccessful, and physically and personally unattractive. The hapless duo live in a Kentish Town flat (69 Paradise Passage, Kentish Town) rented from elderly ex-prostitute Beryl Merit (Rosalind Knight). Other regular characters are the middle-class and horny married couple Jez (Brian Bovell) and Suze (Beth Goddard). Many of the storylines revolve around the fact that Tom and Linda find Jez sexually attractive while both (particularly Linda) despise the oblivious Suze. Another recurring character is Sugar Walls (Elaine Lordan), Linda's celebrity sister. Many of the other characters can be just as hapless as Tom and Linda; Beryl still engages in sexual activities such as S&M and picking up young and married men, while Jez and Suze generally lack common sense. For example, they once cancel their holiday to the Algarve and pay £500 to stay in their own back garden after Linda opens it up as a camp site.
Guest appearances have been made by Simon Shepherd, Su Pollard, Charlie Condou and Rose Keegan. When Su Pollard (playing Heidi Honeycombe) made her appearance, it led to a pun where Linda greeted her with the words "Heidi! Hi!" (a reference to Pollard's character in the sitcom Hi-de-Hi!).
At the end of series three, Tom finally got his big break in TV soap opera Crossroads. The last episode ended with Tom leaving the flat and Linda taking off her hair (revealing it to be a wig) and sitting in the flat alone.
.... [read more at Wikipedia, the free encyclopedia].
---