Queer As Folk

---
Astrology Chart for the American-Canadian TV Series
---
Astrology chart, profile, books, DVDs, links
---
---
Leo Ascendant, Sagittarius Sun, Pisces Moon, Uranus Descending
---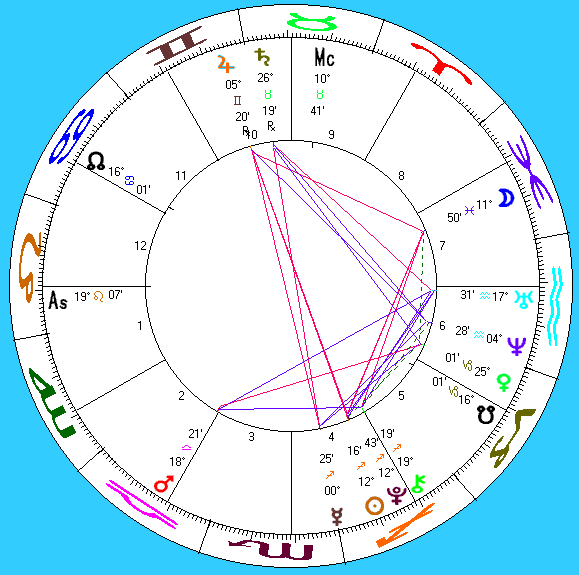 ---
ASTRoDATA: 3 December 2000, 22:00 (10PM) EST (5hW), Pittsburgh, Pennsylvania, USA (40n26, 80w0). Sy Scholfield [copyright.html] quotes data from the New York Times. RR: B.
---
FEATURES: PERSONALIZED PLANETS: Sagittarius PLUTO & CHIRON (both conjunct Sun; both square Moon); Capricorn VENUS (semi-square both Sun & Moon); Aquarius URANUS (conjunct Descendant); Taurus SATURN (conjunct MH); Gemini JUPITER (opposite Sun; square Moon). PATTERNS: MUTABLE T-SQUARE (Jupiter opposite Sun, both square Moon). MUTUAL RECEPTION: MERCURY in SAGITTARIUS (opposite) JUPITER in GEMINI. SHAPE: LOCOMOTIVE (Libra MARS leads). CHINESE SIGN: METAL DRAGON. NUMEROLOGY: "8" LIFEPATH.
---
Abridged Wikipedia Biography [with Astrology notes by Sy Scholfield]
---
Queer as Folk is an American and Canadian television series co-production, produced by Showtime and Temple Street Productions which was based on the British series of the same name created by Russell T. Davies. This North American version of Queer as Folk used various Canadian directors known for their independent film work (including Bruce McDonald, David Wellington, Kelly Makin, John Greyson, Jeremy Podeswa and Michael DeCarlo) as well as famed Australian director Russell Mulcahy (Highlander) who directed the pilot episode. The head writers were Ron Cowen and Daniel Lipman who were also the executive producers of the series along with former Warner Bros. Television president Tony Jonas. Other writers in the later seasons included Michael MacLennan, Efrem Seeger, Brad Fraser, Del Shores, and Shawn Postoff.
Show premise
The series follows the lives of five gay men living in Pittsburgh, Pennsylvania: Brian, Justin, Michael, Emmett, Ted; a lesbian couple, Lindsay and Melanie; and Michael's mother Debbie. Another main character, Ben, was added in the second season. Due to tax incentives, the series was filmed in Canada, with frequent location filming in Toronto's Church and Wellesley gay village.
The show was noted for its somewhat frank depiction of gay life, as well as its vivid sex scenes. A disclaimer, "Queer as Folk is a celebration of the lives and passions of a group of gay friends. It is not meant to reflect all of gay society" appeared after each episode on Showtime in the U.S. but this disclaimer was not broadcast on Showcase in Canada (instead, the standard Showcase disclaimer "This program contains nudity, sexuality and coarse language — viewer discretion is advised" was broadcast before each airing and after each commercial).
The title appears to make two references. The show comes from a well-known dialect expression from some parts of Northern England, "there's nought [colloquially pronounced 'nowt'] so queer as folk", meaning "there's nothing as weird as people". (The original series was set in Manchester, in North-West England.) It is also a variation on "Queer as Fuck", which Channel 4 had originally called it, before changing it to its more polite form.[
.... [read more at Wikipedia, the free encyclopedia].