---
Andy Warhol, 1928-1987

---
Gay Pop Art Icon, Film-maker, Wit, Pornographer, Celebrity.
---
"In the future everybody will be world-famous for 15 minutes" -- Andy Warhol lets his Sagittarian Saturn do the talking (1967)
---
astrology chart, profile, music, books, links, etc
---
---
Leo Ascendant, Leo Sun, Aries Moon, Saturn Bucket-Handle
---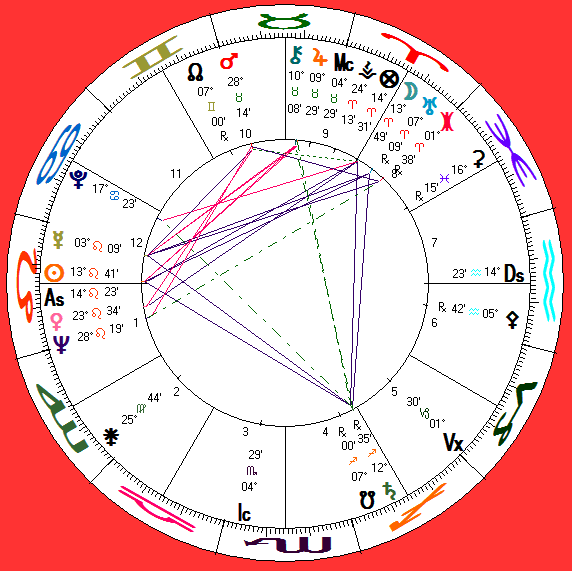 ---
BORN
Andrew Warhola, 6 August 1928, 06:30 (6:30AM) EDT (4hW), Pittsburgh, Pennsylvania, USA (40n26 80w00). RR: B. Sy Scholfield [copyright] quotes data from Ultraviolet (Isabelle Dufresne)'s book, Famous For Fifteen Minutes: My Years with Andy Warhol, p. 38: "little Andy is born at 6:30 A.M., as the day takes over from the night." DIED: 22 February 1987, 06:31 (6:31 AM) EST, New York City (ibid, p. 257).
---
STAR FEATURES: PERSONALIZED PLANETS: Leo SUN (Ascendant ruler, on Ascendant), Taurus JUPITER & CHIRON (on MC); Leo MERCURY & Sagittarius SATURN & Aries URANUS (in Grand Trine with luminaries). PATTERNS: GRAND FIRE TRINE (Mercury-Sun, Saturn, Uranus-Moon). FINAL DISPOSITOR: SUN in LEO. SHAPE: BUCKET (Sagittarius SATURN handle). CHINESE SIGN: EARTH DRAGON. NUMEROLOGY: "7" LIFEPATH.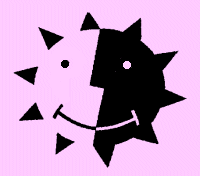 © 1999+
Sy Scholfield

---
Wikipedia Biography [with Astrology notes by Sy Scholfield]
---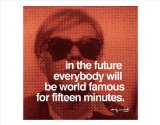 Warhol was an American artist and a central figure in the movement known as pop art. After a successful career as a commercial illustrator, Warhol became famous worldwide for his work as a painter, an avant-garde filmmaker, a record producer, an author, and a public figure known for his membership in wildly diverse social circles that included bohemian street people, distinguished intellectuals, Hollywood celebrities and wealthy aristocrats [Sagittarius (widespread; world-wide) Saturn (fame) trine Leo Sun (artist) in 12th House (film world) trine Moon-Uranus (bohemian street people) and quincunx Pluto (extemely diverse social circles)].

Warhol has been the subject of numerous retrospective exhibitions, books, feature and documentary films since his death in 1987 [8th House (posthumous cultural legacy) ruled by Leo Neptune (art & film)].

Warhol coined the phrase 15 minutes of fame, which refers to the fleeting condition of celebrity that attaches to an object of media attention, then passes to some new object as soon as the public's attention span is exhausted [Saturn (fame) trine and ruling Ascendant in 15th degree of Leo (object of media attention); Sabian Symbol: "A street pageant"].

Childhood and early career

Warhol's parents were working-class immigrants of Rusyn ethnicity from Miková, Austro-Hungarian Empire (now in northeastern Slovakia) [Sun & Moon (father & mother) in trine with Saturn (class-conscious) in Sagittarius (immigrants)]. Warhol's father worked in a coal mine [Sun (father) at end of 12th House (hidden) in trine with Moon in 8th House (under ground)].

In third grade Warhol had St. Vitus' dance, a nervous system disease causing involuntary movements, which is believed to be a complication of scarlet fever and causes skin pigmentation blotchiness [Sun (largest planet) in 12th House (health issues) conjunct Ascendant indicates problems with skin (largest organ of body) ]. He became somewhat of a hypochondriac, developing a fear of hospitals and doctors [Chiron (hypochondriac) on Zenith; Saturn (fear) ruling 6th House (doctors, hospitals)]. Often bed-ridden as a child, he became an outcast among his school-mates and bonded with his mother very strongly [Aries (strong) Moon (mother) in 8th House (bond)]. When in bed he drew, listened to the radio and collected pictures of movie stars around his bed. Warhol later described this period as very important in the development of his personality, skill-set and preferences [Sun (art) in 12th House (made during confinement) conjunct ascendant (affected his personality)].

Warhol showed an early artistic talent and studied commercial art at the School of Fine Arts at Carnegie Institute of Technology in Pittsburgh (now Carnegie Mellon University). In 1949, he moved to New York City and began a successful career in magazine illustration and advertising []. During the 1950s, he gained fame for his whimsical ink drawings of shoe advertisements. These were done in a loose, blotted ink style, and figured in some of his earliest showings in New York at the Bodley Gallery [Leo (pictures) Neptune (of shoes)]. With the concurrent rapid expansion of the record industry and the introduction of the vinyl record, Hi-Fi, and stereophonic recordings, RCA Records hired Warhol, along with another freelance artist, Sid Maurer, to design album covers and promotional materials [Sun (artist) in 12th House (making advertising, promotional materials)].

The 1960s

Andy Warhol's first New York solo Pop exhibit was hosted at Eleanor Ward's Stable Gallery November 6-24th, 1962 [transiting Mars (debut) conjunct natal Sun-Ascendant (as public artist)]. The exhibit included the works "Marilyn Diptych," "100 Soup Cans," "100 Coke Bottles" and "100 Dollar Bills" [Marilyn Monroe's Ascendant at 13 Leo is exactly conjunct Warhol's Sun]. At the Stable Gallery exhibit the artist met for the first time John Giorno who would star in Warhol's first film, "Sleep," in 1963.

It was during the 1960s that Warhol began to make paintings of famous American products such as "Campbell's Soup Cans" from the Campbell Soup Company and Coca-Cola, as well as paintings of celebrities like Marilyn Monroe, Troy Donahue, and Elizabeth Taylor [Taylor's Jupiter at 15 Leo is conjunct Warhol's Ascendant]. He founded "The Factory" [Sagittarius Saturn], his studio during these years and gathered around himself a wide range of artists, writers, musicians, and underground celebrities. He switched to silkscreen prints which he produced serially, seeking not only to make art of mass-produced items but to mass produce the art itself [Neptune (mass-produced) Leo (art)]. By minimizing the role of his own hand in the production of his work and declaring that he wanted to be "a machine", Warhol sparked a revolution in art. His work quickly became very controversial and popular.

Warhol's work from this period revolves around United States pop (popular) culture [The conjunction between Warhol's Saturn bucket-handle and America's Ascendant allowed him to scoop up and manifest American culture in his art]. He painted dollar bills, celebrities, brand name products and images from newspaper clippings - many of the latter were iconic images from headline stories of the decade (e.g. photographs of mushroom clouds, and police dogs attacking civil rights protesters). His subjects were instantly recognizable and often had a mass appeal. This aspect interested him most and it unifies his paintings from this period.

New York's Museum of Modern Art hosted a Symposium on pop art in December 1962 during which artists like Warhol were attacked for "capitulating" to consumerism [transiting Mars (attack) conjunct natal Venus-Neptune (on his art)]. Critics were scandalized by Warhol's open embrace of market culture. This symposium set the tone for Warhol's reception. Throughout the decade it became more and more clear that there had been a profound change in the culture of the art world, and that Warhol was at the center of that shift [Sun rising in Leo (center of art world)].

A pivotal event was the 1964 exhibit "The American Supermarket," a show held in Paul Bianchini's Upper East Side gallery. The show was presented as a typical u.s. small supermarket environment, except that everything in it from the produce, canned goods, meat, posters on the wall, etc. were created by six prominent pop artists of the time including the controversial (and like-minded) Billy Apple, Mary Inman, and Robert Watts. Warhol's painting of a can of Campbell's soup cost $1,500 while each autographed can sold for $6. The exhibit was one of the first mass events that directly confronted the general public with both Pop Art and the perennial question of what is art ["The American Supermarket" opened on 6 October 1964 with Mars (confrontation) at 13 Leo conjunct Warhol's Sun-Ascendant, plus Jupiter at 25 Taurus (mass art event) square Warhol's Venus-Neptune conjunction].

As an advertisement illustrator in the 1950s, Warhol used assistants to increase his productivity. Collaboration would remain a defining (and controversial) aspect of his working methods throughout his career; in the 1960s, however, this was particularly true []. One of the most important collaborators during this period was Gerard Malanga. Malanga assisted the artist with producing silkscreens, films, sculpture, and other works at "The Factory", Warhol's aluminum foil-and-silver-paint-lined studio on 47th Street (later moved to Broadway). Other members of Warhol's Factory crowd included Freddie Herko, Ondine, Ronald Tavel, Mary Woronov, Billy Name, and Brigid Berlin (from whom he apparently got the idea to tape record his phone conversations). During this decade, Warhol also groomed a retinue of bohemian eccentrics upon whom he bestowed the designation "Superstars", including Edie Sedgwick, Viva, [Jackie Curtis, Candy Darling,] and Ultra Violet. These people all participated in the Factory films, and some, like Berlin, remained friends with Warhol until his death. Important figures in the New York underground art/cinema world (e.g. writer John Giorno, film-maker Jack Smith) also appear in Warhol films of the 1960s, revealing Warhol's connections to a diverse range of artistic scenes during this period. By the end of the decade, Andy Warhol was himself a celebrity, appearing frequently in newspapers and magazines alongside Factory cohorts like Sedgwick.

Shooting

On June 3, 1968, Valerie Solanas shot Warhol and art critic and curator Mario Amaya at Warhol's studio [transiting Neptune at 24 Scorpio (confused madwoman) square (shoots) natal 1st-House Leo Venus (public art figure)].

Before the shooting, Solanas had been a marginal figure in the Factory scene. She founded a "group" called S.C.U.M. (Society for Cutting up Men) and authored the S.C.U.M. Manifesto, a separatist feminist attack on patriarchy. Solanas appears in the 1968 Warhol film I, A Man. Earlier on the day of the attack, Solanas had been turned away from the Factory after asking for the return of a script she had given to Warhol. The script, apparently, had been misplaced.

Amaya received only minor injuries and was released from the hospital later the same day. Warhol however, was seriously wounded by the attack and barely survived (doctors opened his chest and massaged his heart to help stimulate its movement again) [transiting Pluto-Uranus (near-death incident) conjunct Solar-arc progressed Sun (involving heart) in Virgo (wound)]. He suffered physical effects for the rest of his life. The shooting had a profound effect on Warhol's life and art.

Solanas was arrested the day after the assault. By way of explanation, she said that "He had too much control over my life." After the shooting, the Factory scene became much more tightly controlled, and for many this event brought the "Factory 60s" to an end.

The shooting was mostly overshadowed in the media due to the murder of Robert F. Kennedy two days later. On recalling the event of the shooting Warhol stated, "Before I was shot, I always thought that I was more half-there than all-there. I always suspected that I was watching TV instead of living life."

The 1970s

Compared to the success and scandal of Warhol's work in the 1960s, the 1970s would prove a much quieter decade. This period, however, saw Warhol becoming more entrepreneurial. According to Bob Colacello, Warhol devoted much of his time to rounding up new, rich patrons for portrait commissions—including Mick Jagger, Liza Minnelli, John Lennon, Diana Ross, Brigitte Bardot, and Michael Jackson. Warhol's famous portrait of Chinese Communist leader Mao Zedong was created in 1973 [SA progressed Saturn in late Capricorn (old authority figure) quincunx natal Neptune in first house (portrait)]. He also founded, with Gerard Malanga, Interview magazine, and published The Philosophy of Andy Warhol (1975). In this book, he presents his ideas on the nature of art: "Making money is art, and working is art and good business is the best art" [Angular Saturn (materialistic) Sagittarius (philosophy) plus Taurus (materialistic) Jupiter (philosophy)]

Warhol used to socialize at Serendipity 3 and, later in the 70s, Studio 54, nightspots in New York City. He was generally regarded as quiet, shy, and as a meticulous observer [Sun at end of 12th House and Moon at end of 8th House (quiet and shy); Pluto almost unaspected explains his voyeuristic tendencies and Chiron on the midheaven rarely misses a clue]. Art critic Robert Hughes called him "the white mole of Union Square".

The 1980s

Warhol had a re-emergence of critical and financial success in the 1980s, partially due to his affiliation and friendships with a number of prolific younger artists, who were dominating the "bull market" of '80s New York art: Jean-Michel Basquiat, Julian Schnabel, David Salle and the so-called Neo-Expressionists, as well as Francesco Clemente, Enzo Cucchi and members of the Transavantgarde movement, which had become influential.

By this period, Warhol's work had engendered controversy as to whether he had merely become a "business artist". In 1979 unfavorable reviews met his exhibits of portraits of 1970s personalities and celebrities, calling them superficial, facile and commercial, with no depth or indication of the significance of the subjects. This criticism was echoed for his 1980 exhibit of ten portraits at the Jewish Museum in New York, entitled "Jewish Geniuses", which Warhol, who exhibited no interest in Judaism or matters of interest to Jews, had described in his diary as "They're going to sell."

In hindsight, however, some critics have come to the realization that Warhol's superficiality and commerciality was in fact "the most brilliant mirror of our times", and that "Warhol had captured something irresistible about the zeitgeist of American culture in the 1970s."

Warhol also had an appreciation for intense Hollywood glamour. He once said: "I love Los Angeles. I love Hollywood. They're so beautiful. Everything's plastic, but I love plastic. I want to be plastic." [First House ('I want to be...) Neptune (plastic')]

Sexuality [8th House, Pluto, Scorpio]

Many people think of Warhol as "asexual" and merely a "voyeur", but these notions have been debunked by biographers (such as Victor Bockris), explored by other members of The Factory scene such as Bob Colacello (in his book Holy Terror: Andy Warhol Close Up), and by scholars like art historian Richard Meyer (in his book Outlaw Representation). The question of how his sexuality influenced Warhol's work and shaped his relationship to the art world is a major subject of scholarship on the artist [quincunx between (questions about the links between) Sun (his art) and 8th House cusp (sexuality) ], and is an issue that Warhol himself addressed in interviews, in conversation with his contemporaries, and in his publications (e.g. Popism: The Warhol Sixties).

Throughout his career, Warhol produced erotic photography and drawings of male nudes. Many of his most famous works (portraits of Liza Minnelli, Judy Garland, Elizabeth Taylor, and films like Blow Job, My Hustler, and Lonesome Cowboys) draw from gay underground culture and/or openly explore the complexity of sexuality and desire [Pluto (underground) in Scorpio decanate (sexuality) ruling Base of chart or 4th House (providing fertile grounds for development)]. Many of his films premiered in gay porn theaters [Pluto (sexual) on cusp (niche) of 12th House (theatres)]. That said, some stories about Warhol's development as an artist revolved around the obstacle his sexuality initially presented as he tried to launch his career. The first works that he submitted to a gallery in the pursuit of a career as an artist were homoerotic drawings of male nudes. They were rejected for being too openly gay [exact square (rejection) between Neptune (of art) and Mars (at origin)(].

In Popism, furthermore, the artist recalls a conversation with the film maker Emile de Antonio about the difficulty Warhol had being accepted socially by the then more famous (but closeted) gay artists Jasper Johns and Robert Rauschenberg. De Antonio explained that Warhol was "too swish and that upsets them." In response to this, Warhol writes, "There was nothing I could say to that. It was all too true. So I decided I just wasn't going to care, because those were all the things that I didn't want to change anyway, that I didn't think I 'should' want to change ... Other people could change their attitudes but not me".[dramatic Sun rising in queeny Leo plus a Venus-Neptune (airy-fairy) conjunction in the early first house imbued Warhol with a 'camp' or 'swish' personality and aesthetic]. In exploring Warhol's biography, many turn to this period - the late 1950s and early 1960s - as a key moment in the development of his persona. Some have suggested that his frequent refusal to comment on his work, to speak about himself (confining himself in interviews to responses like "Uhm, No" and "Uhm, Yes", and often allowing others to speak for him), and even the evolution of his Pop style can be traced to the years when Warhol was first dismissed by the inner circles of the New York art world [anyway, Mercury in Leo in 12th House tends toward reticence, if not big, bold, short statements about the world!].

Religious Beliefs

Warhol was a practicing Byzantine Rite Catholic. He regularly volunteered at homeless shelters [Chiron (volunteer) conjunct Zenith] in New York, particularly during the busier times of the year, and described himself as a religious person [Jupiter conjunct Zenith (religious person)]. Many of his later works contain almost-hidden religious themes or subjects, and a body of religious-themed works was found posthumously in his estate [Pisces (religious themes and subjects) on 8th House cusp (hidden, posthumous)]. Warhol also regularly attended Mass during his life, and the priest at Warhol's church, Saint Vincent's, said that the artist went there almost daily. His art is noticeably influenced by the eastern Christian iconographic tradition which was so evident in his places of worship.

Warhol's brother has described the artist as "really religious, but he didn't want people to know about that because [it was] private." Despite the private nature of his faith, in Warhol's eulogy John Richardson depicted it as devout: "To my certain knowledge, he was responsible for at least one conversion. He took considerable pride in financing his nephew's studies for the priesthood."

Death

Warhol died in New York City at 6:32 a.m. on February 22, 1987. According to news reports, he had been making good recovery from a routine gallbladder surgery at New York Hospital before dying in his sleep from a sudden heart attack [Neptune (sleep) in Leo (heart) ruling 8th House (manner of death)]. Prior to his diagnosis and operation, Warhol delayed having his recurring gallbladder problems checked, as he was afraid to enter hospitals and see doctors.

Warhol's body was taken back to Pittsburgh by his brothers for burial. The wake was at Thomas P. Kunsak Funeral Home and was an open-coffin ceremony. The coffin was a solid bronze casket with gold plated rails and white upholstery. Warhol wore a black cashmere suit, a paisley tie, a platinum wig, and sunglasses. He was holding a small prayer book and a red rose. The funeral liturgy was held at the Holy Ghost Byzantine Catholic Church on Pittsburgh's North Side. The eulogy was given by Monsignor Peter Tay. Yoko Ono also made an appearance. The coffin was covered with white roses and asparagus ferns. After the liturgy, the coffin was driven to St. John the Baptist Byzantine Catholic Cemetery in Bethel Park, a south suburb of Pittsburgh. At the grave, the priest said a brief prayer and sprinkled holy water on the casket. Before the coffin was lowered, Paige Powell dropped a copy of Interview magazine, an Interview t-shirt, and a bottle of the Estee Lauder perfume "Beautiful" into the grave [Neptune (perfume) ruling 8th House (grave)]. Warhol was buried next to his mother and father. Weeks later a memorial service was held in Manhattan for Warhol on April 1, 1987 at St. Patrick's Cathedral, New York.

Warhol's will dictated that his entire estate, with the exception of a few modest legacies to family members, would go to create a foundation dedicated to the "advancement of the visual arts" [8th House (legacy) ruled by Neptune in first house (advancement of arts)]. Warhol had so many possessions that it took Sotheby's nine days to auction his estate after his death; the auction grossed more than US$20 million. His total estate was worth considerably more, in no small part due to shrewd investments over the years [Saturn in 4th House can be rather shrewd with money, especially when ruling the thrifty 6th House].

In 1987, in accordance for Warhol's will, the Andy Warhol Foundation for the Visual Arts was founded [SA progressed Ascendant at about 13 Libra sextile natal Sun]. The Foundation not only serves as the official Estate of Andy Warhol, but it also has a mission "to foster innovative artistic expression and the creative process" and is "focused primarily on supporting work of a challenging and often experimental nature" [experimental Uranus conjunct challenging Aries Moon in 8th House (legacy) quincunx 4th House cusp (foundation)]. The Foundation remains one of the largest grant giving organizations for the visual arts in the U.S. [Jupiter in Taurus (large grants) ruling 5th House (arts)].

Paintings

Pop Art was an experimental form that several artists were independently adopting; some of these pioneers, such as Roy Lichtenstein, would later become synonymous with the movement. Warhol, who would become famous as the "Pope of Pop" [Taurus (artistic) Jupiter (pope)], turned to this new style, where popular subjects could be part of the artist's palette. His early paintings show images taken from cartoons and advertisements, hand-painted with paint drips. Those drips emulated the style of successful abstract expressionists (such as Robert Rauschenberg). Eventually, Warhol pared his image vocabulary down to the icon itself—to brand names, celebrities, dollar signs—and removed all traces of the artist's "hand" in the production of his paintings.

To him, part of defining a niche was defining his subject matter. Cartoons were already being used by Lichtenstein, typography by Jasper Johns, and so on; Warhol wanted a distinguishing subject. His friends suggested he should paint the things he loved the most. In his signature way of taking things literally, for his first major exhibition he painted his famous cans of Campbell's Soup, which he claimed to have had for lunch for most of his life [Neptune (soup) Leo (art)].

He loved celebrities, so he painted them as well [Saturn (celebrity) trine Sun (art subjects)].

Warhol produced both comic and serious works; his subject could be a soup can or an electric chair. Warhol used the same techniques—silkscreens, reproduced serially, and often painted with bright colors—whether he painted celebrities, everyday objects, or images of suicide, car crashes, and disasters (as part of a 1962-1963 series called "Death and Disaster"). The "Death and Disaster" paintings (such as "Red Car Crash", "Purple Jumping Man", "Orange Disaster") transform personal tragedies into public spectacles, and signal the use of images of disaster in the then evolving media [Leo Neptune (brightly-coloured art) ruling 8th House (about tragedy and trauma)].

The unifying element in Warhol's work is his deadpan Keatonesque style—artistically and personally affectless [Moon in Leo decanate (artistically) of Aries (personally) in 8th House (deadpan)]. This was mirrored by Warhol's own demeanor, as he often played "dumb" to the media, and refused to explain his work. The artist was famous for having said that all you need to know about him and his works is already there, "on the surface" [Sun on Ascendant ('on the surface').

Warhol's work as a Pop Artist has always had conceptual aspects. His series of do it yourself paintings and Rorschach blots are intended as pop comments on art and what art could be. His cow wallpaper (literally, wallpaper with a cow motif) [Taurus (bovine) Jupiter (art)] and his oxidation paintings (canvases prepared with copper paint that was then oxidized with urine) are also noteworthy in this context. Equally noteworthy is the way these works—and their means of production—mirrored the atmosphere at Andy's New York "Factory."

Warhol's The Last Supper cycle, a deeply religious body of work, was his last series, possibly his largest and "arguably his greatest". It is also the largest series of religious works by any U.S. artist [Jupiter in 9th House (largest, deeply religious) in Taurus (art, body of work)].

Film

Between 1963 and 1968, Warhol made more than sixty films [Neptune transits his 4th House cusp (catalogue of films)]. One of his most famous films, Sleep, monitors poet John Giorno sleeping for six hours. The 35-minute film Blow Job, is one continuous shot of the face of DeVeren Bookwalter supposedly receiving oral sex from filmmaker Willard Maas, although the camera never tilts down to see this. Another, 1964's Empire, consists of eight hours of footage of the Empire State Building in New York City at dusk. The 45-minute film Eat consists of a man eating a mushroom for 45 minutes.

Batman Dracula is a 1964 film that was produced and directed by Warhol, without the permission of DC Comics. It was screened only at his art exhibits. A fan of the Batman series, Warhol's movie was an "homage" to the series, and is considered the first appearance of a blatantly campy Batman. The film was until recently thought to have been lost, until scenes from the picture were shown at some length in the 2006 documentary Jack Smith and the Destruction of Atlantis.

Warhol's 1965 film Vinyl is an adaptation of Anthony Burgess' popular dystopian novel A Clockwork Orange. Others record improvised encounters between Factory regulars such as Brigid Berlin, Viva, Edie Sedgwick, Candy Darling [Warhol's Sun is conjunct Darling's Pluto], Holly Woodlawn, Ondine, Nico, and Jackie Curtis [Warhol and Curtis have the same Ascendant degree]. Legendary underground artist Jack Smith [Smith's Moon is conjunct Warhol's North Node] appears in the film Camp.

His most popular and critically successful film was 1966's Chelsea Girls. The film was highly innovative in that it consisted of two 16 mm films being projected simultaneously, with two different stories being shown in tandem. From the projection booth, the sound would be raised for one film to elucidate that "story" while it was lowered for the other [Mercury (split-personality) in 12th House (screen)]. The multiplication of images evoked Warhol's seminal silk-screen works of the early 1960s. The influence of the film's split-screen, multi-narrative style could be felt in such modern work as Mike Figgis' Timecode and, however indirectly, the early seasons of 24.

Other important films include Bike Boy, My Hustler, and Lonesome Cowboys, a raunchy pseudo-western. These and other titles document gay underground and camp culture, and continue to feature prominently in scholarship about sexuality and art - see, for example, Mathew Tinkom's Working Like a Homosexual (Duke University Press, 2002) or Juan Suarez's Bike Boys, Drag Queens, and Superstars (Indiana University Press, 1996). Blue Movie, a film in which Warhol superstar Viva makes love and fools around in bed with a man for 33 minutes of the film's playing-time, was Warhol's last film as director. The film was at the time scandalous for its frank approach to a sexual encounter. For many years Viva refused to allow it to be screened. It was publicly screened in New York in 2005 for the first time in over thirty years [Neptune in first house (in-your-face screen depictions) ruling 8th House (of sexuality)].

After his June 3, 1968 shooting, a reclusive Warhol relinquished his personal involvement in filmmaking. His acolyte and assistant director, Paul Morrissey, took over the film-making chores for the Factory collective, steering Warhol-branded cinema towards more mainstream, narrative-based, B-movie exploitation fare with Flesh, Trash, and Heat. All of these films, including the later Andy Warhol's Dracula and Andy Warhol's Frankenstein, were far more mainstream than anything Warhol as a director had attempted. These latter "Warhol" films starred Joe Dallesandro, who was more of a Morrissey star than a true Warhol superstar.

Music

In the mid 1960s, Warhol adopted the band The Velvet Underground, making them a crucial element of the Exploding Plastic Inevitable multimedia performance art show. Warhol, with Paul Morrissey, acted as the band's manager, introducing them to Nico (who would perform with the band at Warhol's request). In 1966 he "produced" their first album The Velvet Underground and Nico, as well as providing its album art [Pisces (velvet) 8th House (underground)]. His actual participation in the album's production amounted to simply paying for the studio time. After the band's first album, Warhol and band leader Lou Reed started to disagree more about the direction the band should take, and their artistic friendship ended [Reed's Neptune is exactly semi-sextile Warhol's Neptune, surely suggesting conflicting views of art/musical direction].

Warhol designed many album covers for various artists starting with the photographic cover of John Wallowitch's debut album, This Is John Wallowitch!!! (1964). Warhol designed the cover art for The Rolling Stones albums Sticky Fingers (1971) and Love You Live (1977). In 1975, Warhol was commissioned to do several portraits of the band's frontman Mick Jagger [Jagger's North Node is conjunct Warhol's Sun-Ascendant] while in 1982, he designed the album cover for the Diana Ross album Silk Electric. Warhol was also friendly with many recording artists, including Deborah Harry, Grace Jones, Diana Ross and John Lennon.

Warhol strongly influenced the New Wave/punk rock band Devo, as well as David Bowie. Bowie recorded a song called "Andy Warhol" for his 1971 album Hunky Dory [Bowie's Pluto is conjunct Warhol's Sun-Ascendant]. Lou Reed wrote the song "Andy's Chest", about Valerie Solanas, the woman who shot Warhol, in 1968. He recorded it with the Velvet Underground, but this version wasn't officially released until the VU album appeared in 1985. He recorded a new version for his 1972 solo album Transformer, produced by Bowie and Mick Ronson.

Dramatic portrayals of Warhol

Andy Warhol is portrayed by Crispin Glover in Oliver Stone's film The Doors (1991), by David Bowie [Bowie's Pluto is conjunct Warhol's Sun-Ascendant] in Basquiat, a film by Julian Schnabel and by Jared Harris in the film I Shot Andy Warhol directed by Mary Harron (1996). Sean Gregory Sullivan depicted Warhol in the 1998 film 54. The latest film actor to portray the artist is Guy Pearce in the 2007 film, Factory Girl [Pearce's Descendant is conjunct Warhol's Mercury].
---
---
---