Jackie Curtis, 1947-1985

---
Warholian Superstar: Actor, Playwright, Poet, & Cabaret Singer
---
"I am not a boy, not a girl, I am not gay, not straight, I am not a drag queen, not a transsexual - I am just me, Jackie."
---
Astrology chart, profile, DVDs, links
---
---
Leo Ascendant, Pisces Sun, Aquarius Moon, Pluto Rising
---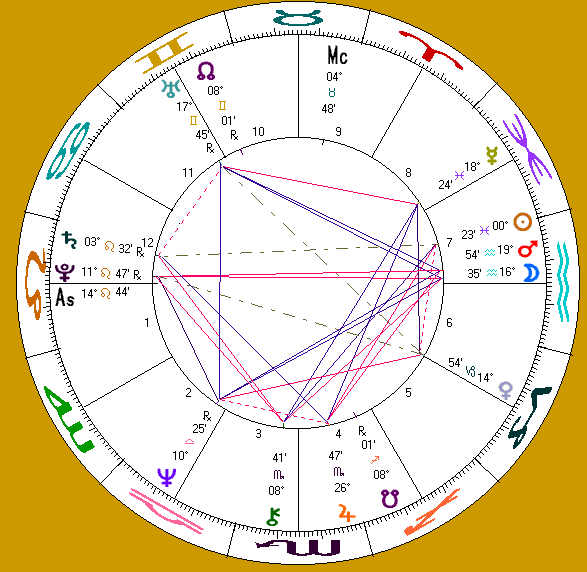 ---
BIRTH DATA [copyright]: 19 February 1947, 16:10 (4:10pm) EST (5hw), New York, NY, USA (40n43, 74w00). RR: A. Curtis's biographer, Craig B. Highberger, quotes family members for the data in an email to Sy Scholfield, 10 December 2002. NB: Contemporary Authors states that Curtis was born in Stony Creek, TN, but Highberger quotes Curtis's cousin who affirms that "he was born in New York City and his father and mother moved to Tennessee after his birth." DEATH: 15 May 1985, New York, NY.
---
STAR FEATURES: PERSONALIZED PLANETS: PLUTO (conjunct Ascendant, opposite Moon), NEPTUNE (trine Moon, disposits Pisces Moon), CHIRON (conjunct IC, square Moon, trine Sun), MOON (conjunct Descendant), MARS (conjunct Descendant and Moon). PATTERNS: KITE (Neptune, Moon-Mars, & Uranus in a GRAND AIR TRINE, plus Pluto), FIXED T-SQUARE (Moon-Mars opposite Pluto, all square Chiron), BOOMERANG (Venus sextile Mercury both quincunx Ascendant which opposes Moon-Mars on the Descendant). SHAPE: SPLAY. CHINESE SIGN: FIRE PIG. NUMEROLOGY: "33" LIFEPATH.
---
Craig Highberger's feature-length biographical documentary, Superstar in a Housedress - The Life and Legend of Jackie Curtis is narrated by Lily Tomlin & features photographs by Jack Mitchell & music by Paul Serrato
Superstar contains interviews with 30 people who knew and worked with Curtis, including Penny Arcade, Joe Dallesandro, Harvey Fierstein, Joe Franklin, Taylor Mead, Paul Morrissey, Sylvia Miles, Jack Mitchell, Michael Musto, Ellen Stewart, Lily Tomlin, John Vaccaro and Holly Woodlawn. Plus media personalities, writers and literary editors to put the work and life of Jackie Curtis in historical perspective. Rare footage includes: never before seen excerpts from Curtis' plays "Vain Victory", "Femme Fatale", and "Glamour, Glory and Gold", plus excerpts of the legendary 1974 "Cabaret in the Sky - An evening with Holly Woodlawn and Jackie Curtis", and hundreds of never-before-published photos of Jackie, Candy Darling, Holly, Joe Dallesandro, Andy Warhol, Paul Morrissey and many others.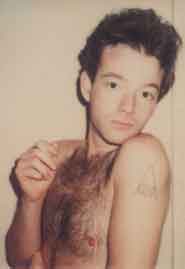 image of Jackie © HMI
---
References
Highberger, Craig. "A Tribute to Jackie Curtis" < http://www.jackiecurtis.com >.
"Holder, John, Jr. (Jackie Curtis)." Contemporary Authors (116, p. 213; CNRS 77, pp. 227-229).
"Jackie Curtis" Internet Movie DataBase

"Take Your Balls and Go: Bruce La Bruce on Jackie Curtis
" International Contemporary Art (Magazine/Journal), 22 September 2004, The Visual Arts Foundation (Issue 83, p. 16(4)).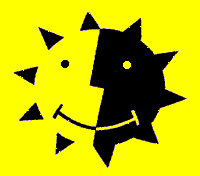 home
more glbt celebrity charts

image of Jackie © HMI

Craig Highberger's website tribute features his award-winning bio-documentary book & film, Superstar in a Housedress - The Life and Legend of Jackie Curtis